It's hard to miss those advertisements. "Helping Couples Have Hotter Sex Since 1997." That's the claim made by Michael Radkowsky, a licensed psychologist in D.C.
Depending, however, on your proclivities, it may not necessarily be the advice you want to hear.
"You really have to have the intention to keep or rekindle the romance and affection in your relationship," Radkowsky says. "It takes work to keep the romance alive in your relationship."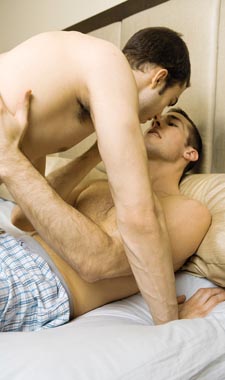 Mindy R. Jacobs, also a licensed psychologist in the District, toes a similar line.
"Intimacy ebbs and flows," she says. "You have to feed it. You can have a Rolls Royce, but if you never change the oil it won't work."
And both agree that diminished intimacy or sex is extremely common in relationships, be they same-sex or straight. While everyone — and every couple — is unique, the experiences of these two professionals hints that gay-male couples and lesbian couples may lean toward different methods for handling a waning sex life.
"It's fairly common, especially in female couples," says Jacobs. "Sometimes in couples, the issue gets 'lived out,' rather than explored, by involving other sexual partners. With a lesbian couple, it sometimes just doesn't get lived out [or explored] at all. The issue gets more internalized in the relationship."
Radkowsky says the "living out" fix is the most common with his gay, male patients.
"It's much easier for gay men to find a 'solution,"' he says. "They go out and bring a novelty back. This is a stereotype, but there's a fair amount of truth that we're socialized to have multiple partners.
"None of us really like to take the harder, more arduous road. We like a quick and simple solution. The drawback is that seeking out a third person — together or separately — is unlikely to improve the sex between the two of you, or to improve the connection. It can happen. But I've been working on this for a little over 10 years, and I've never heard of it improving the relationship."
Ultimately, Jacobs, with about 25 years experience, would seem to agree.
"For some people who bring in other people, that's something they both agree on. That works for some people," she says. "There's no right or wrong way.
"But if people are looking for more intimacy, then the couple has to find their own path to that."
The upside to the apparent prevalence of "bed death" and that quick-fixes may not fix much, is that, while taking some work, there's no reason to conclude that an end to the sex translates to an end to the relationship. It can come back.
"What I suggest to many of my patients is to, once a week, set up a 'talk date,"' says Jacobs, pointing to what might be appropriate in some instances. "They just check in with each other. 'How are we doing?' 'What are things I'd like to talk about?' That's an opportunity for preventative maintenance. I also suggest a date night, not getting into more serious issues. I think that's a way to keep a relationship on track."
Radkowsky stresses the point more bluntly: "As far as lust, horniness, those things don't have to go out the window at all."
He says he may advise couples to be creative about where they have sex, or to learn to take risks by speaking more frankly about sex as a way to restart Jacobs' metaphorical Rolls Royce.
"Having sex in your kitchen is silly, but it's a fun and simple example," he says. "I also mean letting your partner get to know you more intimately. Talking to your partner about what you like, what's hot for you, is also taking a risk. Doing that is difficult for a lot of people."
The bottom line is that, as the axiom holds, the brain may be the most important sex organ, and may also be the key to reigniting a couple's joint libido. The rewards of taking the time to fix the foundation, rather than a tricky quick fix, can make the mental effort worth the while.
"Couples find that they don't need Viagra to perform," Radkowsky says of some patients who had earlier thought their relationship had become dependent on the little, blue pill. "Couples find that they can focus on enjoying sex with their partners, rather than trying to get turned on by running fantasies in their heads.
"Helping couples to resurrect their sex lives is not that difficult. It's just hard work."
Visit Mindy Jacobs online at www.drmindyjacobs.com. Visit Michael Radkowsky online at www.personalgrowthzone.com.