Being an early adopter in the world of blogging, Jim Barrett has learned a few lessons over time.
"I've learned not to write about family, friends, the rugby team and dates," says the man known on the Web and by his friends as Jimbo. "I've found that every one of them reads the blog — not every time, but often enough to get you in trouble."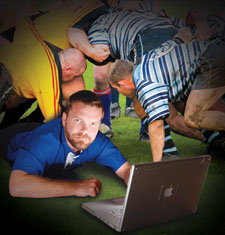 Jim Barrett
Although there's a hint of exaggeration to Barrett's lesson — spending time at www.jimbo.info is like checking in with a friend, one with a dry sense of humor and an eye for the minor absurdities of everyday life — he says his topics have definitely changed since his early days of blogging.
"There are some days I'm horrified by my own openness and think about removing old archives," he says, perhaps only half joking.
Barrett first started blogging in the late 1990s, when technology workers were first starting to experiment with the new weblog programs. It was a natural next step for someone who has long kept personal journals to keep track of his experiences.
"I have a really bad memory," he says.
These days blogs play a role in both his personal and professional lives, as he researches public reactions to agricultural special issues for the Department of Agriculture. But its his personal writing that's garnered him a regular audience and kept his blog going while many others have faded away.
"About three or four years ago, everybody thought they had to have a blog," he says. "Then a lot of people realized, 'Hey, all my personal stuff is really available for everyone to see."'
While he may not focus so much these days on family, friends and dates, Barrett has definitely focused more on blogging about his Shaw neighborhood in Northwest D.C. And as more residents begin to write about their own neighborhood experiences, he says, the more it helps people in a disconnected society get to know each other a little better.
There are plenty of other topics to catch Barrett's interest, from the geeky glories of Dungeons and Dragons to the hirsute pursuits of D.C.'s bear community. But one passion that stands out is his long-time love for rugby.
Barrett joined the D.C. Renegades rugby team almost 10 year ago, when the team as still almost all gay. These days the team is "about half straight," a fact he points to with some amount of pride.
"Gays can really ghettoize themselves. I think it's important to get out and have straight friends. You don't have to leave the bars behind, but go to a different bar once in a while."
And while Barrett might have learned a lesson about what not to do on the Web, he's also found two very valuable things through his blog.
"It's helped me make good friends. You meet a lot of good people that you really get to know from across the country," he says. "And it's helped me write faster and better. Once you do something every other day, you get really adept at it.
Read Jim Barrett's blog at www.jimbo.info.