Laura Varlas wasn't expecting the outpouring of responses to her blog post last April about lesbian business attire, what she dubbed "lez casual."
"It was cool to be like, 'Oh, I'm not the only person who gets up every morning and rifles between Western shirts and something awful from H&M,"' says the 31-year-old. "I think we're all struggling between looking really dyke-y, or feeling like you're in drag, or feeling like you're a little boy."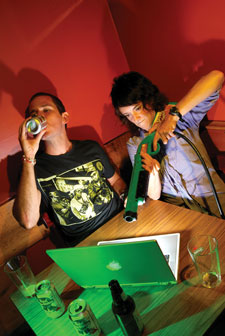 Laura Varlas and Ben Carver
Varlas blogs as "Coach" on The New Gay, a multi-author blog started in May 2007 with a lofty aim of building a sense of community across D.C.'s queer inhabitants. Ben Carver, 32, was one of the three original bloggers on the site, which now counts 10 regular contributors. Anyone can submit personal stories and commentary, or write about diverse music and events.
"Gay people are diversifying. They don't all listen to the unch-unch, thump-thump [dance music], and they're not all focused on superficial concerns," says Carver. "They actually want to talk to each other about their day-to-day life stories and opinions."
The New Gay site got its biggest boost of attention last October, when its bloggers organized a "hug-in" at the U and 13th Streets NW Rite Aid, a well-publicized response to an incident involving a gay couple who say they were thrown out of the store for simply embracing.
The bloggers behind The New Gay regularly organize off-line events, including a happy hour and a dance party, to be joined in the near future by camping trips and a book club. Enhancing their online presence with forays onto terra firma is intended, Carver explains, "to create community that takes place outside of a bar," as well as other established gay channels.
"We're trying to give people a forum that isn't expressly white and male," he adds.
Varlas also emphasizes The New Gay as a vehicle for uniting a variety of GLBT perspectives, online and off.
"I don't think any one thing can pull everything together, but I think The New Gay at least tries to be a platform for uniting these scenes that might [otherwise] be fractioned off into whatever social niche," says Varlas, who started blogging on The New Gay earlier this year. She sees The New Gay as just one example of a larger trend toward greater democracy in the queer community enabled by technology.
"I feel like social networking is a really great way to make what's happening in communities more transparent and accessible," she says.
Initially, people criticized the site for mostly leaving it up to users to define the term "the new gay."
"Eventually, I think people are coming around," says Carver. "They're realizing that the site is what you make it, based on your submissions and your content."
To read or participate in The New Gay, visit www.thenewgay.net.