Not long ago, smoking was a contentious topic in the local GLBT community with an intense — and occasionally acrimonious — debate over a ban on smoking in bars and nightclubs. Today, with that ban in effect for nearly two years, a truce appears to have taken hold. On one hand, new nightlife offerings aimed at the gay community — Lizard Lounge, Nellie's and Town Danceboutique — offer outdoor areas for smoking. On the other, with the ban in place, The Center, D.C.'s GLBT community center, has launched a Tobacco Working Group to better deliver information on smoking-cessation programs for the local gay community the harms of smoking.
And while The Center's acting executive director, David Mariner, and Lizard's Mark Lee, sit in opposing camps, both seem content with the current status quo, allowing for some limited nightlife smoking and resources for The Center to make progress against tobacco use.
[Editor's note: Mark Lee contacted Metro Weekly upon publication of this story to offer a correction to this characterization. His comments have been posted on the MW Extra blog.]
Some of that progress was made July 28 with the release of the Tobacco Working Group's first report. According to the Tobacco Focus Group Report, using a focus-group sample, gay Washingtonians are largely unaware of available, GLBT-specific, smoking-cessation resources.Mariner, who conducted the focus-group study, along with Center board member Adina Lord, says The Center, which also sponsors the Crystal Meth Working Group, is taking on tobacco use in the GLBT community because, "We're disproportionately affected by smoking in our community.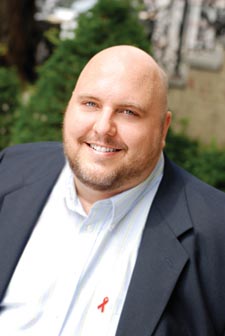 David Mariner
"We decided to do the focus group now because we a got a grant from D.C. Tobacco Free Families to do some work around tobacco in the GLBT community."
The D.C. Tobacco Free Families campaign is a partnership between the American Cancer Society, the American Lung Association of the District of Columbia, and the D.C. Department of Health.
While Mariner says he was hoping for a larger turnout than the eight people who participated in the focus group, ranging in age between 22 and 60, he says the results offer insight and "detailed information" about how GLBT people respond to smoking-cessation advertisements.
"The goal of the focus group was to find what message has resonated best with them. We took advertising campaigns that had been successful, specifically targeting the GLBT community in other parts of the country, and picked out the ones we liked the best. We tested those with folks here in D.C. to see what messages resonate best with them."
In addition to studying the effectiveness of each ad, the participants discussed quitting smoking.
"The folks that we talked to, most of them were not aware of the resources available in D.C., that you can get the patch for free, or nicotine gum for free, or that there are support groups to help you quit."
Mariner says GLBT people hoping to quit smoking who are seeking GLBT-specific services can turn to the Mautner Project, which offers support groups for men and women. The Center, says Mariner, will employ the findings to launch an ad campaign in the fall targeting the GLBT community in hopes of spreading information about available resources.
Longtime activist Bob Summersgill, who serves on Smokefree D.C.'s steering committee, points to the importance for GLBT people to feel comfortable when participating in smoking-cessation efforts.
"If people have to go to support groups or facilities or programs where they're not sure if they can be out or be comfortable, they're going to have less-beneficial or less-effective treatment and care," he says.
"By targeting different populations where the people are comfortable with the treatment they are getting, I think it's very useful."
Summersgill is credited with playing a primary role in helping to pass the legislation that prohibits smoking in D.C. workplaces. In April 2005, a smoking ban was approved by the D.C. City Council for restaurants and other businesses, effective April 2006, followed by a ban — enforced as of Jan. 1, 2007 — prohibiting smoking at bars and nightclubs. Summersgill got involved, he says, because of his personal health.
"Quite simply, I couldn't go out to the bars and many parties and other places, because I would get sick just walking in the door."
Now, nearly two years since the bar/nightclub smoking ban took effect, Ed Bailey, co-owner of Town Danceboutique, says that's exactly what he's trying to prevent by offering an outdoor smoking area at his popular nightclub.
"One thing that the smoking ban has done for most bars and restaurants, is create a glut of smokers outside of the business at the front door. That is something unpleasant for nonsmokers to have to walk through," he says.
"And that oftentimes creates more noise outside of your business than your business would ever generate, becoming a nuisance to the rest of the neighborhood."
That's why Bailey and Town co-owner John Guggenmos had already planned to include a smoking area before the club opened in November 2007.
"It was in the plans in the beginning because we didn't want to [become a nuisance] in our neighborhood. We had the opportunity to create an area for [smoking] to try to eliminate those possible problems. So we did that."
Bailey, who says he personally appreciates that clubs no longer allow smoking, was surprised by just how popular the smoking section is: "There's generally a wait to get in."
Nellie's Sports Bar at Ninth and U Streets NW and the Sunday night Lizard Lounge events at Lima Lounge on K and 14th Streets NW, also offer smoking in outdoor areas.
Lee, the well-known promoter whose Atlas Events offers Lizard Lounge, and one of the most prominent locals opposing the smoking ban, brought Lizard Lounge back to D.C. in May, after closing it in April 2006, due, he said, to the ban.
"We could not have reopened, due to the very high prevalence of smoking in the gay community — which is nearly double that of the general population — if we did not have the opportunity to accommodate our guests in an alcohol-licensed, smoking-permitted, DJ-music infused, comfortable lounge area with seating and table service," he says.
"That is what allowed us to open up. That is what our guests, both smoking and nonsmoking, appreciate. It has allowed us to reopen and to be successful."
Though he has, at times, taken issue with Lee's public perceptions of the smoking ban, Mariner say he has no problems with gay hotspots offering segregated, outdoor areas for smokers.
Instead, says Mariner, the arrangement accommodates non-smokers and smokers alike, while the new clubs illustrate that District nightlife remains healthy.