If you think being a gay Republican is a tough dichotomy to reconcile, try being a gay Muslim. In concept, the idea of being gay in a Muslim culture is terrifying. In reality, it could be much worse.
According to doctrine in the Muslim community, homosexuality is an act punishable by death. It's a non-negotiable that makes the religious right's mantra of "hate the sin, not the sinner" seem open-minded and generous. And as director Parvez Sharma shows in his documentary, A Jihad for Love, it's not a matter of whether to kill the homosexual, but how to kill the homosexual.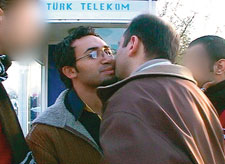 A Jihad for Love
Sharma examines what life is like for Muslims who try to reconcile their life as gay men or lesbians while still maintaining their faith. A gay Muslim himself, Sharma traveled to 12 countries and filmed in nine languages to get his footage. Perhaps more striking than any of the shots or stories captured is the sheer number of faces he must blur on screen. Even men living relatively open lives in Turkey are too afraid to be shown for fear that their families will be harmed back in Iran.
Yet for all the weight and importance of the subject, Sharma fails to truly capture his subject matter in a compelling manner. Having only the most cursory knowledge of the intersection of Islam and homosexuality before the film, I still felt like I gained little. The humanization of the issue fails because the people profiled never truly transcend their identifiers — the lesbians, the Egyptian, the activist, and so on.
Because of this, most of the profiles are repetitive and mundane. Since many of the profiles are so short and many of the faces blurred, it's hard to connect with the person behind the story. The first man introduced is Muhsin Hendricks, an imam (or Islamic leader) in South Africa, the only one featured who could rightfully be called an activist. Hendricks is willing to debate on the radio, engage social workers in discussions about homosexuality, and put himself at risk for harsh retribution. As demonstrated by callers into a radio program, he's making enemies fast. And the reality is with him every day, chillingly captured when his young daughter says that if he is stoned to death she hopes the first rock kills him so he doesn't suffer long.
Next Sharma introduces Mazen, one of the Cairo 52 who were arrested in 2001 in Egypt and publicly tried for being gay. After a year in prison where he was attacked, beaten and raped, Mazen escaped to Paris where he now lives in exile. Mazen's tale, an update on such a well-known international story, brings an added sense of perspective to the film. Unfortunately, after this promising start, the stories begin to blur. Rather than build upon themselves and piece together as a whole, Sharma's subjects repeat the same points again and again.
Sharma does provide diversity in presenting in his stories: the lesbian couple living together in Turkey, the four gay men who escaped from Iran and are seeking asylum, the lesbian in a long-distance relationship who struggles every day with her religion and her desires. But they are little more than vignettes making the same points.
A JIHAD FOR LOVE

Directed by Parvez Sharma
Not Rated
81 Minutes
Opens Sept. 5
At the Landmark E Street Cinemas
The most basic hand-held camera techniques are used to capture most of the footage, which include frequent close-ups on the people who are willing to show their faces and blurred images of the others. During these interviews, voice-overs to scenery shots are overused, including the popular "landscape out a car window" filler.
Only two stories are revisited by the end of the film, which creates a small level of connectivity to the documentary, but by then it's too late. Even watching two of the Iranians enter Canada and realize they're free after years of feeling hunted is limited in its cathartic release. Intellectually, it's a wonderful moment, but emotionally, it's as flat as the film it's captured on.
It's easy to want A Jihad for Love to be a great film that opens a world desperate for light. It's just hard to feel that anything is captured that couldn't have been done through a letter from the International Gay and Lesbian Human Rights Commission asking for money. As Imam Hendricks says, a jihad is a struggle. While Sharma struggles to capture his subjects with limited success, it's still a struggle that should be applauded for the effort.