For the first few months of her pregnancy, Andrea Askowitz didn't know what was wrong.
"I just felt really anxious and angry and just not myself at all," says the 40-year-old Miami resident and author of My Miserable, Lonely Lesbian Pregnancy.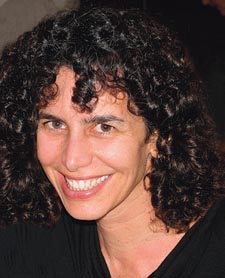 Andrea Askowitz
"Like my best friend wanted to come over… and I was like, 'God, I cant be around you, I have to fart,"' she says with a laugh. "I just hated everybody and everything."
Turns out, Askowitz was suffering from "hormone-induced depression," for which her gynecologist prescribed Prozac.
But as the Prozac prescription sat on the side of her bed collecting dust, Askowitz kept a journal collecting embarrassing stories revolving around her pregnancy.
"One side of my brain knew that there was something about this experience that was fun for people and funny, and the other side was just so miserable. But it helped me to make people laugh every once in awhile."
Askowitz reads from her book at 11 a.m., Sunday, Sept. 21, at the DCJCC, 1529 16th St. NW, as part of the Hyman S. & Freda Bernstein Jewish Literary Festival. Tickets are $15. Call 202-518-9400 or visit www.washingtondcjcc.org.