Choke, based on a novel by Chuck Palahniuk, may be tough to swallow, but if you can get it down, it's really worth it. As director, screenwriter and co-star, Clark Gregg has bitten off a lot to chew and really wades in the muck for his directorial debut, but manages to come out smelling like roses.
Life for poor Victor (Sam Rockwell) is pretty damn pathetic: his senile mother Ida (Anjelica Huston) doesn't recognize him anymore, he works at an "olde time" Colonial tourist trap as a "historical interpreter," and he can't get past step three in his sexual-addiction group. Probably because he's too busy screwing all the women who are also having trouble getting to the next level. All Victor wants is that "perfect, beautiful nothing" of an orgasm. That alone almost makes the rest of the crap in his life bearable. As he says, even a bad blowjob is better than the sweetest rose. So poetic.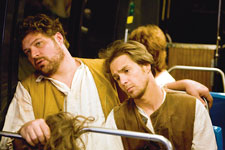 Sam Rockwell: 'Choke'
To be fair, Victor's life is not completely meaningless. He's found a way to bring joy to the select few lucky enough to dine in the same restaurant: He purposefully chokes on a piece of meat to let them save him. It's redeeming moment for them and a cash cow for him. From then on, every time Victor is in need of a few extra bucks he makes up a sob story and his saviors send money to relive their moment of glory. The only way he could do better at this scam would be to have Sally Struthers walk down a dusty road and plead for help.
Despite all his faults, Victor loves his mother. Even though she doesn't recognize him, Victor's dedication is unwavering. And once he meets the beautiful doctor, Paige Marshall (Kelly Macdonald), he has even more of a reason to visit the nursing home. As Victor falls in love, his erection falls too, taking with it everything he's based his life upon. It may not be your typical life crisis, but it's a crisis nevertheless.
Rockwell is fantastic. A louse, Victor is not an easy person to like — he's slime surrounding a heart of gold (okay, so maybe it's only gold leaf). Yet Rockwell makes Victor pathetic, sympathetic and sexy all at once. The more we learn about Victor through flashbacks to his youth, the more Rockwell peels back the layers. It's almost a shame, really, because he's so much fun to watch as the shallow bastard.
While the rest of the men are pretty much filler (with the exception of a creepy cameo by Joel Gray as a fellow addict), the women in the film rock. Huston juggles the beatnik flashback mom and senile demented mom flawlessly. The one tear she cries in the entire movie is just a wonderful moment. Macdonald, last seen as the loyal wife to Josh Brolin in No Country For Old Men, takes a more central role and carries it off. She may seem a little too sweet at first, but given the source of the material that doesn't last long.
Palahniuk, who also wrote the novel that inspired Fight Club, is one sick puppy. How does he come up with this stuff? There's gag-inducing scene after scene, ranging from naked nuns to petrified foreskins to a very unfortunate and anatomically impossible sex toy mishap. If you don't watch out, you're going to be choking back vomit.
CHOKE

Starring Sam Rockwell, Anjelica Huston
Rated R
89 Minutes
Opens Sept. 26
Area Theaters
But you will also find yourself choking back some tears. Despite all the talk and sex, the core of the story is still about finding love. For once it doesn't come wrapped in a shiny ball gown with singing birds and Prince Charming, but rather true, messy, complicated love. It might not be the type of love you wished for, but it's a lot more likely the type of love you're going to find.
Director Gregg misses with a couple of the key transitions, focusing on the funny and absurd over actual plot development, but he manages to pull it all together in the end. Choke is about finding out who we are, where we've come from, and where we're going. The present may be all about screwing a hooker on the floor of a bathroom, but redemption might just be around the corner.
Make no mistake about it, Choke is a dirty, nasty film. All the more reason to see it.
From YouTube: