Dates subject to change at the whim of a studio executive.
September
THE WOMEN — The long-in-gestation remake of the 1939 George Cukor classic that starred Norma Shearer, Rosalind Russell and Joan Crawford. This version foists Meg Ryan, Annette Bening and Eva Mendes into those roles and, well… let's just hope they have their next projects already lined up. Directed by Diane English (Murphy Brown). (9/12)
BURN AFTER READING — Abandoning their dark sides (for now), the Coen Brothers return to quirky comedy with this story of gym employees who discover the unpublished memoirs of a CIA agent and blackmail him. With Brad Pitt, George Clooney, Tilda Swinton, John Malkovich and Frances McDormand. (9/12)
RIGHTEOUS KILL — Pacino. De Niro. Together. Again. Hopefully for more than just one measly scene. Directed by Jon Avnet (Fried Green Tomatoes). (9/12)
LAKEVIEW TERRACE — An LAPD officer (Samuel Jackson) terrorizes his new neighbors (Patrick Wilson and Kerry Washington) in an effort to get them to move. Tension mounts. Bad things happen. Directed by Neil LaBute, king of suburban unease. (9/19)
THE DUCHESS
A period drama starring Keira Knightley and Ralph Fiennes, as an 18th century aristocrat navigates a difficult marriage. (9/19)
APPALOOSA — Ed Harris directs and stars in this Western about a pair of lawmen who attempt to end a rancher's tyrannical reign. With Jeremy Irons, Renee Zellweger and Viggo Mortensen. (9/19)
TOWELHEAD — The powerful story of a young Lebanese girl and her sexual awakening at the hands of a neighborhood adult. With Toni Collette and Aaron Eckhart. Directed by Alan Ball (Six Feet Under). (9/19)
GHOST TOWN — David Koepp, the scribe behind Spider-Man and Panic Room, directs this seemingly spry comedy about a man who sees dead people. Starring Ricky Gervais, Greg Kinnear and Tea Leoni. (9/19)
CHOKE — Sam Rockwell plays a sex-addicted con-man, with Anjelica Huston as his hospitalized mother. Directed by Clark Gregg (The New Adventures of Old Christine). Based on a novel by Chuck Palahniuk, author of Fight Club. (9/26)
EAGLE EYE — Shia LaBeouf and Michelle Monaghan are a pair of strangers manipulated by a mysterious woman who plans to use them in a political assassination plot. Directed by D.J. Caruso (Disturbia). (9/26)
NIGHTS IN RODANTHE — Best known for his work in the theater realm, George C. Wolfe (The Colored Museum) directs this romantic swooner about an unhappy doctor (Richard Gere) who connects with an unhappily married woman (Diane Lane). (9/26)
October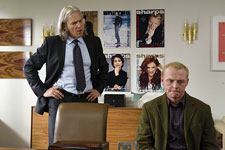 How to Lose Friends and Alienate People
BEVERLY HILLS CHIHUAHUA — Oh, how far director Raja Gosnell, who started out so promisingly with the infinitely watchable Never Been Kissed, has fallen. (10/3)
BLINDNESS
A city undergoes an epidemic of sightlessness, leaving only one woman with vision intact. She takes everyone to a silent movie and explains to them what's happening on screen. Directed by Fernando Meirelles (The Constant Gardener), and starring Julianne Moore, Gael Garcia Bernal and Mark Ruffalo. (10/3)
HOW TO LOSE FRIENDS & ALIENATE PEOPLE — Simon Pegg plays a British journalist who gets a new job with a high-profile New York magazine in this comedy based on the memoirs of Vanity Fair contributor Toby Jones. With Kirsten Dunst. (10/3)
RACHEL GETTING MARRIED — The latest by Jonathan Demme (Silence of the Lambs) features Anne Hathaway as a young woman fresh out of rehab who reunites with her family for her sister's wedding. Emotional chaos ensues. Co-starring Debra Winger. (10/3)
FLASH OF GENIUS — Greg Kinnear plays the inventor of the intermittent windshield wiper. When his product is stolen by the car industry, he sues. The nerve! With "Gilmore Girl" Lauren Graham and "M*A*S*H Boy" Alan Alda. (10/3)
AN AMERICAN CAROL — Director David Zucker (one third of the group that gave us the hee-larious Airplane oh-so-many years ago) mixes A Christmas Carol with comic jabs at Michael Moore. Our response? Meh. (10/3)
CITY OF EMBER — An underground city's generators begin to fail plummeting it into certain darkness. Luckily, two teenagers are available to race against time to save their home. With Bill Murray. Directed by Gil Kenan (Monster House). (10/10)
BODY OF LIES — Leonardo DiCaprio plays an ex-journalist trying to locate an al-Qaida leader for the CIA. With Russell Crowe. Directed by Ridley Scott. (10/10)
REEL AFFIRMATIONS — The 18th annual gay and lesbian film festival returns for 10 movie-filled days of queer comedy, queer drama, queer documentaries and queer shorts. Things kick off with Laurie Lynd's acclaimed Breakfast with Scot. (10/16)
MAX PAYNE — Based on a popular action video game, and starring Mark Wahlberg in the title role, we can only think this will create its own special brand of pain for us. With Beau Bridges and Mila Kunis. (10/17)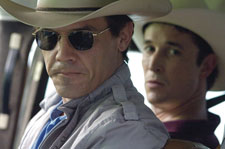 W.
W. — Oliver Stone sets his sights on Dubya. No conspiracy here — just a man following his daddy's grand plan. With Josh Brolin as George Jr., James Crowmwell as George Sr., Ellen Burstyn as Barbara, Richard Dreyfus as Dick, Scott Glenn as Donald, Ioan Gruffudd as Tony and Thandie Newton as Condi. (10/17)
WHAT JUST HAPPENED? — A Hollywood producer (Robert De Niro) has difficulty getting his latest picture made. So what else is new? With Stanley Tucci and John Turturro. Bruce Willis and Sean Penn make appearances as themselves. Directed by Barry Levinson. (10/17)
HIGH SCHOOL MUSICAL 3: SENIOR YEAR — At last, button-nosed Zac Efron is free of the confines of the small screen! Dance, Zac, dance big! (10/24)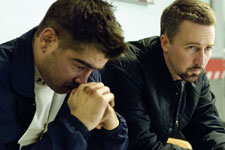 Pride and Glory
CHANGELING — A woman is reunited with her missing son only to question whether he is, in fact, her child. The child, in turn, questions whether or not she is, in fact, his mother. And everyone wonders who the hell the father is. Directed by Clint Eastwood and starring Angelina Jolie, John Malkovich and Amy Ryan. (10/24)
SAW V — The killer died two movies ago — and yet he's still ensnaring people in complex, gruesome little traps. Enough with the Saw franchise. Time to move on to Swiss Army Knife. (10/24)
PASSENGERS — Anne Hathaway is a grief counselor whose clients start disappearing. With David Morse and Patrick Wilson. (10/24)
PRIDE AND GLORY — Edward Norton and Colin Farrell star in this drama about a family of New York cops shaken by scandal. To get past it, they drink, swear and shoot off their guns. (10/24)
SYNECDOCHE, NEW YORK — Philip Seymour Hoffman and Michelle Williams star in this latest crazy-minded project from writer-director Charlie Kaufman (Being John Malkovich). Hoffman plays a theater director who tries to create a life-size replica of New York as part of his new play. See? We told you. Crazy-minded. (10/24)
ZACK AND MIRI MAKE A PORNO — Seth Rogen and Elizabeth Banks are friends who launch their own adult film business. Directed by Kevin Smith (Clerks 2). (10/31)
November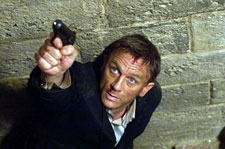 Quantum of Solace
ROLE MODELS — Paul Rudd and Seann William Scott star as buddies who enroll in a Big Brother program. You can hear the laughter building now, can't you? Well? Can't you? Directed by David Wain (The Ten). (11/7)
THE BOY IN THE STRIPED PYJAMAS — The son of a Nazi officer is forced to confront a horrible reality when he befriends a boy his own age imprisoned in a concentration camp outside Berlin. With Asa Butterfield and David Thewlis. Directed by Mark Herman. (11/14)
QUANTUM OF SOLACE — The latest 007 picks up where Casino Royale left off, as James Bond (Daniel Craig) seeks to discover the secret organization behind Vesper Lynd's betrayal. Directed by Marc Forster (The Kite Runner, Monster's Ball). (11/14)
SOUL MEN — Two estranged soul-singing legends reunite at the Apollo Theater. With Samuel L. Jackson and the late Bernie Mac. Directed by Malcolm D. Lee. (11/14)
TWILIGHT — Catherine Hardwicke (The Lords of Discipline) directs the adaptation of Stephenie Meyer's wildly popular (with teenage girls) first novel about a coven of vampires who live and in the Pacific Northwest. With Kristen Stewart and Robert Pattinson. (11/21)
THE SOLOIST — Jamie Foxx is a brilliant but troubled musician befriended by a reporter (Robert Downey Jr.), who helps the down-on-his-luck man tell his remarkable story. Directed by Joe Wright (Atonement). (11/21)
THE ROAD — A man and his son search for civilization in a post-apocalyptic world. Good luck, guys. Starring Viggo Mortensen and Charlize Theron. (11/26)
AUSTRALIA — Hugh Jackman and Nicole Kidman star in this epic set Down Under before World War II. With Pango, the dancing Koala Bear. Directed by Baz Luhrmann. (11/26)
MILK — Gus Van Sant chronicles the life of Harvey Milk, who in 1977 became San Francisco's first openly gay city supervisor and was assassinated by Dan White. With Sean Penn, Josh Brolin as White, and Emile Hirsch as Cleve Jones, founder of the AIDS Quilt. (11/26)
December
SLUMDOG MILLIONAIRE — The story of an impoverished Indian teen who becomes a contestant on the Hindi version of Who Wants to Be a Millionaire? Directed by Danny Boyle (28 Days Later). (12/5)
FROST/NIXON — Frank Langella and Michael Sheen reprise their stage roles in this recreation of the famous interview of Richard Nixon by David Frost. With Kevin Bacon. Directed by Ron Howard. (12/5)
CROSSING OVER — Harrison Ford, Sean Penn, Ray Liotta and Ashley Judd star in this multi-character drama about illegal immigraion in the U.S. Directed by Wayne Kramer (The Cooler, Running Scared). (12/3)
THE DAY THE EARTH STOOD STILL — A remake of the 1951 sci-fi classic starring Keanu Reeves as Klaatu. Directed by Scott Derrickson (The Exorcism of Emily Rose). (12/12)
DEFIANCE — Edward Zwick (Glory) directs this story of three Jewish brothers who, in 1941, organized the largest armed rescue of Jews during the Holocaust. With Daniel Craig, Jamie Bell and Liev Schreiber. (12/12)
DOUBT — Meryl Streep stars as the principal of a Catholic school who becomes suspicious of a priest (Philip Seymour Hoffman) who may have acted inappropriately toward a student. Directed by John Patrick Shanley, who adapted the screenplay from his play. (12/12)
THE BROTHERS BLOOM — Adrien Brody and Mark Ruffalo are con-artists who set their sights on a beautiful, wealthy woman (Rachel Weisz). Directed by Rian Johnson. (12/19)
THE CURIOUS CASE OF BENJAMIN BUTTON — Brad Pitt stars as a man who ages backward. With Cate Blanchett and Tilda Swinton. Directed by David Fincher (Se7en). (12/19)
YES MAN — Jim Carrey is a man who must always say yes, regardless of what he's agreeing to. Maybe he should have thought before saying yes to this. (12/19)
SEVEN POUNDS — Will Smith's annual "Nab An Oscar Nom" finds him as a man close to suicide for causing an auto accident that claimed the lives of seven people. Directed by Gabriele Muccino, who last directed Smith in his last "Nab An Oscar Nom," The Pursuit of Happyness. (12/19)
THE SPIRIT — Frank Miller directs this screen adaptation of Will Eisner's graphic novel about a man who returns from the dead to fight crime. With Gabriel Macht, Scarlett Johansson and Samuel L. Jackson. (12/25)
REVOLUTIONARY ROAD — Leo and Kate, together again, this time not on an ill-fated ocean liner, but as a young couple living in a Connecticut suburb looking to break free from their mediocre lives. Directed by Sam Mendes (American Beauty). (12/25)
VALKYRIE — Tom Cruise plays a German officer who leads an assassination attempt on Adolf Hitler — after he jumps up and down on Der Fuhrer's couch. Directed by Bryan Singer (X-Men). (12/25)