Oh, the drama. A would be king takes to a stage dressed in the pageantry of ancient Rome to greet his throngs of loyal followers. The affair of teenage couple is seen as a threat to an empire. Personal tragedies play out with careful choreography and lighting and dramatic scores.
And all the while various Greek choruses detail every movement, every detail, even the private and seemingly unknowable thoughts and motivation of the various casts of characters.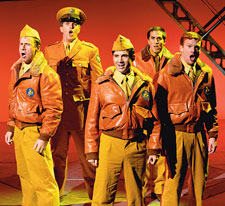 ACE
(Photo by Stan Barouh)
There are perhaps no audiences in the country more capable of appreciating the theater of the political season like D.C. audiences. But there is also a certain jadedness that comes with living in this particular company town. There is a sense that — no matter how many times the reporters and pundits and correspondents say otherwise — it has all been seen and done and said before.
True, the characters have different names and there are the occasional surprising twists, but the narratives, staging and scripts seem very familiar.
Cynical? Perhaps.
Or perhaps it's the fear that the old saying is true and there is nothing new under the sun. It's a dread that results in a sense of almost physical relief when one stumbles across something that feels truly fresh and, well, new.
But a fresh and new feeling is exactly what you get from the season opener at Signature Theatre. From its engaging writing to a collection of songs with genuine weight and substance, Richard Oberacker and Robert Taylor's high-flying musical ACE offers audiences an exciting ride over fresh territory.
Danny (Dalton Harrod) is sent to live with a foster family after his mother's unsuccessful suicide attempt. Faced with the reality of possibly losing her son, Elizabeth (Jill Paice) decides its time for Danny to know the truth about where he comes from including why he's never known his father. Unable to communicate directly with the boy, Elizabeth explains Danny's family history through a series of cryptic gifts. The first of which is a model airplane.
The family story unfolds as past and present overlap on Walt Spangler's airplane-industrial stage. All chrome and rivets and sleek hydraulics, Spangler uses clean and deliberate gestures to take the audience from the suburban kitchen of a particularly desperate housewife to the skies over both World Wars.
The movement is made all the more graceful thanks to the work of costume designer Robert Perdziola whose bold use of color renders the past like Dorothy Gale's Technicolor Oz. Period costuming is too often reduced to historical survey and Perdziola seizes the opportunity to stay true to fashions of the 1910s, '40s and '50s while injecting a creativity that well matches that of the performers he is dressing.
At the head of that class is Harrod as Danny. Even those audience members who normally greet the arrival of a child actor on stage with the same excitement as a flat tire in a thunderstorm will be pleasantly surprised to discover that Harrod is a true professional with a voice that is sometimes shockingly adult.
ACE
To 9/28
Signature Theater
4200 Campbell Ave.
Arlington, Va.
$49-$77
703-820-9771
www.sig-online.org
The same goes for Angelina Kelly who plays Danny's best friend Emily. Before the (figurative) curtain closes on the evening you may find yourself already wondering how the diminutive Kelly's voice could possibly become any larger.
While the time many of the adult members of the cast spent on Broadway makes ACE's big production numbers come to life with whirlwind force, it's in the show's quieter moments that the music really shines. Emily Skinner dazzles with the clever song "Make It from Scratch." Paice's moment comes with the second act's lovely "It's Just a Matter of Time." Matthew Scott, who plays the show's title character, Ace, brings the audience "Choose to Fly" in a performance that dares you not to cry.
ACE is a success destined to bring every audience member to their feet, no matter what side of the aisle they're sitting on.