Resurrection, Daniel Beaty's ode to the lives, hearts and souls of five African-American men and a son, is both everything you would expect it to be and everything you wouldn't. Without doubt or apology, Beaty revisits the familiar experiences and effects of a legacy of slavery, racism and the cycle of poverty through the lives of these men who are of, if not necessarily still in, the ghetto. They speak to us through monologue, poetry, song and the physical essence of character with pivotal points in between where they speak to each other.
Yet the play never buries itself in the sanctimony and cliché so often associated with such a subject and approach because Beaty is operating in an artistic space light-years removed from the often overly-proscribed explorations of "The Black Experience." Beaty resides just briefly on the exteriors of these men, choosing instead to do the very hard work of drilling down into their psyches — to the point at which we reach the universal human contradictions, the failings and the hopes against hope. He may be devoutly loyal to these men and what they represent, but he is equally loyal to truth. Thus we get a piece that is buoyant with warmth, wit, heartbreak, anger and the beauty of language itself.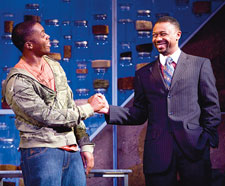 Resurrection
Partnered excellently with this vision and mood is director Oz Scott, who creates a precise but wonderfully understated framework from which this superb ensemble can fly. It is a marvel of pace and rhythm; a beautifully choreographed expression of personal experience, emotion and epiphany.
Michael Genet as the centered but deeply stressed Mr. Rogers anchors the dramatic arc with the "brick and mortar" of his health food store in the Projects and the everyday habits of his family. An actor of subtlety and emotional power, Genet has the amazing ability to control the space one minute and then make himself invisible the next. His portrayal of a man trying to bring hope to his community is as warm, essential and believable as is his anger and despair at his circumstances.
Taking another corner of this emotional community is Jeffery V. Thompson as the bishop of a mega-church. Of all the players, the bishop best captures Beaty's strong interplay between poignancy and humor and Thompson is a master of comic timing and raw but understated emotion. His face is a pleasure to watch as he moves through the inner-turmoil of this man.
Out of the ghetto, or nearly so, are the music executive Isaac, played by Alvin Keith, and the graduating high-schooler 'Twon, played by Turron Kofi Alleyne. Both men adeptly express the agony of realizing that to find freedom they must let go of the past; yet to let go of the past they must cut at their roots and the emotional safety they embody. The only thin ground comes with Beaty's decision to show Isaac's inability to take on his father, the bishop — somehow it seems he should be strong enough to handle his rejection. Similarly, there is a slight incongruence between 'Twon's unseen Take No Prisoner mother and his gentleness. His sweetness is lovely, but where is his survivor's edge? He must have some shadows within, and they would have been interesting to see in this sophisticated context.
RESURRECTION
To 10/5
Arena Stage
1800 S. Bell St.
Arlington, Va.
$47-$66
202-488-3300
www.arenastage.org
Rounding out the male ghetto experience is Che Ayende, as Dre, the one who has seen prison and wants never to go back. Ayende has the extremely demanding task of not only showing Dre grappling with the consequences of his failures but doing it piecemeal as his character comes and goes from center stage. He does a powerful, believable job. Eventually Dre almost loses the language to express himself, and one wishes Beaty had given him more to say in his darkest hours. Last but far from least, is the spectacular Thuliso Dingwall as Mr. Roger's young son, Eric. Familiar to many from The Wire, Dingwall demonstrates here that he is simply overflowing with talent. He embodies not only the tender hope of this play, but in many ways the future of live theater itself.