We've got the monuments, the memorials, the cherry blossoms and opportunities to catch your favorite politeratti in embarrassing situations. But two stalwarts of any good city — museums and shopping — merge in D.C. like nobody's business in the form of museum shops. Note to penny pinchers: No sales tax at the Smithsonian shops!
Petal of the Metal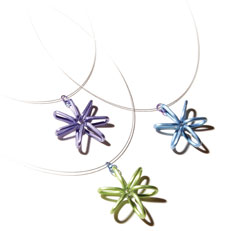 What exactly is "anodized aluminum"? Who cares? It's pretty and shiny! Twisted into these cute and colorful flowers by Q3 Art Jewelry, the Xena 1 necklace is a modern and playful accent that brings to mind daisies and androids. You'll hardly find that unique combination elsewhere for a mere $16. Grab this necklace — in a variety of colors — at the Smithsonian Institution's Hirshhorn Musuem and Sculpture Garden shop, Independence Avenue at Seventh Street SW. To explore the shop, visit http://hirshhorn.si.edu.
Photo Finish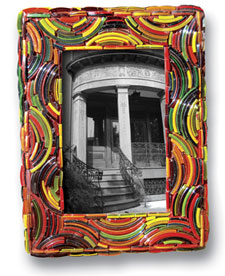 The folks at Two's Company offer a huge range of items for home and garden, with themes ranging from babies to bohemia. Their photo frame of inlaid glass falls somewhere in between, simultaneously reminding one of smoothed beach glass from the sea and the deep, rich hues found in forestland. The frames, in various sizes, along with coasters and boxes in matching glass inlay are available at the Phillips Collection, 1600 21st St. NW. The frame pictured here costs $22.95. To learn more about the Phillips, visit www.phillipscollection.org.
Eclectic Blue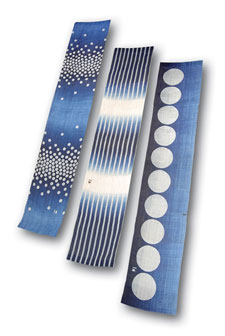 For those hoping to make a bold statement at Thanksgiving, consider setting your table with Rowland Ricketts' handmade, hemp table runner. Ricketts, a featured artist in the Textile Museum's "Blue" exhibit, has immersed himself in color, having spent many years in Japan studying ancient practices involving indigo dyes. While the $300 price tag may seem a bit steep, each 12-inch-by-60-inch runner is a work of art — so be careful with that gravy boat. The Textile Museum is at 2320 S St. NW. For their shop online, visit www.textilemuseumshop.org.
Ntofu for You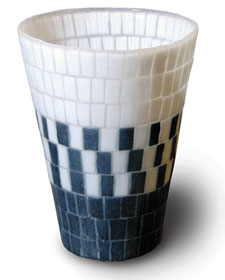 From a short distance, the small Wobbly Vase looks as though it's made of glass tiles. But while the eyes may lie, the fingers do not — the silicone vase is lightweight and flexible. It's even waterproof and flameproof — perfect for a bouquet of flaming iris. A priceless quality of this $90 vase, or $150 for its larger counterpart, is that they are made by Xhosa women of Hout Bay, South Africa, who call them ntofu, their word for wobbly. This vase won't just add beauty to a home, but will help to sustain a community. Get your ntofu fix at the National Museum for Women in the Arts, 1250 New York Ave. NW. For the shop, visit www.nmwa.org/museumshop/.
Making Their Mark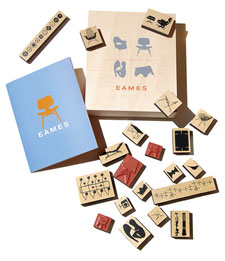 Charles and Ray Eames have touched our culture with their classic-modern style that pops up everywhere from the first-class recliners of Swiss International Air Lines to Versace photo shoots. With a set of Eames rubber stamps, their iconographic imagery could grace your hard-copy correspondence as well. Or maybe there's a Montessori tot in your life who would love to go nuts rubberstamping the walls (anyone's but yours) with this tactile, educational toy, available as a set of 20 for $19.95 at the National Building Museum, 401 F St. NW. To browse the museum's offerings, including its shop, visit www.nbm.org.