With the Jumbotron extravaganza barely behind us, one must wonder, just a little, why the WNO did not chose this production of Bizet's The Pearl Fishers as its "come hither" to the public. Wildly colorful, short (relatively), full of dance and bare midriffs, this easy-reader of an opera seems far more accessible when compared to the visually stodgier, if admittedly more classic, La Traviata.
Well, whatever the rationale for the ballpark, this version of Fishers is without doubt an excellent choice for the opera newcomer — especially the musical theater buff ready to make the break. The more seasoned, of course, will find the equation a tad more complex, but rest assured the "pearls" are most definitely here.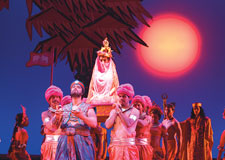 The Pearl Fishers
(Photo by Karin Cooper)
The "wow" factor starts with sets designed by British fashion icon Zandra Rhodes. The good news is that her giant color-striped palms and illustrated pillars vividly frame a storytelling space perfectly befitting Bizet's long ago tale of faraway Ceylon (Sri Lanka). It is a concept reminiscent of charming Victorian-era three-dimensional toy theaters in which distance was suggested by layers of paper scenery set along the stage. Here, Rhodes' cut-outs deliver the same sense of distance but with a sense of whimsy rather than reality. One wishes for even more scene changes in which to explore her world of color and line. The bad news is that the brightly slash-painted palms come dangerously close to a Target picnic-ware motif. And when it comes to costuming our exotic leads, Rhodes takes us a mere hair's breadth from Disney-on-Ice. Has she entered these ports on purpose or has commercial culture at last become one with pop art?
Thankfully, such qualms fall away as Bizet's beautifully melodic score takes hold and we are drawn into a passionate love triangle and the bitter consequences that await one of the would-be lovers. Though the chorus provides much musically and visually, this is not a "big" opera and it can only be as good as the chemistry of the trio at its core.
The strongest performer by far is tenor Charles Castronovo as Nadir, the hunter who returns to his village to make amends with his lifelong friend and former rival in love, Zurga. Before long Nadir falls in love with a mysterious, veiled priestess whose chastity, this being ancient Ceylon and not Alaska, ensures the safety and luck of the village fishermen. It quickly transpires that she is in fact Leila, the woman both Nadir and Zurga had once glimpsed and then fought over. An exceptional actor, Castronovo defies the predictability of the plot, delivering a blissfully understated but engaging Nadir. With subtlety, he suggests that Nadir's passion for the priestess is as much spiritual as it is physical. When he sings, we are treated to sensitive phrasing and a pleasing, noble sound that is supple and warm. Castronovo's heartfelt rendition of the Act I aria "Je Crois Entendre Encore," is positively swoon-worthy (as are the singer's dark good looks).
Unfortunately, and despite an energetic performance, Soprano Norah Amsellem's Leila is nowhere near as effective. There is something far too "knowing" about this girl, despite the virtues extolled by her admirers and the history of her supposedly cloistered existence. She simpers and flashes her pearly whites in a way that suggests it's all a coquette's game to her. When she sings of Nadir in her bedtime aria "Comme autrefois," her languishing limbs suggest a self-centered mirror-hound, not a besotted innocent. And although Amsellen looks stunning in her I Dream of Jeanie getup, it seems she can't quite get over her abs and into her role. Having said all that, she brings technical skill, a vocal richness and, at times, a certain delicacy to Leila's vocal flights. Still, such a self-conscious Leila never seems worthy of this Nadir or Zurga.
THE PEARL FISHERS
Sept. 25 & 28
Oct. 1, 4 & 7
Kennedy Center Opera House
$48-$250
202-295-2400
www.dc-opera.org
Trevor Scheunemann sings the unrequited Zurga and though his baritone begins to shine at times, it does not seem a great fit with Castronovo during Bizet's famous duet for the men. Neither fully made it over the orchestra at times.
Director Andrew Sinclair's heightening of the sexuality of this Fishers is ultimately not a strength. Dancer's rear ends and toned flesh choreographed into prominence does not necessarily equate with "sexy," even if we can't drag our eyes away. Sex, as they say, is in the head, and it is the erotic promise of Nadir's longing for Leila that carries this opera's heat.