BORDERS BOOKSTORES
Various locations
www.borders.com
· Naomi Wolf — Give Me Liberty (9/16, 18th & L Streets NW)
· Michael Scott — The Magician (9/16, 11054 Lee Highway, Fairfax)
· Bob Schieffer — Bob Schieffer's America (9/16, Bailey's Crossroads)
· Jessamyn Conrad — What You Should Know About Politics…But Don't (9/17, 18th & L Streets NW)
· Stephen Baker — The Numerati (9/23, Tysons Corner)
· Omar Tyree — Pecking Order (9/25, 18th & L Streets NW)
· Francine Prose — Goldengrove (9/26, Bailey's Crossroads)
FOLGER
201 East Capitol St. SE
202-544-7077
www.folger.edu
· PEN/Faulkner Gala — A benefit evening of readings by Melissa Bank, Amiri Baraka, Richard Bausch, Sylvia Brownrigg, Christopher Buckley, Alan Cheuse, H.C. Carrillo, Andrew Sean Greer, Francisco Goldman, Tony Grooms, Terry McMillan and Patricia Volk, followed by a black-tie dinner. Roger Mudd is master of ceremonies (9/22)
· Jess Winfield — The co-founder of The Reduced Shakespeare Company discusses his whimsical fiction debut, My Name Is Will: A Novel of Sex, Drugs, and Shakespeare (10/27)
· Russell Banks and Richard Russo — Both men read from new novels that explore richly drawn fictional worlds set in upstate New York (11/21)
· Elizabeth Spires on Emily Dickinson — Spires will read from her own poems as well as those of Emily Dickinson for the annual Emily Dickinson Birthday Tribute (12/8)
· Calvin Trillin — "On Stories, Politics, Poetry and Food" (2/20)
· Germaine Greer — Discussing Shakespeare's Wife, her biography of Anne Hathaway (3/23)
·
HILLWOOD MUSEUM & GARDENS
4155 Linnean Ave. NW
202-686-8500
www.hillwoodmuseum.org
· Fabulous Fall Centerpiece Talk & Workshop — Learn about Hillwood's seasonal floral decorations on a walk through the mansion, and then with the guidance of floral designer Adrienne Summers create a fall arrangement using a miniature pumpkin (9/27)
· A Sunday Afternoon Oasis — Adrienne Summers presents floral demonstrations illustrating both contemporary arrangements and designs from the time of Hillwood founder Marjorie Merriweather Post (9/28)
· Fragile Persuasion: Russian Porcelain and the Fine Art of Propaganda — In conjunction with the exhibition of the same name, Dr. Scott Ruby explores the role of porcelain in Russia from the time of the czars to the present (10/18)
· Faberge's Eggs: The Extraordinary Story of the Masterpieces that Outlived an Empire — Author Toby Faber tells the story of the Faberge imperial eggs, which illuminate some fascinating aspects of 20th-century history (10/23)
· The Pearl: A True Tale of Forbidden Love in Catherine the Great's Russia — Douglas Smith recounts the true and unforgettable love story of the serf who became one of Russia's greatest opera singers and married Count Nicholas Sheremetev, her overseer and Russia's wealthiest aristocrat (11/19)
JEWISH LITERARY FESTIVAL
DCJCC
1529 16th St. NW
202-777-3250
www.washingtondcjcc.org
Selected Hightlights.
· Laugh for God's Sake: Humor in Jewish Literature — Excerpts from works by Shalom Auslander, Faye Moskowitz, Nathan Englander and others are given dramatic interpretation by Michael Tolaydo, Joel Snyder, Susan Lynskey, Deb Gottesman and Brian Hemmingsen. Directed by Ian Armstrong (9/14)
· Finding the Jewish Shakespeare: The Life and Legacy of Jacob Gordin — In this revelatory biography, Beth Kaplan sets out to explore the true character and creative achievements of her great-grandfather Jacob Gordin, playwright extraordinaire and icon of the Yiddish stage. With readings by Norman Seltzer and Barbara Rappaport (9/15)
· Hope, Not Fear: A Path to Jewish Renaissance — Through a reexamination of texts and interviews with many Jewish leaders, philanthropist Edgar M. Bronfman outlines a new agenda for the Jewish community, one that ensures that Judaism grows and thrives in a more open society. He will discuss his book with Wayne Firestone, president of Hillel International, and Beth Zasloff (9/16)
· Identical Strangers: A Memoir of Twins Separated and Reunited — The amazing story of two women — Elyse Schein and Paula Bernstein — coming to terms with the strange and unbelievable hand fate has dealt them: that, though each was adopted into a separate family, they are identical twins. Their account broadens the confines of what "family" truly means, and offers insight into the effect that DNA has on our lives (9/18)
· My Miserable, Lonely Lesbian Pregnancy — In this memoir of her 40 weeks and five days in hell, Andrea Askowitz takes an unflinching look at her pregnant life (9/21)
· Hip Kosher — Ronnie Fein's cookbook is a fresh take on kosher cooking, featuring more than 175 recipes for every meal and occasion, focusing on contemporary American dishes (9/23)
LAMBDA RISING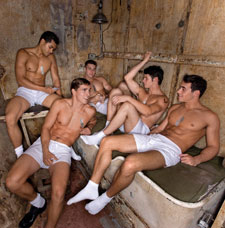 'Barely Working' at Lambda Rising
1625 Connecticut Ave. NW
202-462-6969
www.lambdarising.com
Adam Raphael — The photographer of Barely Working will be joined by several of his models to discuss his work (9/12)
· Ken Seifer — Reading from his novel, The Rising Storm (9/11)
· E. Patrick Johnson — Reading from and discussing his book Sweet Tea, which collects life stories from black gay men who were born, raised, and continue to live in the southern United States (11/6)
·
NATIONAL GEOGRAPHIC LIVE!
Grosvenor Auditorium
National Geographic Society Headquarters
1600 M St. NW
202-857-7700
www.nationalgeographic.com/nglive/
· Everyday Survival: Why Smart People Do Stupid Things — Survival expert Laurence Gonzales shows how modern society has made us lazy, numbing our awareness to the risks around us. Whether climbing a mountain or the corporate ladder, this presentation will change the way we view our choices in our complex and increasingly dangerous world (10/1)
· Oceans 8 to Antarctica — Adventure writer Jon Bowermaster shares highlights of his latest kayak journey, paddling to the bottom of the world (10/7)
· Windows of the Soul: My Journeys in the Muslim World — Photographer Alexandra Avakian offers a timely portrait of a diverse culture where love, honor and deep faith collide in a life-or-death conflict with intolerance and anger (10/21)
· The Life of a Photograph — Veteran National Geographic photographer Abell offers a look inside the heart and mind of a master photographer (10/28)
· Crucial Waters — Underwater photographer Brian Skerry photographed the lush tropical wonderland of Kingman Reef in the South Pacific, and documented the plight of the right whale, threatened by heavy shipping along the coastal waters it frequents (11/6)
· Near and Far: A Photographer's Journey –Ed Kashi discusses his work (11/21)
· Reza: War + Peace — The distinguished Iranian photographer and humanitarian is renowned for his ability to capture dramatic, paradoxically beautiful images from some of the world's most troubled places (12/2)
OLSSON'S BOOKS
1307 19th St. NW
202-785-1133
www.olssons.com
· Louis Bayard — The Black Tower (9/11)
· Linn Ullmann — A Blessed Child (9/15)
· Thomas Hager — The Alchemy of Air: A Jewish Genius, a Doomed Tycoon, and the Scientific Discovery That Fed the World but Fueled the Rise of Hitler (9/16)
· David Carr — The Night of the Gun: A Reporter Investigates the Darkest Story of His Life. His Own (9/17)
· Kira Salak — The White Mary (9/19)
· Jen Lin-Liu — Serve the People: A Stir-Fried Journey Through China (9/23)
· Steve Almond — (Not That You Asked): Rants, Exploits, and Obsessions (9/24)
· Peter Manseau — Songs for the Butcher's Daughter (9/25)
POLITICS AND PROSE
5015 Connecticut Ave. NW
202-364-1919
www.politics-prose.com
· Curtis Sittenfeld — American Wife (9/12)
· Francine Prose — Goldengrove 9/16)
· Michael Scott — The Magician (9/16)
· Philip & Alice Shabecoff — Poisoned Profits (9/18)
· Paul Theroux — Ghost Train to the Eastern Star (9/23)
· Christopher Paolini — Brisingr (9/24)
· Steve Jenkins And Robin Page — How Many Ways Can You Catch a Fly? (9/29)
· Dexter Filkins — The Forever War (9/30)
· Lynda Barry — What It Is (10/3)
· John Podesta — The Power of Progress (10/11)
· David Macaulay — The Way We Work (10/21)
· Art Spiegelman — Breakdown (11/7)
· Robert Samuelson — The Great Inflation and Its Aftermath (11/15)
· Christopher Plummer — In Spite of Myself (11/18)