WHO DO U LOVE… Are you ready? One of gay clubland's favorite singers is returning with new material this fall. Well, yes, Whitney Houston may return, if she can get her act together. But that's not who I mean. Same script, different cast: Houston's one-time duet partner Deborah Cox will release The Promise later this fall. Of course, just last year Cox released Destination Moon, her fourth studio album, but no remixes ever surfaced from it. As a high-concept tribute to jazz singer Dinah Washington, it had limited appeal. Her previous set, The Morning After, was released all the way back in 2002.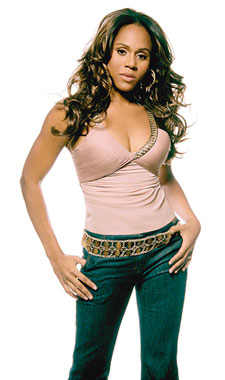 Deborah Cox
The 34-year-old Canadian native started as a backing vocalist for Celine Dion, then became a protégé of Arista Records' Clive Davis, the legendary label honcho who also championed Houston. Exactly one decade ago Cox scored her only major mainstream hit, "Nobody's Supposed to Be Here," and Hex Hector's remix of that song was just one of over a dozen hits she's had in clubland. Four years ago, she made a rare foray on Broadway, starring in the Elton John/Tim Rice Disney musical AIDA. But she got her start in R&B, so to R&B she now returns.
On The Promise, which Cox will release Nov. 11 on her own label, the artist worked with many notable producers, including John Legend, who co-wrote the album's title track.
Meanwhile, Flyte Tyme's Jimmy Jam and Terry Lewis (Janet Jackson) produced a sleepy, smooth-jazz ballad "Did You Ever Love Me," released last month. Far better is the official first single, "Beautiful U R," a Rihanna-styled empowerment anthem with electric guitars blaring over jerky beats and moody harmonies in the chorus. "Don't ever let nobody bring you down, girl," Cox sings in the mid-tempo song that deserves to be a No. 1 pop hit. And here's hoping some dazzling remixes are on tap, so Cox can finally return to the top of the dance charts. After nine No. 1 hits on the Billboard Club Play Chart, only one of her last three tries topped it: 2006's "House Is Not A Home." "Easy as Life," the 2004 dance hit Tony Moran carved out of AIDA, only made it to No. 33, and Moran's "Everybody Dance (Clap Your Hands)" only made it to No. 17 last year….
BEYONCE'S DÉJÀ VU… Deborah Cox replaced Toni Braxton when she took to the Broadway stage in the starring role of AIDA — a role Heather Headley originated. But none of them are apparently big enough to carry Disney's planned movie musical, due in 2010. Instead, Beyonce is in talks to star as Aida, and Christina Aguilera in the supporting role of Amneris. Just ask any of her former colleagues in Destiny's Child: You just can't get away from Beyonce these days. To think the 27-year-old is only beginning to truly conquer film. Soon enough, we'll see the Dreamgirls' star turn as blues singer Etta James in Cadillac Records.
But Beyonce has pretty much stayed in the recorded-music limelight ever since she released her last album two years ago. B-Day spawned no fewer than six hits. Now, she's ready with her third solo set, which will drop one week after Cox's The Promise. Timbaland is purportedly the lead producer on the as-yet-untitled album, which will also feature Justin Timberlake, although Billboard reports it's unclear in what capacity, and the magazine offered few other details other than that we'll hear two singles from the set in less than two weeks: "If I Were A Boy" and "Single Ladies." In case you didn't know, the now-Mrs. Jay-Z is neither….
THAT BRITNEY'S SHAMELESS… It wasn't expected to be ready until Spring at the earliest, but Britney Spears is too eager to see if she can still sell records — beyond her core gay fan base, of course. She's still hoping for a spectacle. She is titling her sixth studio set Circus, after all. Due Dec. 2, on Spears' 27th birthday (yep, she and Beyonce are the same age), it will be preceded by first single "Womanizer," which you should expect to start hearing next week….
LILY KNOCKS 'EM OUT… Overshadowed in part by the whole Amy Winehouse phenomenon, British pop star Lily Allen didn't have nearly the success she should have stateside when her debut album was released early last year. Allen is tabloid fodder in her homeland, in part because she's the daughter of a famous British actor and musician, but primarily because she's spunky and cheeky and not afraid to offend, not even her bosses. "I am trying really hard to do this album with integrity… not just some thrown together last-minute industry bullshizz," she recently posted to her MySpace page. The follow-up to Alright, Still, Allen's second album, so far untitled, is due for release in the U.K. next February. No word on when Capitol will release it here. Billboard reports the set sports a more electronic sound than her fantastic debut, which was more reggae- and dub-influenced pop. The new set is said to include a track — "Guess Who Batman?" — that condemns homophobia and hatred….
From YouTube: Deborah Cox, 'Beautiful U R'