Fall is officially upon us. And even though you might be dreading the inevitable piles of leaves that will soon decorate your garden, there's no need to run for the rake just yet.
"Leaves will break down and enrich the soil," says Frank Asher, who owns and operates Fairies' Crossing from his home near the Washington Convention Center.
"Some people like to use leaves as a cover, as mulch for bulbs. Some people don't like that feel. It's probably good to start raking the leaves and putting mulch down, probably near the end of October, early November, once all the leaves have fallen."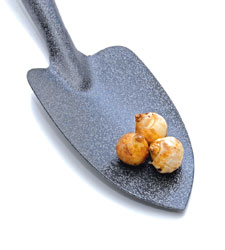 Asher, who is currently expanding his business beyond his home, says there are several things to do in the coming weeks before putting your garden "to bed" for the winter.
"Think about what you don't want anymore, what you want to replace, what you want to clean out," he advises. "This is a great time to clear out your garden and put in some grasses. There's nothing wrong with having what I call negative space, cleaning the beds out in preparation for winter."
After you clear away the flotsam, you can continue by planting "fall staples," such as pansies, hostas and kale.
"Pansies usually survive the winter, so that's good," he says.
The next step is thinking ahead to spring blooms and choosing from a variety of bulbs. Before planting those perennial spring bulbs, however, Asher suggests gauging the quality of your soil.
"You need to find out if you need to put any other soil conditioners in there," he says.
"There are some tests out there to check your soil for its alkaline and acidity [levels]," he says, adding that while Fairies' Crossing does not supply the tests, they are available at major gardener suppliers, such as the Merrifield Garden Center in Fairfax.
If you don't have access to a soil test, Asher says, touch and feel your soil and observe it simply by looking at it.
"If you're soil looks like a handful of coffee grinds and crumbled up leaves, you've got good soil," he says. "The darker the soil and the more texture it has, the better."
If, however, your dirt's a dud, it's just a matter of mixing in the good stuff. Grab the hoe and turn your garden, blending in some purchased, high-quality topsoil.
As far as planning ahead, Asher recommends hitting a creative chord by planting spring bulbs around your current fall fixtures so that when they grow, they bloom artfully.
"If you plant a bunch of pansies and put a whole bunch of bulbs around your fall fixtures, next spring will be a good time to see the colors in the pansies and the color in the bulbs coming up underneath. This is a great time of year to start planting your daffodils and your tulips and your alliums for the spring."
For more information and gardening tips, contact Asher at Fairies' Crossing, at 202-898-1034 or visit www.fairiescrossing.com. Soil tests are available at Merrifield Garden Center, 12101 Lee Highway, Fairfax, Va., 703-968-9600; or Johnson's Flower and Garden Center, 4200 Wisconsin Ave. NW. Call 202-244-6100.