Though one cannot but envy the idea of seeing an opera with beer, hotdogs and vast commodes on tap, it is also somewhat hard to imagine Verdi's classic weepy, La Traviata, played via jumbotron during the opening night simulcast at the ball park. Apparently it was fun and picnicky.
At the risk of sounding like a curmudgeon and fully acknowledging the pitfalls of the expensive cocoon of an opera house, with its long lines at intermission for drinks and nose-powderings, it is nevertheless a special place. There is a reason for the purpose-built opera house where the sights and sounds reach us across real air and space to greet the eyes, vibrate the eardrum, and thus connect with mind and emotion. Yes, of course, opera must widen and increase its appeal to survive, but surely it should lure newcomers to the real experience. A jumbotron is an attractive frolic but how about regular ticket lotteries, pay-what-you-can matinees, or "bring a friend for free" deals in the Opera House itself?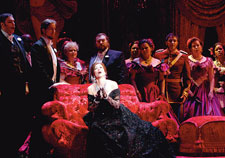 La Traviata
Of course, even if you get audiences into the ball park or the Kennedy Center, you've got to transform at least some of the newcomers into loyal ticket-buying patrons. Since opera is, generally speaking, a deeply traditional, often fusty (for all the right reasons) art form, this is a challenge. One can try to make old operas "current," as with last season's neon-infused La Boheme. Or one can keep to tradition, make no apologies, and let nature takes its course. Not everything in life can or should offer instant gratification. Thus, as marvelous as that Boheme was in its way, it is arguably better that director Marta Domingo has chosen to keep her Traviata, jumbotroned or not, well within the fold.
And though there are no surprises here, Domingo's solid staging of Verdi's no-holds-barred, dramatic tear-jerker needs no gimmickry to pack its punch (eat your heart out Andrew Lloyd Webber). The performances are strong, the sets rich and exciting, and the WNO orchestra veritably leaps under the baton of conductor Dan Ettinger. There is only one minor obstacle to the uninitiated — the opening scene. Set in a garden enclosure reminiscent of a McMansion patio on steroids, the leads mingle confusedly amid a fan-waving, skirt-swirling, bowing and bending chorus. At the sight of this, new audience members would be forgiven a furtive glance at the exits.
Rest assured, however, that once past this initial turn-off, the drama and sets follow, likes Verdi's heartrending music itself, with compelling intensity.
Soprano Elizabeth Futral plays a wonderfully believable Violetta, the lady of ill-repute and ill-health who leaves her true love to save his family's honor. Both musically and dramatically, she gives us a complex woman who is strong, reflective, and yet deeply in need of love. Choices such as the way she grasps her lover Alfredo ever-harder in time with the underlying rhythm of her aria "Amami, Alfredo" add small but touching detail to her portrayal.
LA TRAVIATA
9/18, 9/21, 9/30, 10/2, 10/5
Kennedy Center
Opera House
$48-$250
202-295-2400
www.dc-opera.org
As Alfredo, Violetta's lover, Arturo Chacon-Cruz gives us just the kind of passionate young man who would fall madly in love with the wrong kind of woman. Intentionally or otherwise, we also get the impression that he doesn't understand the half of what Violetta is going through emotionally and spiritually. Though Chacon-Cruz has moments where the essence of his fine tenor emerges, there are also slight signs of wear. He is a big stage presence with a voice in need of protection.
La Traviata is a fine example of a very accessible opera performed in its natural habitat of darkness, acoustical excellence and virtual audience silence. It's worth a nosebleed to try it.