Mitchell Gold has been busy. Those Mitchell Gold + Bob Williams "signature stores" keep popping up, including the local outlet near 14th and Church Streets NW. And sales at the furniture company named for himself and his business — and formerly intimate — partner, Williams, have topped $100 million.
Gold has much more on his plate, however, than trying to make a buck or two. While the Taylorsville, N.C.-based factory churns out the sleep sofas and ottomans, Gold has charged himself with the task of fighting hate against GLBT Americans at what he sees as the root: churches, mosques and synagogues. Since 2005, Gold's Faith In America has been challenging "religion-based bigotry."
"What I've tried to teach is that you don't have to be religious to talk about religion. You have to recognize that this is the root of the problem when you have anti-gay Christians and Jews and Muslims keeping us from having our rights, we have to talk about it."
In that effort, Gold has just released his not-at-all-secret weapon, Crisis: 40 Stories Revealing the Personal, Social, and Religious Pain and Trauma of Growing Up Gay in America.
If you live in D.C., you may very well know one or more of the contributors. Hilary Rosen tells her story. So do H. Alexander Robinson and Bob Witeck, for starters.
"There are a lot of people in there who are well-known leaders in our community, leaders in the world, country, business, whatever," says Gold, whose own story appears in Crisis. "And they're exposing when they were really weak and vulnerable.
"People say to me, 'Oh, you just got some people's stories together.' It wasn't quite that easy. It was asking people to write a story, and then pushing with them, digging with them to really uncover that part they've put away. Most of us don't dwell on the past — especially not the bad past. We just want to move forward."
Now that that past has been dredged and Gold, with the help of his sister-in-law, Mindy Drucker, has the finished product, the next step is promotion. To that end, Gold was in town last week for the D.C. release party at his store.
METRO WEEKLY: How was the party last night?
MITCHELL GOLD: There were somewhere around 400 people here. It was packed. We had Tipper Gore as our special guest. Congresswoman Tammy Baldwin [D-Wisc.] was here, Congressman Barney Frank [D-Mass.] was here, Congressman Brad Miller [D-N.C.] was here — who's not my local congressman, but he is a congressman in North Carolina who's fantastic.
Both of my North Carolina senators were invited. However, being that Elizabeth Dole [R] doesn't want to deal with the ramifications of her rhetoric and her voting record and how it affects gay teenagers, she did not attend. Richard Burr [R], I am surprised he didn't attend, because he has attended other of our events. He doesn't have a decent record, but he at least is willing to have a conversation with us — with me, anyway.
With Sen. Dole I've only had one conversation. It was very nice and pleasant on my part, but after she realized I wanted to talk about full and equal civil rights for the LGBT community, she made it clear that that's not something she really wants to even talk about.
MW: How comfortable are you on Capitol Hill?
GOLD: The great fun for me in going to Capitol Hill is my agenda is open and clear. I don't suffer the predicament, if you will, that some other organizations might have, because I'm not looking to have an ongoing relationship with people on the Hill. I'm looking to tell them what I see as the truth and to make sure they understand the harm that they're causing when they do not vote for legislation that protects the LGBT community, when they vote for legislation that in fact harms our community, like the Federal Marriage Amendment. So when I go and talk to a senator or congressperson, I have a little more freedom and opportunity to speak my peace. So it's more fun. It's more interesting.
Some [legislators] are accessible and some aren't. I mean, I can't get in to see Elizabeth Dole. But I have been able in the past to get in to see Sen. [Hillary] Clinton [D-N.Y.].
MW: That accessibility, being easier to reach people who are more progressive on GLBT issues, brings up an issue with Crisis — how do you expand its influence, make it more than preaching to the choir?
GOLD: My parents always ask me for my birthday, "What can we get you?" So about two weeks before my birthday, some years ago, I sent them a copy of Billy Bean's autobiography and I said to them, "For my birthday, I would like you to read this book. This will enable you to understand me better."
A couple weeks later, visiting my parents, we started talking about the book and my childhood. And it really changed the dynamic of our relationship dramatically. We had this incredible conversation. My parents saw that my teenage years were really difficult, yet they were not there to be the parents they thought they were. Parents want to give their children love and support and teach them and help them navigate through the teenage years, and my parents weren't there to do that for me through this difficult time.
So one of the things I'm asking people to do is to ask for this holiday season or whenever, to give this book to somebody. I do want to get to "the choir" and ask them to send Crisis to family and friends. We've asked everybody, think about sending it to your high school. If you have any sort of relationship with your high school — even if you don't, to develop a relationship with your high school — talk to the principal, counselors, and see if you can get this book in the hands of people in high school so they can recognize what's going on with their teenage students.
We have a real effort underway to get it to ministers in two kinds of churches: one is the real anti-gay, fundamentalist churches, and then a larger part is to those churches that are sort of in the middle.
What we've really discovered is that to be silent about this epidemic, to be indifferent about it, is to be complicit. There are kids committing suicide every single day. There are kids, as we sit here right now, we know there's over a million and a half gay teenagers who are going through what we went through. And it's not pretty. It's scary. When I think of the kid who's scared, walking around with a big smile on their face, but inside are scared they're going to say the wrong thing, something's going to slip, someone's going to find out their secret. The freedom from fear is being taken away by, sometimes their family, sometimes their church, sometimes the other kids in school.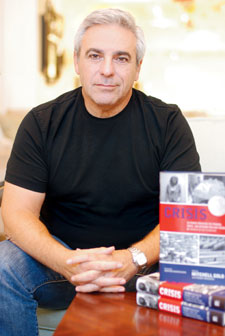 Mitchell Gold
MW: Do you know of a high school in Taylorsville, for example, that would be willing to accept a copy?
GOLD: I'm going to find out. The other thing we're going to launch in a few days, is we're going to ask people to buy a copy and send it to the Wasilla Library in Alaska. I want them to get thousands of copies of this book.
MW: How difficult was it to recruit your contributors? What sorts of responses did you get?
GOLD: I looked at my friends, people I knew, people I could contact, and sent out 23 e-mails. Twenty-two people responded that they wanted to do it, that they thought it was incredible.
Hillary [Rosen] is a good example, like others, where we had to dig. She didn't really want to talk about her fear as a youngster. Joe Solmonese was another who thought everything was really okay — until you start digging. In the book he says it, that he didn't even realize why he avoided going to homeroom, why he ran for class office so he could avoid going to homeroom and being bullied.
It was a harder project than I thought, because with so many people it was so far back. They had just touched the skin of it. My sister-in-law, Mindy, who was extraordinary on this project, and I really had to work with them to really push and get them out.
MW: Was Faith in America born out of anything you'd seen in North Carolina? Did cultural geography play a part?
GOLD: The geography heightened it in some sense, but what really heightened it is what I call a commonsense understanding of what was depriving us of our rights. When you hear legislators talk about why they're dismissive of gays, eventually all that comes down to the root — and the root of it is their religious beliefs.
One of the things I did some time ago was look at who were the people who were really for the Federal Marriage Amendment, and what that support was based on. It was always based on their religious beliefs.
Richard Burr said if [the federal government recognizes same-sex marriage] it will cost the economy a lot of money because people will be paying less taxes, and this and that.
I said, "Are you really serious? Is that why I shouldn't get married?"
He said that's one thing, but that also it's "traditional marriage," that marriage is a man and a woman.
I said, "Senator, I'm Reform Jewish. In my religion, I can be married."
Ultimately, that's what it came to for him: his religious belief. He felt that the [conservative] Christian values should be the dominating values. Not just him, a lot of folks believe those should be the dominating values in America. It doesn't take long to figure out that's the problem and that's what we have to go after.
MW: With Faith in America challenging religion-based homophobia, do you belong to any faith tradition? Is that relevant?
GOLD: It's somewhat relevant. We're going into anti-gay faith communities and to pro-gay faith communities. My religious background is that I'm Reform Jewish. It's a denomination of Judaism that's very open and fair-minded. It's a denomination of Judaism, I would say, that's evolved with the times and has evolved with knowledge of science and life. In fact, in Reform Judaism today, same-sex couples can be married.
I've experienced people's religion-based bigotry as a Jew. The religion-based bigotry that led to the horror that is known as the Holocaust makes me very sensitive to the fact that we're living through, yet again, another time when religion is being used to marginalize and de-humanize people.
For America to tolerate it, and not to have its LGBT citizens with full and equal rights, is really the great moral failure of the day. It's nothing less than that.
MW: With Americans being an incredibly religious people, what keeps you from being discouraged in challenging some very strong pillars of that establishment?
GOLD: You know what? I am incredibly optimistic now, at this moment.
What we've seen with this book is that when people realize the harm that they're causing to someone else, now we're talking about something different. We have, at Faith in America, framed the conversation with non-accepting people in a very different way then it's been framed before. If you think about this for a minute: What Americans have been asked to look at is a nice gay couple that might look like us. And what we're asking for is Social Security benefits. We're asking for health visitation. We're asking for job protection for that $50,000 or $100,000 job. A large number of Americans don't see that as a real hardship.
I want to make it clear that those are very important things. I want those things for my partner and myself. I want full and equal rights, 100 percent. But to get there, one of the important things for America to understand is the fact that we don't have full and equal rights. What does that do to a gay teenager?
This book is a window to seeing that kind of trauma that a gay teen experiences. With the religious moveable middle, this book touches their hearts. I don't believe people want to be homophobic. I think they're taught to be homophobic. And I think this book gives them a reason not to be. This gives them a clear understanding of why they shouldn't be.
We did a focus group [of] 10 people who said, "I consider myself of good Christian and I am not accepting of gays." We get 10 of those folks in a room and we talk to them about Faith in America's message, the history of discrimination, moving it along, connecting the dots of history and discrimination to the discrimination against gays today. We were moving them along. When we gave them a chapter to read in this book, you could visibly see in their faces that they were stunned that this goes on. When they finished the book, the conversation totally changed. You could see the change. With this focus group, which was over at 8 o'clock, they stayed in the room talking till 8:20. When we finally had to ask them to leave, because the office was closing, they were out in the parking lot talking.
So I've seen with my own eyes that people will change once they know the real harm that they're causing. Not everybody. Not the hardcore Tony Perkins, perhaps. But we haven't had a chance to talk with him yet. So I'm incredibly optimistic about this because I really feel that our community has an opportunity now to hit a very different messaging than has ever been used before, and hit it in a strong way.
People often say to me, "You can't tell people they're wrong. People don't like to admit they're wrong." I know that. That's somewhat human nature. The other part is that people do accept when they've done something wrong, and want to make it right. Jerry Falwell, who was one of the leading segregationists in the '50s and '60s, he finally apologized publicly to people of color for all that he said and stood for. And it is time for these people to face up and reckon with the harm that they're causing.
I could be naive as hell, but I really do believe that some of these folks are going to find this liberating. I can't believe that Tony Perkins goes to bed happy every night.
MW: I know that North Carolina can be awfully conservative, but also has some very progressive spots. What's your area like?
GOLD: My factory is in Taylorsville, which is in Alexander County. The country has 37,000 people, 14 traffic lights –it's a dry county, they don't serve alcohol — and over a hundred churches. People are really good, nice people. That's part of why I'm doing this: I recognize that there are a lot of really good, nice people and they just don't know the harm they're causing. A lot of our employees belong to fundamentalist churches that are pretty anti-gay.
We've offered Crisis to all our employees. About 300 of them have taken it, out of 700.
MW: Between this book's examination of youth and offering day care at your factory, I wonder if you've ever thought about having children yourself.

Mitchell Gold: Crisis: 40 Stories Revealing the Personal, Social, and Religious Pain and Trauma of Growing Up Gay in America
GOLD: I did. Unfortunately, when Bob and I were first together, I remember one day just watching him with my niece and nephews and I thought, if I was going to have children, this is who I would want to have them with. At that time, 15 years ago or so, it wasn't really thought about that much. It wasn't common at all. And we were building a business. We really didn't think that it was possible. Now that it's possible, I think I'm too set in my ways.
But I claim that I have 77 children. They're extraordinary. We start at six-weeks old up to kindergarten. It's education-based. We have them on computers at 2-years-old. They know math and speak proper English and have great table manners. I used to say that that was the best thing I'd ever done in my life: starting that daycare. This [book] is running a close tie.
For more information about Faith In America or to order Crisis: 40 Stories Revealing the Personal, Social, and Religious Pain and Trauma of Growing Up Gay in America, which is also available in bookstores and through online merchants, visit www.faithinamerica.info.