The trick of improvisational theater is taking a few ideas and stitching them together on the fly before an audience. Success can be measured in laughs, which are Washington Improv Theater's stock-in-trade.
"There's definitely an appreciation for finding the absurd in the world around us, being able to laugh at things rather than cry," says WIT's artistic and executive director, Mark Chalfant.
Majoring in Russian language and later working at the International Monetary Fund, Chalfant would seem a more likely candidate to write brooding poetry or have nightmares of suffering children in the developing world. In a city such as Washington, with its reputation for gray suits in sweltering summertime, one would imagine he'd have quite a bit of company, too.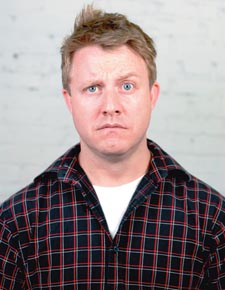 Mark Chalfant
That might actually work to WIT's advantage.
"It's why I think the classes are so popular," says Chalfant, who heads WIT's series of improv classes, which attracted about 130 students last semester. "It's difficult to just meet people and let your hair down."
WIT's troupe of players — Chalfant says "players" or "improvisers" is preferred to "actors," while "'thespians' might be putting it on a bit thick" — is hitting the District's political sensibilities more directly during this election cycle with POTUS Among Us. POTUS anchors WIT's current and considerable season — including another round of iMusical, in which the WIT-meisters concoct a musical on the spot — with an audience-styled election.
"We did a dress rehearsal in front of people who eat politics for breakfast," Chalfant says, adding that the well-received POTUS, while political, is a break from politics. "We don't play with Democrats or Republicans. We're trying to give at least one hour of relief to D.C. audiences."
For GLBT audiences who may worry about off-the-cuff comedy using sexual orientation for cheap laughs, Chalfant, who is gay, guarantees that won't be the case, also pointing to Topher Bellavia, WIT's gay managing director.
"Some lowbrow comedy can use gay as the punch line. Anybody who works with Topher and me gets an education that gay can be part of the funny, but — in an of itself — it's not the joke."
For a full rundown of WIT's new season at Source, 1835 14th St. NW, information about classes or to purchase tickets, visit www.washingtonimprovtheater.com or call 202-315-1318.