The Metropolitan Community Church of Washington held a full house on Sunday, Sept. 28, for a "speak out" and memorial event for a Tony Randolph Hunter, a 37-year-old, gay Clinton, Md., man who was brutally beaten a few blocks away from the church, three weeks ago. Hunter died from those injuries Sept. 17.
Some among the crowd of about 200 people gathered at MCC-DC, at Fifth and Ridge Streets NW, wept as Tony Neville, a friend of Hunter's, sang "Lord I Need You Now." It was the same song Hunter and a small group of friends had heard together during the Black Family Reunion concert on the National Mall the same night of the attack, Sept. 7.
Dana Fonville, who was friends with Hunter, organized the memorial event.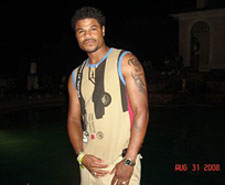 Tony Hunter Randolph
"This isn't about a hate crime," he told those gathered at the church. "It isn't about a violent crime. It's just that somebody died at a time of their life, he was only 37-years-old, and it could have been me, and I just wanted to honor him tonight."
The gathering provided other community members an opportunity to share their thoughts. Dee Curry, a transgender activist, was among them.
"I'm 53 years old and I've lived here all my life –and I'm terrified to go out," she said. "Today I challenge the mayor, the City Council members, and Congresswoman Eleanor Holmes Norton, with the task of placing the same emphasis on protecting our citizens as they place on tourism," Curry said. She finished her statements by asking the audience to join her in a chant of, "Enough is enough."
Other attendees included D.C. City Council members Kwame Brown (D-At large), Jack Evans (D-Ward 2), Carol Schwartz (R-At large) and her electoral opponent, Patrick Mara.
A close friend of Hunter's who did not want his name printed, described Hunter as a "loving person."
"I met him when I was 19, I'm 30 now," he said. "Tony was my brother, my best friend. I loved him and I will never forget him."
Although Mayor Adrian Fenty did not attend the event, Christopher Dyer read a statement from Fenty, which had been released three days prior.
"My administration has a zero-tolerance policy towards hate crimes," Fenty's statement reads. "We take all incidents of homicide and assault very seriously, and it is a high priority of mine to decrease violence on our streets. The death of Mr. Hunter as a result of his attack on Sept. 7 is a tragedy, and my thoughts are with his family and loved ones."
After Neville finished singing, attendants, most of whom were wearing white in an announced effort to signify unity, exited the church and lit candles, marching between two police cars toward the site of the attack at Eighth and N Streets NW. The turnout was greater than expected, as MCC ran out of candles, prompting some to carry flowers instead.
Unity Fellowship Church Rev. Abena McCray led the crowd at the corner of Eighth and N in a chant, repeating Hunter's full name as she poured water onto the sidewalk where he was found unconscious, describing that this was an African ritual.
"As long as your memory is alive, you're alive," she said, as gatherers dropped flowers at the site of the attack, forming a cross.
Hunter's death occurred amid a growing sense of urgency among many members of the local GLBT community to do something about recent hate crimes in the District. Hunter and a friend, Trevor Carter, 23, were attacked Sept. 7, while exiting their car en route to Be Bar, a lounge that caters to the gay community, at 1318 Ninth St. NW, about a block from the attack in D.C.'s Shaw neighborhood.
Carter, from Fort Washington, Md., suffered a bruise to his jaw, and was treated and released from a local hospital following the attack. Hunter suffered a laceration to the back of the head and was in critical condition until he died.
MPD Acting Lt. Brett Parson said the suspects allegedly stole a set of car keys and $15 before fleeing in an unknown direction. Police are still on the lookout for "four black males, between 19-22 years old, 5'9"-6'2"," all wearing blue jeans and T-shirts.
As of Tuesday, Sept. 30, Parson said police have not made any arrests in Hunter's case.
"I know there are rumors out there put out by the media, but none of that has been put out by the Police Department," Parson said.
Chris Farris, a local resident who is leading the reemergence of Gays and Lesbians Opposing Violence (GLOV), was at the Sept. 28 event and took the stage with Todd Metrokin, a victim of a recent violent hate crime in Adams Morgan.
Metrokin talked about his July 13 attack, for which one juvenile was arrested Sept. 25. As of Metro Weekly deadline, four suspects remain at large.
"I woke up the next day," Metrokin said. "I walked up to the mirror to see what exactly had happened, [and] I saw something I didn't even recognize. My face was so distorted, puffy, black and blue. But one thing seemed very clear to me — there was a shoeprint across my face."
Farris added that recent attacks like Hunter's and Metrokin's prompted the reformation of GLOV.
"When that person put his foot in Todd's face, he put his foot in all of our faces," Farris said. "He was trying to stamp us out. It's exactly what is happening. And that's why we're putting together GLOV again."
Farris added that GLOV will take a "holistic, multi-faceted approach" to combat the problem by working with the community, businesses and D.C. schools.
"I urge you to help us," Farris said. "Take your anger that's here, take your sadness, take your frustration, and help us make a difference."
For more information about GLOV, visit www.glovdc.org.