If you hate your job — or worse, you don't have one — don't fret. Washington is home to several temporary-employment agencies. Picking the right one, however, can be just as hard as landing an interview.
Some require that you be unemployed to begin with, meaning those looking for a job swap are out of luck. Others don't offer permanent placement, leaving you shuttling from one temp job to another. And others might leave you with an icky discomfort about being comfortably out in your search to land a 9-to-5.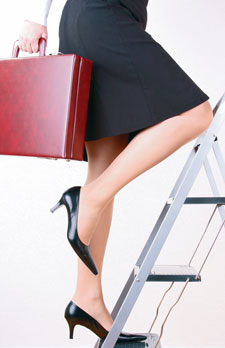 If any of those apply to you, try your luck at Diversity Services Inc. Ellen de Bremond, president of the company, says it was founded a decade ago to help make inclusiveness a priority in the job-placement industry.
A member of PEN, "Metro DC's LGBT Chamber of Commerce," de Bremond says Diversity Services staffs for a diverse clientele, including the federal government. And despite the recent downfall of the economy there are still plenty of positions available.
"Our industry is the indicator for a downswing in the economy, and an upswing," de Bremond says. "When an economy turns down, what happens is temporary people are the first to go. When an economy is on the way up, what companies will do is instead of hiring people on a permanent basis, they will … hire [temp] people."
Regardless of what sort of work a person may be seeking the first step is to submit one's résumé. The next step is testing.
"We test everybody for the skills that they are planning to use. If their skills are up the standards that we need for our clients, we try to find jobs for them," de Bremond says.
Diversity Services also hires for permanent positions.
"We call it 'direct hire.' We do that in the case where somebody is on the job and they have skills that could transfer to another organization. Or they're not pleased with where they are, or they think they can get more money, or they would like a better work environment — I will certainly work with that too."
And best to hear when looking for work, Diversity's services are free.
"It's a good place to start because usually it takes a while to get a permanent job. If you have certain talents, you might be able to get in that way — because I may have a contact," de Bremond says. "Being in the industry for 28 years, I know a lot of people in town."
Working to place administrative assistants, bookkeepers, computer specialists and other positions, de Bremond emphasizes that Diversity Services is committed to ending workplace discrimination.
"If you've got the skills, you get the job. It doesn't matter what color, what gender, what age, what religion, what disability, what sexual orientation. We are looking for a candidate based on their abilities. We believe that all people should have a right to these opportunities. We are all coming to the workforce with special talents and we all deserve the same opportunities. "
Diversity Services Inc., is located at 1634 I St. NW, Suite 400. For more information call 202-624-9797 or visit www.diversitydc.com.