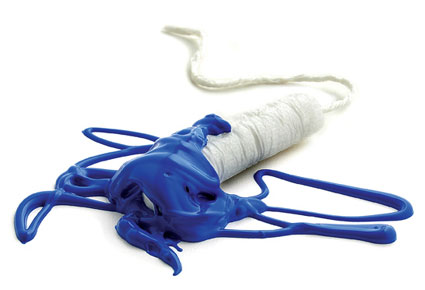 Admit it. Every Halloween comes with a touch of been there, done that as the annual parade of Dorothys and first-time drag queens hits the streets. The clichés can be cyclical or topical: Past homo holidays have featured plethoras of mascaraed Tammy Fayes and drunken duos of Ab Fab.
And this year you just know you're going to see a bunch of drag Sarah Palins. Given her wardrobe, it's not hard to see why.
But lets face it: Doing drag is hard work, whichever gender you happen to be bending. And even though you want to stand out with some originality, you don't want to spend a week putting together a costume that's as structurally intricate as a gay pride float.
And with the economy, you'd probably prefer to go cheap.
With a little creativity, though, you can pull together an ensemble that makes a point with a pun.
One of my favorites from the past, which I actually managed to talk an ex-boyfriend of mine into doing one year, involves just three steps:
Wear a blue swimsuit (square cut, of course) or blue briefs.
Apply blue body paint to your exposed skin — all of it.
Tape tampons all over your body (the string is very helpful for this).
What are you? Picasso's Blue Period, of course! Though with the water solubility of the paint and the general absorption issue, you may want to check the weather for rain before heading out.
Other cheap approaches?
Give yourself a fake shiner with dark eye make-up and emblazon a white T-shirt with a big letter "P." You're a Black-Eyed Pea!
Don some dark shades, hold a white cane and wear an "I Venice" T-shirt. You're a Venetian Blind!
So this Halloween, dare to be different. Dare to be creative.
Most importantly, dare to be cheap.