Economic turmoil. War. Chaos and totalitarianism. You think things are bad now? Let the In Series and the Washington Ballet transport you back to a Germany book-ended by World Wars.
In the second collaboration between these two local, artistic pillars, Fall[en] Angels will engage audiences with a full evening of dance and music from classical Wagner and Brahms, along with Depression-era cabaret.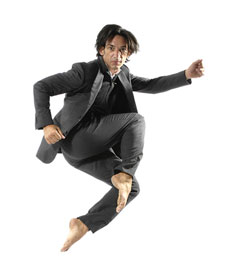 Webre
"There is a message about uplifting ourselves," explains Septime Webre, the Washington Ballet's artistic director, who directs and choreographs the show along with David Palmer and Jared Nelson. "It's a wonderfully complex journey, ultimately uplifting, passing through difficult times."
Webre, who inherited his first name — with the root "sept" for seven — from his French great-grandfather, both of whom were born seventh in their families, likely draws from his own life to better understand this duality.
Perceived as the family's "sensitive" son, Webre's family first imagined he'd be a priest. Till he neared the end of puberty, he agreed and had his eye on the Jesuit. The plan then changed to a legal path. But while he hit the pre-law books at the University of Texas at Austin, he was sneaking in some 30 hours of ballet weekly. When the invitation to dance for Ballet Austin came just as he prepared to leave for law school, he again had to make a choice, choosing one side of himself over another.
"I started dancing on a Monday. By Friday, I thought, 'This feels right."'
Following the dancer's path, he landed in D.C. to direct the Washington Ballet in 1999, where he's remained. But to maintain the status quo of local ballet would be to deny that duality he's striving to express in Fall[en] Angels. The Nutcracker is fine, but the Washington Ballet under Webre goes so much further, creating ballet experiences infused with Latin beats, Elton John and beyond.
"Ballet has been so mystified, it's almost 'precious,"' he says, adding that local audiences are very intelligent, but had in the past been given a diet of mostly conservative repertoire. Instead, says Webre, "We're ballet beyond tutus, just mixing it up."
Fall[en] Angels runs Saturday, Oct. 11 and Sunday, Oct. 12, Friday, Oct. 17; and Sunday, Oct. 19, at the Atlas Performing Arts Center, 1333 H St. NE. The Oct. 12 show is a special performance for the GLBT community. Tickets range from $18-$36. Visit www.inseries.org or call 202-204-7760.