Tribbles may be trouble and PETA has been known to paint the town red, so when it comes to fur, going fake has its advantages. Enjoy that furry touch and feel, without the nagging nightmares of skinned animals and bloodied bear traps.
Touch of Mink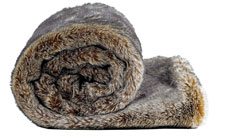 Did we say "touch of mink"? We lied. BoConcept's faux-fur throw is wonderfully artificial, and actually seems a bit more rabbit-like than mink. And fake-fur size queens will be thrilled by its massive dimensions: 5 feet and 7 inches long, and more than 4 feet wide. Lay it in front of the fire for chilly winter nights spent lounging in your own bare skin. Available for $329 at BoConcept, 2242 M St. NW, 202-333-5656.
Hairy Bear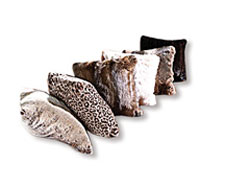 From bear to zebra — and almost every furry creature you can think of in between — the folks at PreFurs take their faux-fur pillow seriously. This New York-based company uses premium Tissavel fake-fur fabric from Sweden, guaranteeing that no dog pelts have snuck into the mix, as the Humane Society warns sometimes happens with lesser-quality imitation fur. These gorgeous, 18-inch square pillows, $109, are available online at www.prefurs.com.
Fido's Faux Bovine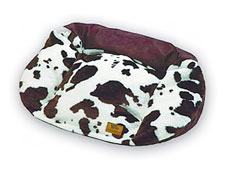 What carnivorous canine won't sleep better wrapped in what seems to be the remains of a tasty cow? Granted, a dog's keen sense of smell will likely keep it from being fooled. But pampering a pooch, after all, is just as gratifying to the pet's human companion. From West Paw Design, the "Tuckered Out Premium" features a cow print on top, and durable, faux suede underneath. For $82, order online at www.westpawdesign.com, or place an order locally with Doggy Style, 202-667-0595, 1825 18th St. NW, No. 2.