Marking its 22nd year, it's once again time for Whitman-Walker Clinic's AIDS Walk Washington. Few could've imagined 22 years ago that the need to raise funds to combat HIV/AIDS would still be dire, particularly in the District. Couple that with the current economic woes, and one would imagine that Dave Mallory, director of the walk, would have his fundraising work cut out for him. But think what you may, Mallory says this year's effort is in good shape.
"We're actually ahead of where we were this time last year," says Mallory. "It's looking good."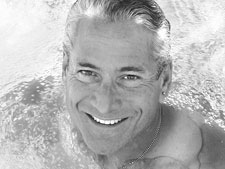 Greg Louganis
According to the AIDS Walk ticker, as of Sept. 30, the clinic had just surpassed the $500,000 mark with a few days to go till the Saturday, Oct. 4, event stepping off from Freedom Plaza downtown. Mallory says the final accounting for last year's AIDS Walk showed the clinic raised about $900,000. A final fundraising tally for 2008's effort should be ready by November.
"We're actually hoping to hit a million this year," Mallory adds.
So just how are organizers hoping to bring in the participants and the dollars? One event added last year, a run, is helping.
"We've actually brought on Capital Running Company to manage that," Mallory says of the popular 5K fun run, helping to establish the run as a permanent fixture.
Then there's the celebrity factor. After the run, Bad Boy Entertainment's Cheri Dennis will perform a mini-concert for the crowd. Openly gay Olympian, Greg Louganis, who won four gold medals and a silver for diving during his career and who is HIV-positive, will serve as grand marshal.
Louganis, who lives in Los Angeles, says he's happy for a chance to come to Washington and help promote HIV education and awareness. In particular, he says, he wants to dispel any notion that people may hold about his healthy appearance meaning living with HIV is easy.
"Issues come up when you have a chronic illness like HIV," says Louganis. "What can you take safely that won't that won't have a negative drug interaction, or wipe out positive effects? That becomes a rather complex issue.
"The biggest thing is education, sharing with young people that there are consequences of reckless behavior. Because there are so many of us — like myself and Magic Johnson — who are out there leading productive lives, you see HIV like it's not a big deal, it's manageable. But I wouldn't wish my drug regimen on anyone."
Louganis will also be taking time while visiting the metro area to speak about domestic violence, another issue he's familiar with, as detailed in his 2006 autobiography, Breaking the Surface. He'll be speaking Friday, Oct. 3, as a guest of the LGBTQ Victim Services Advisory Board of the Alexandria Domestic Violence Program and Sexual Assault Response and Awareness Program.
While the clock ticks down to the Saturday AIDS Walk, the clinic has been busy on another front in the fight against HIV/AIDS, last Friday, Sept. 26, officially launching a new outreach and awareness campaign called "Project Red."
Edgier than some of the past outreach, the clinic employed focus groups over the summer to hone the language of this new campaign to reach a variety of demographics, and which appeared to be a hit at the Town Danceboutique launch.
"WWC CEO Don Blanchon made a few remarks. We screened some ads during the drag show, handed out palm cards and condoms," says ReGina Newkirk, WWC director of development, adding that patrons seemed receptive to Project Red.
"As funding changed, moving more toward testing and care, so did our work," says Newkirk. "We haven't been as focused on education and prevention as in the past. But when the numbers came out from the [D.C. Department of Health's] HIV/AIDS Administration, it really caused us to take a step back and say, 'We're doing all this work, and the rates are still rising. We need to go back to messaging that's going to get people's attention and change risky behaviors."'
Newkirk says the clinic has so far spent about $175,000 on the campaign, primarily through private contributions rather than grants, as the clinic wanted a free hand to craft whatever message was called for, such as, "Do you know where your trick's dick has been?"
"We're working with the clubs to get posters in the bathrooms, working with bars and clubs to have Project Red outreach night. The bar and club owners in this city have really rallied behind us. They've been great to work with," Newkirk says, adding that locals can expect to see Project Red ads in the Metro system starting next week.
In the meantime, there is AIDS Walk.
"The weather is supposed to be beautiful, and there's a full lineup of entertainment after the walk," Mallory promises. "It's a great cross section of the metropolitan area tackling a difficult issue in a fun way."
To register, or for more information about AIDS Walk Washington, visit www.aidswalkwashington.org. The pre-walk program begins at Freedom Plaza at 8:30 a.m. The run begins at 9 a.m., the walk at 9:15. Run registration is $35, walk registration is $25, and student-rate walk registration is $15. Registration the day of the event is available at the Warner Building at 12th and E Streets NW.
For more information about the domestic-violence awareness reception in Alexandria, visit www.alexwomen.com.