Visit Gardasil's official Web site, and unless you are female, you probably won't find much appeal in the opening page featuring a group of women of various ages. That's because Gardasil, the vaccine that works to prevent cervical cancer, genital lesions and genital warts caused by human papillomavirus (HPV) types 6, 11, 16 and 18, has so far been approved by the U.S. Food and Drug Administration for women, ages 9 to 26, only.
Why then are gay men getting the vaccine?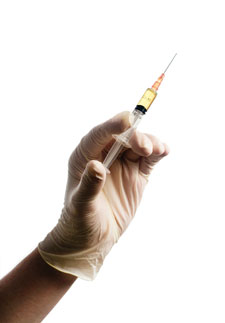 Guardasil
"I think it's a great preventative," says John Curtin, a physician's assistant at the Dupont Circle Physicians Group at 1737 20th St. NW.
"In gay men, the disease seems to [take] a very similar process to that in women, but with the fact that the FDA has not approved it, we have to be very careful giving it to men, because it hasn't been studied in them."
Dr. Moody Mustafa, with a practice at 23rd and M Streets NW, says he's been giving it to his gay patients for about a year and a half now.
"When we give it to patients, we make sure they know that it is 'off label,' which means that we don't have all the data yet. But the fact that we're offering it up means that we're very comfortable that the vaccine is safe and very useful."
Mustafa says he recommends the vaccine, which is given in three doses, with the second shot two months after the first shot and a final shot six months after the first, to anyone who is sexually active. He recommends it especially to patients who have multiple sexual partners, he says.
"HPV is the most common sexually transmitted disease in this country," he says.
Because the vaccine has not been approved by the FDA for men, insurance companies do not cover the expense for male patients. Depending on where you purchase Gardasil, the price for each dose can range from $185 to $250.
That's created a problem for Dr. Roxana Diba's transgender patients, who at one point may have had or now have female genitalia.
"I have trans patients who are MTF and FTM, and the ones who have vaginas can be very good candidates for Gardasil, because they have may have had some sort of exposure to HPV at some point," says Diba, who works with the Caceres Health Group at 1759 Q St. NW.
"Once they change their gender to men, they may be sort of marginalized by the insurance companies. They may not be able to get the vaccine, because it's indicated for women."
Diba says she recommends the vaccine to all her patients, including lesbian women.
"I think that any sexually active woman should consider taking a vaccination that could potentially prevent them from getting a type of cervical cancer associated with HPV," she says.
"I tell my patients, 'If you had an HPV [strain], it doesn't mean the vaccine can't offer you any benefits, because there may be a chance that you don't have that HPV type."'
Mustafa says the cost of the vaccine for anyone who falls out of the group covered by the FDA approval has thus far been the only problem for his patients in getting the vaccine.
"It's a very good investment in their future, and it's one less STD they have to worry about," he says, adding that in gay men there is also an increased risk of anal cancer among people who have HPV.
"Not only are warts unsightly, but we're also trying to prevent anal cancer."