Ani DiFranco takes a cheap shot as her new album, Red Letter Year, opens. "And representing the white race, a man with a monkey for a face," she sings. It's a slam against George W. Bush's immediate response to the 2005 Gulf Coast hurricanes. As a believer in science, maybe DiFranco's just calling Bush less-evolved than the rest of us? Well, it's still an unfortunate slight, a rare cheap shot in an album otherwise rich in both music and lyrics. Red Letter Year ranks as one of DiFranco's best albums. It's certainly a red-letter album for the prolific artist, who has released a new album nearly every year since 1990. It signifies a change brought about by her new role as a mother, as well as her new collaboration with her life partner, Mike Napolitano, who co-produced the album. It's only the second time in her career the celebrated DIY artist hasn't handled production all by herself.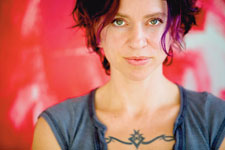 Brighter and lighter: DiFranco
The new set is happier, brighter and lighter than her previous output, which was more commonly angry, blistering and bruising. She's still got fire inside her, but where this folk-rocker once stormed, on Red Letter Year she's more apt to swing. The album ends with a surprising but fantastic instrumental reprise of the title track, becoming a New Orleans-style ragtime jam.
It is, in fact, the sharp musicality on display here that really impresses you. DiFranco works with top-notch musicians, and not just for window-dressing or bragging rights. DiFranco instructs them to really play. Her band – Todd Sickafoose on upright bass, Mike Dillon on vibraphone and percussion, Allison Miller on drums – and other guest musicians embellish her singing and songwriting. The New York-based DiFranco calls New Orleans her second home and favorite place to record, and the Crescent City's indomitable spirit is stamped all over Red Letter Year. The hazily shaded CD even fits into a sleeve in the album packaging in such a way to form a crescent moon.
ANI DIFRANCO
Red Letter Year
Righteous Babe Records
$16.98

Throughout the set, DiFranco is seeing past the bad and the trying times to the good. "Smiling Underneath" is a bona fide love song. DiFranco sings it with a low-key delivery, more a natural speaking style than traditional singing. As appealing as it is, I can't help but think about how great, and how big of a hit, this song might be if sung by a more expressive, emotive singer.
Even in her newfound happiness, she still regularly talks up science and Mother Nature over religion and Father God. On "Round A Pole" she sings, "And god will radiate out from within us, instead of this bullshit from above."
There's joy to be found right here on earth, she's saying, you just have to work a little harder at it. She should know.
---
THE VERONICAS
Hook Me Up
Sire Records
$13.98

Jessica Origliasso kissed a girl and she liked it. And now she and her sister Lisa are coming for you, Katy Perry. Together as The Veronicas, the Australian sisters' lead single, "Take Me to the Floor," includes a bridge in which the girls sing, "I wanna kiss a girl, I wanna kiss a boy." Unlike Perry, they're not actually playing — Jessica is in a relationship with a woman, a VJ from MTV Australia.
Still, you can't help but be cynical about the whole affair. It doesn't help that The Veronicas wrote a song for the one musical act who used gay titillation most successfully before Perry, the pseudo-lesbian lovers t.A.T.u. Remember them? The Veronicas wrote the Russian duo's hit "All About Us." That sound is stamped all over Hook Me Up, the second album from the Aussie twins. For the set, the girls hired several famous producers, and there's one potential hit after another here. It was clearly modeled after previous pop successes. The lead single and the title track take a couple pages from Rihanna, while the edgy "Popular" feeds off the same kind of shallow narcissism that's worked for the Pussycat Dolls and Fergie. "When I walk into the room people stop and stare, like nobody else is there," one Origliasso rap-sings, over music as attractive as the lyrics are repulsive. "You know it's me, not you. Who said anything about you?"
There's some pleasure to be had from the album — let's just note how cute it is that they ended the album with "Goodbye to You," in which the very last thing we hear is them kissing us off. But the pleasure is fleeting, as it should be. Such an audacious attempt at pop stardom – and not, say, pop originality – doesn't deserve much of your time or attention. Like cotton candy, it'll make you sick before long.
---
UH HUH HER
Common Reaction
Nettwerk
$17.49

Leisha Hailey is a lesbian actor in Hollywood, most recently as the popular journalist Alice Pieszecki on Showtime's The L-Word. She was also in the duo The Murmurs, a popular band at Lilith Fair. So there was built-in interest in her new band with Camila Grey. Amusingly named Uh Huh Her after an album from the moody English alt-rocker PJ Harvey, the band rewards any interest many times over. This electro-pop, or "indietronic," duo has created an appealing, hooky debut album Common Reaction, as sleek and stylish and synth-happy as you'd imagine. Lead singer Grey was a studio musician for Busta Rhymes and Kelly Osbourne, and her bass work here shows real skill. Anyone who admired Osbourne's unjustly underappreciated 2005 album Sleeping in The Nothing will take to this.
Common Reaction launches in first gear and only lets up toward the end. Uh Huh Her's sound is a bit predictable – it's certainly nothing you haven't heard before. But it's entertaining through and through, and has long-lasting appeal. Whereas The Veronicas try too hard with too little, and end up with too much, Uh Huh Her, give just the right amount, so that it becomes not enough. You can't wait to hear more.
From YouTube: Ani DiFranco, 'Alla This (in studio)'
From YouTube: Uh Huh Her, 'Not a Love Song'