Visiting college campuses around the country over the past 10 years to talk about the murder of her 21-year-old gay son has not hindered Judy Shepard's grieving process.
"Being the mom who has a story has been my grieving process," Shepard says. "Being able to share my stories, talk about Matt, and never have my friends tell me, 'Judy, you've told me that story a hundred times.' I can just tell it as many times as I want to different audiences. It keeps him with me."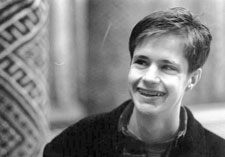 Matthew Shepard
The last month has, however, been particularly difficult for Shepard and others who lived through the Matthew Shepard tragedy and trials, including Cathy Renna, who was then working as the spokesperson for the Gay and Lesbian Alliance Against Defamation (GLAAD). Oct. 12 marked the 10-year anniversary of his death.
A decade ago, Matthew Shepard was a student at the University of Wyoming in Laramie. During the early hours of Oct. 7, 1998, after a night out at a bar, Shepard got into a car with Aaron McKinney and Russell Henderson, also in their early 20s. The pair would go on to rob Shepard before tying him to a split-rail fence in a remote field, pistol whipping and hitting him at least 20 times, fracturing his skull six times, and leaving him to die. A biker who discovered Shepard about 18 hours after the attack is reported to have mistaken Shepard for a scarecrow, adding that the only parts of his face not covered in blood were spots where his tears had washed it away.
"The last month and a half has kind of been an emotional rollercoaster because everybody wants to talk about it," says Renna, managing partner of Renna Communications with her partner, Leah. "I have to sort of relive it… but I'm glad that people still want to talk about it. I'm glad that we're not just rehashing what happened. We're trying to look at why things happened the way they did, and what is going on now."
David Smith, the Human Rights Campaign's vice president of programs, was fighting a marriage amendment in Hawaii when he got word of Shepard's attack.
"The brutality of it reached all the way to Hawaii of course. We were watching it on TV," he says, adding that HRC sent a representative to Wyoming to console and advise Matthew's parents, Judy and Dennis Shepard, through the difficult time.
In the days following the attack, with the national media converging on Laramie, Renna, who had befriended Jim Osborn, president of the University of Wyoming's GLBT group and a friend of Matt's, says she felt obligated to act as well.
"I was literally standing in my pajamas, in my apartment… late at night, and it was really getting out of hand. He literally called me and was sitting on the floor under his desk in the student union, and I said, 'What can we do?' Jim's exact quote was: 'You can get on a fucking plane, that's what you can do.' And I did."
GLAAD and HRC helped debunk the "gay-panic" defense and McKinney and Henderson were both given life terms.
Since his death, Shepard's story and the national attention it attracted have inspired such works as the book, stage and film pieces collectively titled The Laramie Project, as well as criticism from some for the lack of media attention and national outcry over other hate crimes against people of color and transgender people.
Judy Shepard founded the Matthew Shepard Foundation, an organization that works to educate and "replace hate with understanding, compassion and acceptance," and currently serves as the executive director. Her younger son, Logan, helps maintain the organization's Web site and handles other duties. He also keeps an online anti-hate blog, "Logan's Voice," where he writes about how his brother's death has changed life for him. Judy and Dennis Shepard have been advocating for hate-crime legislation since Matt's death. And progress has been made considering 31 states, and D.C., now impose enhanced, hate-crime penalties.
But Judy is disappointed.
There is still no such law in Wyoming, where the crime occurred and where she still lives. More importantly, she says, and despite successful efforts to get bills passed in the House and the Senate last year, there is no federal hate-crime legislation that protects GLBT people in the United States. President Bush has said that he would veto such legislation should it make it to his desk.
"I'm very disappointed," Shepard says. "I guess I understand it because the last eight years have been mired in Bush politics. But I'm disappointed that the senators and congressmen don't follow the polls of their own constituents who say they want it to pass."
Smith echoes those sentiments, while keeping a positive outlook on the possibility of change in the near future.
"Now that we're on the verge of expanding fair-minded individuals in the House and the Senate, and the great hope and possibility of a fair-minded president, better days could possibly be ahead."
In the meantime, Judy Shepard says she will continue to talk about her son's life and death.
"We need to be telling our stories to our family and friends, so they know how to vote to help us, and we need to actually vote ourselves for those who help us, and let our congressmen know and senators know how we feel about it. We need to be contacting those who represent us directly."
Despite the notion that Matthew Shepard has become a household name, Renna points out that there are new generations who are unfamiliar with his story.
"It's just important that we keep retelling this story," she says. "I spoke at a high school in New York City [recently], to a bunch of high school seniors. I've had to retell Matthew Shepard's story because they were 9 [when he died]. And Judy speaks to college students, and they were 10, 11, so I think it's important that we revisit it. I think this is a story that gives us a very important watershed historical kind of point of reference. There's never going to be a time when we should stop telling his story or anyone else's story."
Smith says it's important to note the Shepards' efforts over the past decade.
"They are incredible, wonderful, human beings, who didn't deserve this, but who have risen to defend us and it's remarkable that people can turn such tragedy into vehicles for hope. That's what they've both done."
To read Logan Shepard's blog, visit loganshepard.blogspot.com. For more information about the Matthew Shepard Foundation, visit www.matthewshepard.org.