Rich Morel has remixed and played Soft Complex's music at Blowoff. And yet the independent D.C. band remains relatively unknown among gays.
"We typically play straight venues, so it's not marketed to a gay crowd," says the D.C. band's gay lead singer, Shane German. "But when we do play for a gay crowd, we get a great response."
Once you hear them, you'll understand why. Soft Complex makes gloomy but rousing rock in the Britpop mold, the kind of angsty but arty, lovelorn music that gays of the 33-year-old German's generation grew up with. German ticks off mostly British influences on his sound, from Kate Bush to The Smiths to New Order. "We all have our various influences," says German about the four members of the band. "I think once we come together all of our influences come out and kind of create our own Soft Complex sound — dance elements, rock elements, New Romantic elements from the '80s."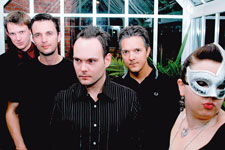 Soft Complex
German grew up all over the United States as a "military brat," moving to D.C. after a few years in Richmond. The name Soft Complex is a play on words, describing insecurities about his standing in D.C.'s music scene, revered for punk. "I always had this self-assigned fear that my music wouldn't be accepted in a town known for hardcore music," he explains.
No need for fear: The band was a regular on the city's rock-club circuit up until the past year, when the four part-time musicians, all employed full-time in the music industry, decided to take a break to focus on writing and recording new material. The band is hard at work on its full-length debut. Tomorrow night's gig at the Rock and Roll Hotel is a rare chance to see them live.
"The opportunity was too good to pass up," German says, about opening for the up-and-coming Scottish band Glasvegas. "We're excited to make our way back out and play some new songs. And we hope the gays will come out to see us, too."
Soft Complex performs Friday, Oct. 3, at the Rock and Roll Hotel, 1353 H St. NE. Showtime is at 9:30 p.m. Tickets are $12. Call 202-388-7625 or visit www.rockandrollhoteldc.com.