The title of Richard Morel's third artist album is a metaphor for a loss of innocence, and also for a time when huge, irrevocable changes are underway in society. The paperboy, along with the print newspapers he delivers, is dying.
But the title is also literal. When Morel was only 13, his neighborhood paperboy was killed by a drunk driver. "The paper was late on that Sunday, it didn't come Monday," Morel sings on the album's title track, an emotionally resonate rock ballad. "The news was stopped, till the rain washed down where his head was split open."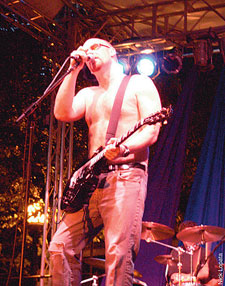 Remixing machine: Morel
Death may be a leading subject on The Death of the Paperboy, but it's an album as alive as can be, alternately happy and sad, energetic and burdened. Unlike this Blowoff collaborator's previous two albums straddling the electronica and rock genres, Morel here has split this album in two, creating two discs. The first is steeped in rock: gritty, grainy and above all, grounded. The second is primed for a dance club, a place you go not so much to escape your problems but to escape dwelling on them for a couple hours. The focus is on heightening your mood. Feeling free, if not actually being free.
The result is a tour de force, a masterpiece. Where the Takoma Park, Md., resident's previous sets endeavored to strike a compromise, Death of the Paperboy holds nothing back. Morel's raspy, resonating voice still alternates between sensuous and spooky, his music — produced with the same crew of backup musicians — is still hazy and sweet, and his lyrics are still as trenchant and somber as ever.
But with Death of the Paperboy, he's found the room to really delve into his work in a way that forces you to focus on just what he's saying and doing. It's both looser in feel and tighter in structure. As good as it was, for example, Lucky Strike — released exactly four years ago — was a comparatively disjointed affair, with one breezy electronica tune butting up against another gritty Rolling Stones-esque rocker. He also does the best job yet here in keeping his deep voice from dipping too low into his bass register. There are few flat moments here — and never a dull one.
The album starts with "A Boy's Reverie," a haze of jangling, reverberating chords and overlapping vocals that gradually settles into a chilled-out state expressing hope and longing. The dream's over too soon. It just subtly ends, vaporizes. And then we're wide awake as the blistering, brilliant first single distorts into view. Morel "woo-hoos" in the backing chorus of "Flawed," but he's not nearly as happy as that sounds. He's singing as a soon-to-be-single man who takes the blame for the dying relationship. "And I've got everything to gain now," he sings, but "my life is about to lose the thing I loved the most…I know I'm flawed again."
As the first disc continues, Morel is still struggling to cope with life and love, and with just what the future holds. "I can't stay, I can't leave, I can't see, I can't be anymore, anymore," he sings, with studied resignation.
On disc two, which he cutely calls "Disc-O," Morel transforms for the dance floor most of the rock songs on disc one, lightly mixing them into a continuous mix. He displays exceptional skill at producing dance music, honed in good measure by his previous years working with D.C.'s own internationally celebrated dance duo Deep Dish. (In fact, Death of the Paperboy, released on his own Outsider Music label, is his first set not released on Deep Dish's Yoshitoshi label.) He didn't become Cyndi Lauper's favorite producer for nothing — and who doesn't love his recent work with her, including "Same Ol' Story"?
MOREL
The Death of the Paperboy

Outsider Music
$13.98
Available online at Amazon and iTunes
In Stores Oct. 28
His Pink Noise remix of "Nova," for example, is as high as the original was low on disc one, a mournful ballad about unrequited love. The remix effectively shifts the past-tense lyrics into the present: "I wanted to be an astronaut, and not a messed-up boy whose tongue gets tied when you see me."
In his rework of the album's title track, Morel coins a new name for his signature dance sound: Shoegazer Disco, an extension of the name for a type of British rock that emerged after post-punk and new wave. The shoe certainly fits — his dance music is rockier than most, even when he shifts the lead instrument from guitar to piano, as he frequently does on Disc-O. It makes things prettier, airier, but there's still drama in the keystrokes — and of course, in the lyrics. Halfway through "Shoegazer Disco," Morel scales back the driving dance and speaks in his low register, making sure his dancing flock hears his message. "There's a moment when everything changes," he says, about a moment "you never expect" and from which, "you can't go back, ever again. I'll remember you. And I hope, that you'll remember me, too."
You won't soon forget Death of a Paperboy. You'll likely be playing it nonstop for a long time to come, appreciating it a little more every time.