Harvey Milk, one of the pivotal figures in the gay-rights movement, will soon have his brilliant but too-short life and career depicted on the big screen.
Milk was the first openly gay man elected to public office when he became a city supervisor in San Francisco in 1978. The city's gay-rights ordinance, passed that year, was among his many achievements.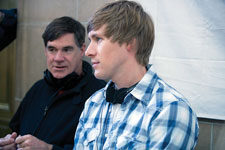 Notably, although Milk was the first out gay man elected, Kathy Kozachenko, a lesbian, won a seat on Ann Arbor's City Council in January 1974. Later that year, Elaine Noble, also a lesbian, was elected to the Massachusetts House of Representatives. But only Milk faced a brutal demise.
Less than a year after he was elected, Milk, along with Mayor George Moscone, was assassinated by former City Supervisor Dan White.
Milk, due for release on Nov. 26, was written by out screenwriter and executive producer Dustin Lance Black, directed by Gus Van Sant, who is also gay, and stars Academy Award-winning actor Sean Penn in the title role.
Black, who had wanted to make this movie for a long time, studied Milk's life a great deal before starting to pen the script.
"There were three years of research, traveling to San Francisco, meeting the real-life people and doing those interviews before there was a script," he says. "The research didn't stop then. We had to get even more exacting on what things looked like and where things took place. We were researching all through post-production."
Milk represents a huge leap in Black's profile as a screenwriter. Born in 1979, he grew up in a devout Mormon, military household in San Antonio. After relocating to Salinas, Calif., he finished high school and became deeply immersed in theater, apprenticing with stage directors, working on lighting crews and acting. He graduated the University of California, Los Angeles, School of Theater, Film and Television with honors.
In 2004, he was drafted for the television series Big Love as a writer and producer, working with the program for three seasons. He also wrote and directed Pedro, profiling the late AIDS activist and reality TV star Pedro Zamora, which premiered at the 2008 Toronto International Film Festival.
"I prefer to be involved in projects where I have a personal connection to whatever the story is and the characters are," Black says of his film work. "Because then I can write about my experience and get specific enough that I'm telling a story that people find original and compelling.
"That would explain Big Love. I grew up Mormon so I was able to help them with those stories. Obviously Milk and Pedro had to do with growing up gay. So it has to some relation to my own biography I suppose."
Once Van Sant (Good Will Hunting, My Own Private Idaho) signed on to direct Milk, Black saw the project gain momentum and found the two of them saw virtually eye to eye on their vision of the film and the casting.
"I'm also one of the executive producers of the film, so I was there every step of the way," he said. "Ultimately, the decision is Gus', but I can't think of a single instance where we disagreed….
"We both had a strong sense of who these people were in real life and I think it was important to [Van Sant] that these people were portrayed as accurately as possible. Sean Penn came in the room and nailed it."
If the trailers for the movie are any indication, Milk does a fantastic job of transporting the audience back to 1970s-era San Francisco, where Milk eventually settled after leaving New York City.
"It's a very personal biopic portraying his San Francisco years," Black says. "Hopefully, because the goal was to make it an intimate portrait, you find out a lot about who the man was before he moved to San Francisco."
Black said much of the inspiration and the visual aesthetic for the film was drawn from the 1984 documentary The Times of Harvey Milk, which went on to win an Academy Award.
The archival footage turned out to also have a profound effect on casting: In particular, a conservative figurehead should best be left to portray herself.
"That idea started with the inclusion of Anita Bryant in the movie," Black says, pointing to the infamous entertainer who tirelessly demonized the gay community. "I was concerned as a writer that even if we quoted her directly into the film, the things she said and the way she said them were so outrageous to today's audience that I feared people would think we were caricaturing her and that there was no way someone could have said the things she said and meant. Early on, Gus and I discussed using the real footage of Anita and letting Anita play herself, because in that way, you never question it and we are letting her speak for herself."
Black's hope is that mainstream audiences will see the parallels between the political struggles for gay civil rights in 1970s-era California and the struggle for gay equality around the country today.
"It's amazing to see, especially in California, right now the gay community is fighting Proposition 8, which would write into the constitution what the gay community sees as bigotry," he said. "So a big portion of this movie is about California exactly 30 years ago this November and the gay community fighting Proposition 6, which would have made it illegal to be gay and teach or work in a public school. For Californians, it's almost literally reminiscent."
Milk may have a Hollywood budget and all of the commercial expectations that come with it, but Black says he is more concerned about the cultural impact of the film than how many tickets it moves at the box office.
"I think the people in the Castro will look at it with a critical eye," he says. "I hope they do. We worked very hard to be very, very accurate. I hope they are surprised at how well we did."
Milk opens Nov. 26 in limited release and in wide release Dec. 5. For more information, visit www.milkthemovie.com.
Larry Nichols is a Philadelphia-area based writer and comedian.
From YouTube: 'Milk' (trailer)
From YouTube: 'The Times of Harvey Milk (1984 documentary intro)'