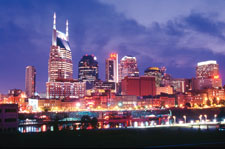 Nashville
(Photo by Gary Layda)
If any city truly has a soul, it would be Nashville, Tennessee's capital. While a notch on the country's "Bible Belt," it is a modern city with a deep history – and of course, a strong love for music. It is also a city that many gays and lesbians call home. Along with straight allies, they're working hard to shape Nashville into a welcoming destination. And they are succeeding.
Nashville's gay community is visible and active. Among the city's legislators is a gay County Council member, Keith Durban. There's a new gay community center, and Nashville's annual HRC fundraising dinner has been going strong for more than a decade, netting approximately $50,000 in 2008.
Stay
Nashville's downtown hotels are in easy walking distance of the city's more popular attractions. The Renaissance (www.renaissancenashville.com) and the Doubletree (www.nashvilledoubletree.com), two large contemporary properties, offer quality service and accommodations. For a step back in time, the historic Hermitage Hotel (www.thehermitagehotel.com) is a beautiful, ornate hotel. Opened in 1910, this five-star property's guests have ranged from President Franklin D. Roosevelt to Bette Midler.
Eat
For Southern cooking, Loveless Café (www.lovelesscafe.com) doesn't disappoint. The fried chicken, hashbrown casserole and made-from-scratch biscuits are just a few items that will have you loosening your belt to make more room. In revitalized East Nashville, Margot Café & Bar (www.margotcafe.com), by homegrown chef Margot McCormack, offers superb French and Italian cuisine, and the nearby Mad Donna's (www.maddonnasnashville.com) draws a crowd as eclectic as its menu.
You have to get to the Pancake Pantry, located in the Hillsboro neighborhood near Vanderbilt University, early if you want to avoid a line. However, if you are late, it's worth the wait. This place has some of the best buttermilk pancakes.
And if it is a sweet or savory cold treat you need, Las Paletas Gourmet Popsicles (www.wheresthesign.com) is a hidden gem worth discovering.
Do
You don't have to be a fan of country music to appreciate the Country Music Hall of Fame and Museum (www.countrymusichalloffame.com), as it not only pays tribute to great talent but also history as told through the music of the time. Much of that music was heard and continues to be heard in the Grand Ole Opry (www.opry.com), from its current home adjacent to the Gaylord Resort (www.gaylordopryland.com) and Opry Mills (www.oprymills.com) shopping outlets, and in the century-old Ryman Auditorium (www.ryman.com).
Although music shapes much of the city, Nashville has a commitment to the broader arts as well. There is the Parthenon (www.nashville.gov/parthenon), a full-scale replica of the Athenian original – complete with the statue of Athena; the Frist Center for the Visual Arts (www.fristcenter.org), which is hosting a Rodin exhibit through January; and small private galleries including the gay-owned Rymer (therymergallery.com). When it comes to a formal tour of the city, you can choose from mainstream companies such as Grayline (www.graylinenashville.com), or the campy NashTrash (www.nashtrash.com) operated by the Jugg Sisters aboard their "big pink bus."
Play
Gay nightlife in Nashville is primarily concentrated in a few blocks of Church Street, west of the downtown core. There are a handful of bars and nightclubs, Outloud Bookstore (www.outloudonline.com), Revive (www.revivenashville.com) café; and the OutCentral (www.outcentral.org) community center.
Blue Gene's (www.bluegenes37203.com) is a divey bar that attracts a laidback, neighborhood crowd. A few doors down is Tribe (www.tribenashville.com), a stylish video lounge bar, sandwiched between its sister establishments: Red, a staple for dinner and brunch, and Play (www.playdancebar.com), a dance club that has fantastic drag shows and a state-of-the-art sound and light system that rivals anything found in New York City or South Beach. In East Nashville, across from Mad Donna's, is the lesbian-centric Lipstick Lounge (www.thelipsticklounge.com). Gay or straight, Nashville's famed honky-tonks along lower Broadway in downtown are a required experience. These heel-kicking joints have launched many a career and deliver outstanding live entertainment from morning to night – and always without a cover. Among the best are Tootsies Orchid Lounge (www.tootsies.net) and Legends Corner (www.legendscorner.com).
For more information about Nashville, visit www.visitmusiccity.com.