There was a time when the best parts of movies happened off-screen. The passionate kiss before the scene faded to black. The brilliant plan hatched as the co-conspirators strode out of frame in a rush of fedora and trench coat. The horrifying murder signaled not with a gory mash of stage blood and makeup effects, but a clap of darkness and a distant scream. Those were the grace notes that made film noir so powerful, so utterly transfixing.
And it is that same restraint and artful choreography that makes Honey Brown Eyes — now in the midst of its world premiere run at Theater J — a solid albeit qualified success. Solid because it boasts a strong story. Qualified because the telling of that story is hindered by awkward pacing and several unsuccessful performances.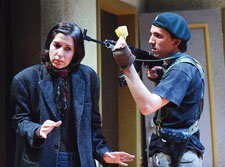 Honey Brown Eyes
(Photo by Stan Barouh)
Honey Brown Eyes takes place in two very different kitchens during the Bosnian War. One teeters on the edge of existence in Visegrad where a small portable television and a precious horde of batteries allows Alma (Maia DeSanti) to grip tightly onto a world where families like the Huxtables are living peaceful lives in Brooklyn brownstones. The other is a less spare but no less desperate room in Sarajevo where Jovanka (Barbara Rappaport), a Bosnian Serb, is still able to make magic with a handful of rice, an onion and a Mahler symphony recording.
What simple peace these two women have managed to find for themselves is broken when the war outside is dragged through their kitchen thresholds. Dragon (Alexander Strain) and Denis (Joel Reuben Ganz), tied together by a tenuous adolescent thread, are soldiers fighting the same war on different sides. In spite of that, there seems little hope that either will ever be able to claim any sort of victory.
Award-winning playwright Stefanie Zadravec, a Chevy Chase native, has carefully crafted Honey Brown Eyes so that it is tied tightly and unmistakably to a world we all recognize.
While set in Bosnia in the early 1990s, these are people sitting in kitchens doing the things we all do, dressed as we dress. They watch The Cosby Show and make coffee and listen to Mahler. We are not given the luxury of feeling a comfortable distance from the cruelties taking place. This revolution is not, in fact, being televised. It's being lived.
Heightening that sense are the moments that Zadravec does not show. The violence and gunshots that attract viewers to CNN and make these war zones distant "others" take place off stage and out of frame. Those are the elements of war we know. Zadravec is showing us the true horror of what we have missed. That the people struggling to survive and make sense of the unimaginable treacheries we can inflict on one another have once enjoyed the pleasant nothing of a cup of coffee in one's own kitchen.
Unfortunately, while Honey Brown Eyes starts with a strong hand and some meticulous writing the audience is soon asked to abruptly and uncomfortably rocket back and forth between the narratives. We feel the strain of a play working too hard to maintain tension and tripping over an overused device.
The situation is not aided by the unconvincing performance offered by Grady Weatherford, meant to be a soldier who has embraced the violence and atrocities of the conflict. What should be chilling instead feels one-dimensional and cartoonish.
HONEY BROWN EYES
To Nov. 30
Theater J
1529 16th St. NW
$30-$55
800-494-8497
www.theaterj.org
Taylor Dawson, who plays the young Zlata brings some of the same issues to the stage but in her case it is perhaps more understandable. The story she has to tell is one of significant weight and emotional strain and the maturity needed to bring it fully to light is simply not yet there. The argument could be made that it is a sign of good fortune that Dawson does not have an intuitive sense of the grim realities of that Visegard kitchen. Unfortunately, that blessing steals from the experience of the audience.
Faring far better is Ganz as the rebel fighter Denis. Convincingly straddling the line between desperation and despair, Ganz maintains a connection to the audience by never letting us forget that, at another time, he was one of us.
Rappaport is truly exceptional in her portrayal of Jovanka. Not only does she share a lovely chemistry with Ganz, but her sizeable talent allows her to make the work she does onstage look effortless and simple. Her humor is offhand, her motivation heartfelt and her generosity clear. In fact, it is the ability to show the everyday humanity behind their characters that binds Ganz, DeSanti, Rappaport and Strain so convincingly together. These are people, trapped in a wrong place at a wrong time when it seemed that there would never again be a right time or a right place.
For the Huxtables, maybe. But not for them.