Just as things reach a feverish, high-pitched frenzy in Noah's Arc: Jumping the Broom, you pray Mary J. Blige will pop up to tell everyone, "No more drama!" Those without the Logo Channel might not be familiar with the show, but Noah's Arc certainly rivals the Queer as Folk boys in terms of drama.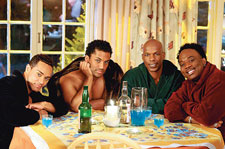 Cast of Noah's Arc
The main character is a high-fashion maven whose life is filled with fabulous clothes that most people wouldn't have the guts to wear. Along for the ride are his three best friends: one's uptight, one's a slut, and one's always trying to make things perfect. Then, Carrie and Big decide to get married and….
Wait, I think I'm confusing television shows based on the friendship of four good friends and what happens when one of them decides to get married. This is the one about four African-American men in Los Angeles, not four white women in New York.
Noah (Darryl Stephens) is a fashionista, wearing outfits with lots of fur, animal prints and frills. And in Jumping the Broom, he's getting ready to don his wedding frock for his marriage to Wade (Jensen Atwood), the hunky boyfriend who Noah nursed back to health after a car accident. Apparently this was one of the plot points from the series.
For those Arc neophytes out there, it's a little confusing at first (like why Noah's wearing those boots and that jacket?), but it all comes together pretty quickly, thanks to the exposition provided by Noah's friends. It's also made very clear that none of them like the groom-to-be and think that Noah's off his rocker.
Forming the arc around Noah are: the hyperactive and bossy Alex (Rodney Chester); the promiscuous Ricky (Christian Vincent); and uptight intellectual Chance (Douglas Spearman). Alex. Ricky. Chance. A.R.C. Clever, right? Each one is loud, opinionated, and carrying more baggage than needed for a weekend wedding on Martha's Vineyard. But lock them, and their guests, into a house and watch the fireworks start.
Creator, director, writer, producer Patrik-Ian Polk creates a storyline that sustains itself throughout the entire movie. Not to touch on a sensitive subject, but the Sex and the City movie was five episodes — complete with 30 minute story arcs — stitched together. Noah's Arc moves smoothly through the entire film without creating the sensation that a commercial break is right around the corner. What it doesn't do well is moderate the drama. Everyone has conflict pouring out of every orifice and you wonder when Noah's actually going to build an ark to save them all from drowning in the drama. It's like a weekend at Rehoboth.
In addition to keeping the pace moving, Polk and his cast also do a good job at moving the audience from point A to point B. Though at first the disapproving opinions of Noah's friends seem like the right idea, by the actual wedding day you hope that Noah and Wade do jump over the broom (a wedding tradition dating back to slavery). Unfortunately, the last 15 minutes are so over the top and schmaltzy it's just too, too much.
NOAH'S ARC: JUMPING THE BROOM

Starring Darryl Stephens, Doug Spearman
Rated R
101 Minutes
Opens Friday,
Oct. 24 at the
E Street Cinema
There are countless subplots, including coming out to one's family, infidelity, unrequited love, promiscuity, self-image and pill-popping. And not necessarily in that order. It takes Noah swooping in at the last minute to save each couple, two by two.
It's impossible to say that any one actor stands out from the crowd, either positively or negatively. But it's a group of actors who are already comfortable in their roles. And while they might play better on a smaller screen, no one embarrasses himself.
If you accept that it's really a soap opera, Noah's Arc is entertaining and is more than accessible to those just discovering Polk's world. Fans of the show should jump to see the film, because there's a good chance it will be sweeping into and out of theaters quickly. However, if you miss it, nothing will be lost if you wait until it's out on DVD.