Larry Allen's parents did not panic when they heard he was going to spend a year and a half working in Iraq.
"My mom and dad know that I'm crazy," Allen says. "They're like, 'Larry's going to do whatever he's going to do.' They've just resigned themselves to that."
On the other hand, friends of the 35-year-old, gay Capitol Hill resident who heads Larry Allen Productions, did not take lightly news that Allen had been hired by a consulting firm working with the State Department to build and develop a television studio in Iraq.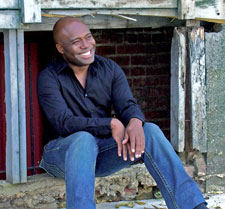 Larry Allen
"They thought I was insane," Allen says. "Up until I was leaving, they were like 'You can't do this. It's insane. It's suicidal."'
It didn't help that the location of his studio was in Irbil, capital of Iraq's Kurdistan Autonomous Region. Granted, he was far from much of the Sunni- and Shia-related violence plaguing Iraq during his stint from mid-2006 through the end of 2007. But he was also far from Baghdad's insulated Green Zone of Western workers and military. Luckily, during his year and a half in the country, he experienced only one bomb scare.
"Someone who had handled explosives had been in my office, and no one had a reason to go into my office," he says. The security dogs that inspected the studio daily before people entered for work found traces of a foreign substance feared to be an explosive.
"They shut [the studio] down and we all left, and they basically interrogated each employee."
The bomb scare didn't quash Allen's enthusiasm for his work in Iraq.
"It's crazy, I'm not going to lie. It's crazy to stop your life for almost two years and move to a 'Third World,' war-torn country. But because our medium, television, is such a powerful medium, I'm thinking, 'I'm helping them. I'm liberating them, and their voices will be heard."'
In Iraq, Allen worked with a staff of about 15 people, including a translator, to produce commercials that promoted voting and equality, including women's rights.
Allen says his sexual orientation was never discussed, describing the level of homophobia in Iraq as "extreme." It's a realization that came about after a flamboyant candidate applied for a position at the studio, coming in for an interview. Those who interviewed him quickly voted against his hiring simply because he appeared to be gay, Allen says.
"So I had to pull another meeting, of 'The fact that he's gay has no influence on whether he can do the job. I don't care that he's gay. I don't care if he has 14 heads. We need the person who's best to do the job.' I had to explain to them that fact."
Before heading off to Iraq, Allen, who earned a theater degree from Virginia Commonwealth University in 1995, was already working to produce his first full-length feature film, Watercolors, in Los Angeles.
"Basically, it's these two guys. One is an artist, a painter; and one is a swimmer. They're both in high school, seniors. The artist is openly gay, and the swimmer is not really gay. Through their parents both being in AA, they meet and they become friends."
Though exact dates have not yet been finalized, Allen says Watercolors, which features Karen Black and Greg Louganis, is slated to hit theaters around the country in early 2009.
As the producer, Allen was responsible for seeking funding for the film, hiring the crew, and casting the actors as well.
"I had to be on location every day," he says. "We shot the whole thing in L.A. Pretty much [my job] was making sure we were on schedule, that we weren't going over budget, that everything was running smoothly. And also making sure that the director was getting his vision."
Producing, Allen explains, requires a lot of organization. He admits it's a trait he may not bring to his personal life. But, he counters, when working under pressure, his organizational skills are his strength. He's counting on them for his next endeavor: a documentary about Down syndrome.
"I think people automatically assume that people with Down syndrome are retarded or slow. But doing research, I hooked up with this guy who basically has Down syndrome, he gives speeches, he has books, he heads up the Down Syndrome Foundation, and he's a spokesperson for the Special Olympics," Allen says.
"You always think that, 'Oh, well, that person is going to be the guy bagging your groceries at Safeway or the guy who does a menial job, and you don't really see the people who are the driving force with this disease.
"This kid who has Down syndrome is, in a lot of ways, more productive and successful than a lot of people with no illness. I'm thinking that's an amazing story that people don't see."