"I've been grooming some Mini-Mes," jokes Natalie Illum, longtime president of the feminist open-mike extravaganza known as Mothertongue. Illum will step down as the all-volunteer event's leader this Wednesday, Oct. 15, when Mothertongue will throw a special party to celebrate 10 years of providing a stage at the Black Cat to any and all who want to perform.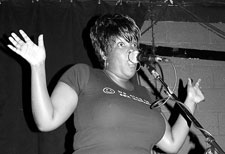 "Mothertongue is a really supportive space," Illum explains. "It supports everyone, whether you're a seasoned veteran of creative writing or whether you just scribbled something on a napkin." In the past year the event has shifted from being a monthly to a bi-monthly party, and it has also started featuring musical performances and film screenings. Up-and-coming local folk singer Nancy Eddy and local punk rock duo Trophy Wife will perform on Wednesday, and a portion of Mothertongue volunteer Angie Young's new documentary The Coat-Hanger Project will be screened.
"We're gonna have a little bit of film, a little bit of folk music, a lot of poetry, some punk rock — it'll be a lot of fun," according to Illum, who will serve as the evening's host. After years away, Mothertongue's two co-founders will also return to the stage to perform. Ruth Dickey now lives in Pittsburgh; Karen Taggart remains local, but says Illum, "We have a hell of a time getting her to come out of her adult life and come back to the Black Cat."
Mothertongue remains the D.C. venue of choice for many nationally recognized lesbian and feminist writers — Alix Olson, Andrea Gibson, Eileen Myles, to name a few — when they come through town, according to Illum. They prefer speaking in front of the friendly, established Mothertongue audience over readings at a more traditional bookstore. And they appreciate Mothertongue's uniqueness even among the increasing number of open-mike events around town — the event is designed as a safe space for women of all persuasions to speak freely, and all proceeds are donated to local organizations serving women.
Illum, 32, has been involved since the spoken-word showplace's inception. "It's gonna be hard," she says, about giving up the reins to incoming president, Danielle Evennou. "I don't realize how much of my identity has been built in the Black Cat. But if I don't step down now, I never will."
Unencumbered with Mothertongue duties, Illum, a federal employee by day, says she intends to tour more, hitting other spoken-word festivals around the country, as well as getting more involved in competitive poetry slams.
But she expects to remain a familiar presence in the crowd. "They said I could still hang out there, and I'm excited about that."
Mothertongue's 10th Anniversary Party will take place Wednesday, Oct. 15, at the Black Cat Mainstage, 1811 14th St. NW. Show starts at 9 p.m. Tickets are $10. Visit www.mothertonguedc.org for more information.