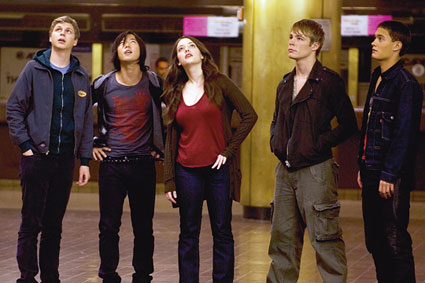 Teenage waist-land:(L to R)Cera, Yoo, Dennings, Jonathan Wright, and Gavron
The infamous mix-tape. Admit it, you've made one and given it to a crush. Though outdated in name, the arrangement of songs in a meaningful order designed to get a date is a teenage ritual as inevitable as acne or masturbation. In the age of iPods, it's now a playlist, but the name of the game is still the same: gettin' some. Nick and Norah's Infinite Playlist is a mix-tape in its own right — a testimony of love to New York City and coming of age.
Like a teenage boy expressing a crush, Nick and Norah's Infinite Playlist is at once charming and awkward. Director Peter Sollett (Raising Victor Vargas) has taken Lorene Scafaria's screenplay to create a film that's honest and frank in its assessment of the teen world, featuring characters who are carefree and seemingly invincible. It's a time when finding love is just as important as seeing your favorite band play.
Nick (Michael Cera) is still suffering the broken heart he got as a birthday present from his girlfriend Tris (Alexis Dziena). His pining takes the form of 12 CD mixes, discarded by mean girl Tris, but rescued from the trash by Norah (The House Bunny's Kat Dennings). Without ever having laid eyes on him, Norah is a Nick groupie based on his musical tastes alone. When the two happen to meet following a concert of Nick's band, The Jerk Offs, it triggers a wonderful night of mayhem. Think Adventures in Babysitting but with drinking, drugs and rock and roll. And a Yugo. Yes, Nick drives a yellow Yugo that New Yorkers seem to think is cab.
Cera, who made his name in Arrested Development and Juno, is essentially playing the same goofy guy again. It's a role he's mastered by this point, so he gives a solid, if not an original, performance. Opposite Nick as Norah, Dennings continues to be a welcome addition to the teen genre. She provides a good balance to Cera's seen-it-before performance; she's no Ellen Page, who played off Cera so masterfully in Juno, but her Norah is someone you could fall for over the course of the evening.
Director Sollett ensures that the entire film feels like an improvisation, with the teens struggling to find the right next word or phrase. And often say the wrong thing. Some of the awkward pauses drag out the scene a little too long, but another adventure is always just around the corner.
In a way, Nick and Norah's represents a world we all hope for — a world in which gay characters and plot lines are integrated with so little fanfare that there's not a seam or a panty line in sight. Nick is the sole straight man in his band, which he bemoans by saying, "You don't know how hard it is to be straight." His band mates (Aaron Yoo and Rafi Gavron) play gay cupids for the night (even giving Norah a little Queer Eye makeover), but it's not the condescending sidekick role that Rupert Everett was relegated to in My Best Friend's Wedding. Hell, if anything, the gays have their shit together a lot more than the straights do. They're much more than accessories — they're your best friends who know what's best for you.
Unfortunately, as with most modern-day teen comedies, there has to be one cringe-worthy gross-out scene. Nick and Norah's lowbrow humor ranks right up on the gag factor with Superbad's menstrual blood, the crowning birth shot in Knocked Up, and Jason Segel's full frontal in Forgetting Sarah Marshall. It's not central to the story and really only serves to keep the interest of teenaged boys.
NICK AND NORAH'S INFINITE PLAYLIST

Starring Michael Cera, Kat Dennings
Rated PG-13
90 Minutes
Area Theaters
It's impossible to discuss Nick and Norah's without focusing on the music, which helps to fill all the awkward pauses between the clueless teens. It's mostly indie rock, with a couple romantic numbers thrown in for the more tender moments, serving as a constant beat to keep the movie's pace moving.
Nick and Norah's Infinite Playlist plays out across New York City in a manner that's both loving and nearly impossible. Putting aside the fact that characters can tell cabbies to drive around the city until they see a Yugo (and actually find the car), Nick and Norah's Infinite Playlist is sweet and, like the music, has an edge to it. It's new, it's fresh, and it's a playlist worth listening to on repeat.