Old Dominion Diversity
It's akin to Wisteria Lane meeting reality. Welcome to the City of Falls Church, with manicured yards and sun-dappled flowers in planters that hug the street lamps. On a temperate Saturday, strolling through the City of Falls Church Farmers Market, adjacent the quaint, brick City Hall, this town is picture perfect. You almost expect to bump into Bree Van De Kamp inspecting the heirloom tomatoes or the artisan cheeses.
Then the reality sets in. Instead of Bree, there are the numerous Obama supporters — and, granted, two young women with McCain-Palin bumper stickers across their backs — and the kids collecting money for the local soccer league.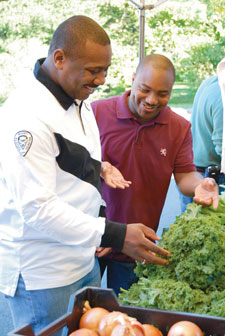 Lawrence and Clifton in Falls Church
There's also the obviously gay, African-American couple, who stand out somewhat in this largely European-American milieu, but that's just the sort of contrast that gives Falls Church a distinctively progressive vibe. The taller of the couple, after all, was elected earlier this year to the Falls Church City Council, making Lawrence Webb the first openly gay African American elected to office in Virginia.
"Falls Church is a very progressive city," says Webb. "People here are very educated."
Speaking of education, aside from the top-notch public schools, Nick Benton is helping to educate Falls Church with his Falls Church News-Press, the local newspaper he started in 1991. He's also helped bring an annual effort promoting diversity to public school kids here. That he's also openly gay seems, as in Webb's case, to be a non-issue.
Clifton Taylor, Webb's partner, who grew up in the District and Suitland, Md., and who has lived as far afield as tiny Buckhannon, W.Va., says that Falls Church City offers a quietly welcoming environment for gay people.
"In my neighborhood, I know other gay people," says the 29-year-old Taylor, adding that he and the 33-year-old Webb tend to be a bit younger than many of their neighbors. "I haven't seen stickers or flags displayed, but I know there's a gay population in the City of Falls Church. People aren't very vocal, they don't display it. You're in a community where things are very cookie-cutter at times, but gay people would feel comfortable here. I like my neighbors. They're very friendly. I don't think it's a big issue — especially with Lawrence being voted in."
Though neither Taylor nor Webb was particularly familiar with Falls Church when they moved in from Arlington about four years ago, Taylor says they both fell in love with the apartment they rent within a few blocks of the intersection of Broad Street and Lee Highway, roughly the epicenter of Falls Church City action. From their apartment, much of what this town has to offer is within walking distance.
"There's walk-ability to four neighborhood restaurants and the State Theatre, and the farmers market is just up the street at City Hall," says Webb. "All the city's major festivals, like the Taste of Falls Church, they're all right there at City Hall. Once the downtown area is developed, there's going to be even more."
That development is something Webb and his fellow Council members have been trying to craft in a responsible way, to maintain some of the city's tranquility, while making Falls Church more of a destination and less of somewhere consumers pass through on their way to Tysons Corner.
While development will likely raise prices, today there is a range of what's available. A 10-minute walk to the East Falls Church Metro and close to the other downtown amenities, a two-bedroom, one and a half bath apartment, for example, is being offered for $1,600, which includes utilities, two parking spaces, and expansive views.
A mile from the Metro, but even closer to the downtown core, a ground-floor, one-bedroom condo is on sale for $275,000. Two blocks from the city center, asking price for a townhouse with three bedrooms, two full and two half bathrooms, is $499,000. For $900 more, also close to the core, a renovated, single-family home with three bedrooms, two and a half baths and a fenced yard with a deck is on offer.
"I think there's a transition coming," Taylor says, referring to downtown development. "They're talking about building a city center with a grocery store, a park. The bowling alley will be updated. I think those things will make the city more exciting, more appealing to a younger demographic."
Until then, Taylor seems pretty satisfied with all that's immediately nearby. Aside from the stalwarts, such as the Dogwood Tavern or Ireland's Four Provinces, there are some funkier spots that give Falls Church City some spice. Bangkok Blues pays homage to Thailand's King Bhumibol, an avid jazz musician, with a mix of Thai cuisine and live music. Clare & Don's Beach Shack helps locals chill in summer and find some tropical heat in the winter. Taylor offers a special nod to Elevation Burger, whose single Falls Church outlet is set to soon expand greatly in the mid-Atlantic region, offering a burger-based menu stressing organic, grass fed and free range.
Taylor says he's also pleased to have a local day spa, Rex Day Spa, and a Syms clothing store nearby.
One of the best things about Falls Church might even be how easy it is to get out of it.
"An advantage is the proximity to D.C., the proximity to the major arteries," says Taylor, pointing out that within a couple of minutes from home he can be on Interstate 66, state Route 7 or U.S. Route 29. "It's close to the Metro, close to D.C. and a nice place to raise a family. I'm definitely happy with where I live."
Taking "Northern Liberties"
Take a peek at Chris Fredericks' Facebook posts and there's no mistaking his enthusiasm for his Mount Vernon Triangle neighborhood.
"Chris is watching people walk down 5TH ST with Safeway bags and Starbucks cups and thinking the last two years were all worth it for this moment."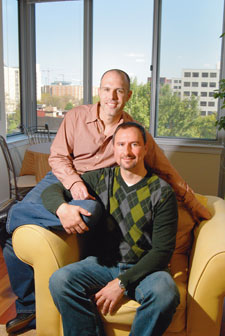 Mike and Chris in Mount Vernon Square
"Chris just got home from the soft opening at Busboys & Poets at 5TH & K NW!!!"
You get the idea.
From the perch Fredericks has shared with his partner, Mike Connell, since May 2006 — a sixth-floor condo at Massachusetts Avenue and Fifth Street NW — the two have enjoyed front-row seats as the Mount Vernon Triangle area transforms. The transformation has been led primarily by the City Vista development of condos, rentals and retail, including all the venues Fredericks mentions on Facebook. Still, there's more — much more — to come.
Connell says the jewel in the crown will be the recently approved "The Arts at 5th and I," which will offer mixed-income housing, a jazz club, coffee house and four-star hotel.
"That's going to be directly outside our living room and bedroom windows," says Connell. "That's the one everyone in our building really wanted to succeed. The mayor's office really listened to us."
Aside from all the development rising around them daily, Connell and Fredericks say they were already pretty happy in their own particular building, which answered their call for downtown accessibility, easy commutes, and their first-time homebuyers' desire for a home that wouldn't need to be renovated. An added bonus, however, was the neighborliness of downtown living.
"Our roof deck is like a common backyard for everyone," says Connell, who used to live in Adams Morgan, adding that along with views in all directions there's a pool the two use often in warm months. "I feel closer to my neighbors now than I did in Adams Morgan. We'll bring a bottle of wine to the roof and hang out with the neighbors. It's a great common area for all of us."
Fredericks, president of the building's condo association, adds that along from being full of gay people, the building has a youthful exuberance.
"There's a social committee that holds wine tastings, beginning- and close-of-summer parties on the roof, outings to Nationals and Caps games," he says. "We have a pretty young, energetic crowd in the building. We don't have a lot of stodgy people."
To join the Mount Vernon Triangle crowd today, some going rates include a one-bedroom unit in City Vista renting for $2,199 per month, or condos on offer in the same development ranging from about $370,000 to $725,000. Of course, that includes access to City Vista's third-floor private park, Vista Green.
Beyond the neighborhood's amenities — to include the D.C. Eagle, a Results gym and two nearby Metro stops — Connell displays a particular interest in the history of the area, speaking at length about the colorful depth of his adopted part of D.C.
"The 'Northern Liberties' was the area above Massachusetts Avenue," says Connell, explaining that while the moniker is more familiar to a district in Philadelphia, D.C. in the early 19th century had its very own lawlessness. "It was an unincorporated part of D.C. If you wanted gambling, prostitution — anything where you wouldn't have to worry — you did it above Mass Ave. There was no policing. The Northern Liberties had the biggest market in the whole city. It was where everyone went for everything, an outdoor mall. There's a lot of really interesting history in our neighborhood."
That lawlessness might be an issue that some would consider before moving to Mount Vernon Triangle, but both Fredericks and Connell say that crime, in their experience, is minimal and lessening in direct proportion to the ongoing development.
"I feel very safe here, though some of our neighbors, especially some of the ladies, feel they've been accosted by people in the neighborhood," says Fredericks, who can compare the area to his New York City days. "We do get a fair amount of police action, but the foot traffic has increased on Fifth, and it's been great. It's made a huge difference."
Connell, a Montgomery, Ala., native, compares the neighborhood to his previous D.C. neighborhood, living at 17th and Euclid Streets NW.
"[Compared to] Adams Morgan, this is downright suburban," he laughs. "I got mugged a block from where I used to live, and you'd always hear shooting. People were murdered within a two- or three-block range."
By comparison, it seems Connell and Fredericks are now living on easy street. To hear them speak about their building and neighborhood, the characterizations border on the sublime.
"When I moved to D.C. in June 2004, I saw this building and thought, 'Oh, wow, that would be a great place to live," Fredericks recalls. "Coming from New York, I wanted a bit of urban feel. I definitely wanted to be really close to the subway. We love the neighborhood, the amenities, the pool."
Connell paints a picture of evenings on the roof, particularly the Fourth of July, with views to Crystal City, the Air Force Memorial and far into Maryland.
"It's a pretty commanding view," he says, sounding slightly wistful, as the pool recently closed for the season. "You can go swimming and look at the fireworks."
That's a tough act to top.
Beware the Bunnies
Take the Metro to Forest Glen, Md., and you'll ascend into a setting that looks like something from science fiction. Among the quiet colonials and abundant foliage, the Metro station at Georgia Avenue and Forest Glen Road sticks out like a futuristic thumb. The most action at this intersection is the Montgomery Hills Baptist Church. A few steps deeper into this quiet corner of Silver Spring, and you may find yourself looking back at the Metro station's elevator entrance — a necessity for the deepest station in the Metro system — fearing that the out-of-place box may zap out of existence in Dr. Who phone-booth fashion.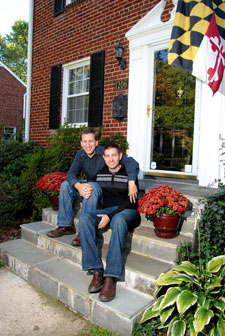 Jonathan and Eric in Forest Glen
But it's hard to harbor much anxiety for long in a setting so relaxed, so peaceful.
"It took us eight months to find a place," says Jonathan Blumenthal. The "us" includes his partner, Eric Cohen. The two are fairly well-known philanthropists who founded the Burgundy Crescent Volunteers in February 2001, the same year they discovered their three-bedroom, two-bath, single-family home in Forest Glen.
"We looked all over Montgomery County. We came upon this area and we liked it."
Blumenthal's D.C. point of reference was Cleveland Park. Cohen had been living in Greenbelt. As for commutes, Cohen's job is downtown, near Penn Quarter, while Blumenthal heads out to the National Institutes of Health campus in Bethesda.
"We were definitely looking at single-family homes, but No. 1 was walking distance to Metro," says Blumenthal. And though they're a 20-minute walk to their Forest Glen station, it's far quicker for Blumenthal to hit back roads to NIH, making it in 12 minutes.
Cohen, on the other hand, takes the train downtown. It's a commute that includes daily gratification.
"When I walk to the Metro, I can see the Beltway and appreciate that I don't have to deal with that," he says. "It's a big benefit, not having to deal with traffic."
But along with the easy commutes, Blumenthal and Cohen admit to some initial apprehension after moving in. After all, these are two fairly well-connected guys. The fear was that Forest Glen might be a bit too isolating.
"When we first moved in, there seemed to be a lack of things to do," says Cohen. "But the way they're rebuilding downtown Silver Spring, there are so many things to do. The county is constantly developing. New businesses are always moving in.
"I feel like we get the best of both worlds. I think we're just the right distance. We go downtown all the time. If we'd moved another 10 minutes out, I don't think we would. Jonathan and I do feel like we're part of the D.C. gay community. We can be in Dupont Circle in half an hour."
While Forest Glen has not come between Blumenthal and Cohen and the D.C. gay community, another twist, they say, is that Forest Glen seems to be getting gayer all the time.
"Of the four houses in our little corner, three are GLBT," says Blumenthal, adding that the size of the homes in the area may be somewhat prohibitive for families with kids. "In a one block radius, there are four other households. Because these are relatively small homes, most of our neighbors are young couples. There's a young, progressive feel to the neighborhood."
An example of rental prices in the neighborhood — and rentals are primarily houses, not apartments — has a three-bedroom, two-bath house a five-minute walk from the Metro going for $1,785, or a similar home one block from the Metro for $1,600.
Less than a mile from the Forest Glen Metro, a picturesque, five-bedroom home with two baths and a yard with patio is for sale for about $670,000. Not far away, a four-bedroom home with two and a half baths sold recently for $549,550.
Neighborhood prices have been holding fairly steady, which Blumenthal and Cohen credit to the Metro station. When they looked for something larger not too long ago, Forest Glen seemed an even greater bargain.
"Once we looked around, it made us really appreciate what we have, how nice the neighborhood is," Cohen says. "We'll be here at least another 10 years. A lot of it is just location. If you try to find a nice house, walking distance to a Metro station for a reasonable price, that's hard to do."
Instead, to accommodate themselves and their two rescued basset hounds, Jasper and O'Brien, the answer has been, if you can't change houses, change your house. With a sunroom already added, a living room addition is next on the menu.
"We live in [the sunroom] three seasons out of the year," says Blumenthal. 'We call it 'Café Lanai.' It's our homage to The Golden Girls. It allows for relatively large parties in the summer — spring and fall, to some extent. A number of houses have been putting on additions. It's easier than to move, and additions make a house more enjoyable."
As long as they're staying put, the couple say they will go right on enjoying neighborhood businesses such as Mrs. K's Toll House Restaurant, York Castle Tropical Ice Cream, Kirsten's Café and the Woodside Deli. Beyond the businesses, the two are big fans of adjacent Sligo Creek Park, with its trail that runs right to downtown Silver Spring.
But as happy as these two are in their bit of close-in, suburban paradise, there must be drawbacks. Aside from being surprised by a fox on the park trail early one morning, Cohen admits that theft has been a problem.
"The rabbits eat my basil," he says of the furry thieves. "So, if you love Italian food, Forest Glen can be a hard place to live."