That dashing, debonair, heartthrob who can make the impossible seem easy is back. And the best part is that he's playing James Bond again.
Daniel Craig, who helped breathe new life into the Bond franchise (due in equal parts to his action scenes and his box-cut bathing suit), returns as 007 in the 22nd Bond installment, Quantum of Solace. The conflict at the heart of the film is whether the trained, cold, calculating killer can still do his job when he's motivated by revenge.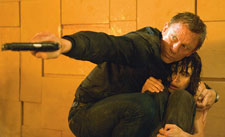 Craig as 007: Quantum of Solace
If you missed Casino Royale, don't expect Quantum of Solace to help you out. Hell, even if you did see Casino Royale, you might need to move it to the top of your Netflix queue for a refresher. Writers Neal Purvis, Robert Wade and Paul Haggis, who also wrote Royale, pick up right where they left off in 2006 and provide zero backstory.
What you don't need any history to know is that Craig is an excellent Bond. He's rough, he's tough and he's 100 percent Bond. He's not a pretty boy who surprises you with a stunt — he's a badass who knows how to get what he wants. And in this case, he gets two Bond Girls: Camille (Olga Kurylenko) and Strawberry Fields (Gemma Arterton). Arterton is a throwaway, actually, but Kurylenko gets to show some grit in her role.
Director Marc Forster, whose diverse credits include The Kite Runner, Monster's Ball and Finding Neverland, is on rocky ground as he starts the film. It's like he's trying to out-Bourne the Bourne films. Rapid cuts, hand-held camera shots, and action too fast to follow ensures that for the first five minutes you're not only watching a car-chase scene, you're experiencing it, motion sickness and all.
The second fight, which takes place on stairs, roofs and scaffolding isn't much better. Sometimes it's hard to know which man to root for since you can't tell which man is Bond. Things improve greatly from there. Having conquered land, Bond then finds himself in the water, in the air and in the middle of a fire. Apparently you're not a real super-spy until you've survived all the elements. It's a nice nod to the environmental themes of the film, which, as plots go, are mere nods themselves.
The story supporting Quantum of Solace is pretty thin. The revenge that motivates Bond is never shown to be as tortuous as it could be, and the villain, Dominic Greene (Mathieu Amalric), is a bit lame. Without MI6's knowledge, he's built a vast network of operatives able to topple governments. He's even infiltrated the agency. But Amalric just isn't that sinister. While the story allows for the fabulous M (Judi Dench) to play a larger role in the film as she questions her ability to know her own agents, it's half-hearted at best.
The question then must be asked: How much does the plot really matter? Does it have enough meat on its bones to justify the quintessential Bond moments? The answer is yes. In fact, gone are the cheap tricks where a small invention saves Bond's life, or some implausible feat allows Bond to escape. At least Bond's survival doesn't depend on him jumping off a cliff and diving into a plane right before it crashes.
Speaking of gadgets, it's sad that the film is being released after Election Day, because many of MI6's electronics looks suspiciously like CNN's election coverage technology (minus the hologram reporters, thankfully). It's hard to be impressed with a fancy computer system once you've seen Wolf Blitzer use one.
QUANTUM OF SOLACE

Starring Daniel Craig, Judi Dench
Rated PG-13
106 Minutes
Area Theaters
In addition to the fight scenes, which are, on average, great, there are some moments of pure bliss. When Bond tracks the leaders of Quantum to the opera, the way he identifies each is fantastic, and a fight sequence intercut with the actual performance is beautifully crafted. Also, the death of an agent gives a small nod to Goldfinger, but this time she's dipped in oil and placed on the bed. For Bond fans, it's a nice acknowledgment.
One cannot discuss a Bond film without touching on the song and opening sequence, always central hallmarks. The song, Another Way to Die, is a duet performed by Jack White and Alicia Keys. As a song, it's far from great. As an opening number with graphics, it's adequate but certainly doesn't help calm the stomach after the opening chase.
Ultimately, Quantum of Solace is good Bond fun and proves that Daniel Craig is one man you can count on to get the job done.