Tony Moran's partner of nine years died last May. "Dealing with that while others were watching was difficult," says Moran, an acclaimed dance music producer and one of the gay circuit's most popular DJs. "But I chose to channel my feelings by working harder and putting myself out there with other people."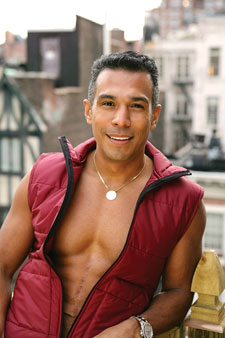 Tony Moran
He's certainly seen lots of love and support in the past year. He wrote and produced one big dance hit after another – from Kristine W's "Walk Away" to Martha Wash's "Keep Your Body Workin"' to Deborah Cox's "Everybody Dance." And he's continued to serve as a headline DJ at all of the major gay club events. "I absolutely love DJ-ing," Moran says. "I get to express myself in my music, and I get to see how people react, and to encounter people that I'd never have an opportunity to interact with otherwise."
Three months ago he spun at Town, marking his first visit to D.C. in years. His performance was so great and satisfying, he's already returning, in what he says is for him one of the shortest spans of time between return engagements.
Moran is currently working on a mixed compilation follow-up to last year's The Event. The new set, which he's calling The Open Book, will feature only his own all-new productions – and he'll sing again on two tracks. He'll also feature "a whole new set of divas" as well as old favorites, including Deborah Cox and Jocelyn Brown.
Moran's hoping for a release early next year, but isn't going to rush it. "I don't want to put anything out until it's perfect," he says.
The album will likely include the diva anthems Moran's known for, including what he calls the "painful purging" variety. "I like to try to express deep-rooted, strong emotions that are not always positive," he says, "but that people can relate to and that may help them feel better."
For his part, Moran's feeling good as 2009 approaches. "I'm in a great place right now. I feel free, I feel love, I feel happy."
Tony Moran spins this Saturday, Nov. 8, at Town Danceboutique, 2009 8th St. NW. Cover is $15 after 11 p.m. For more information, visit www.towndc.com.