Local artist Frank Muzzy is literally exposing himself for this year's Art for Life, the annual Whitman-Walker Clinic art auction benefit. A noted painter of D.C. architectural scenes, Muzzy this year has contributed a self-portrait photograph, "Red Bear," a close-up of his beard and his furry bare-chest, with a red bandana tied around his neck.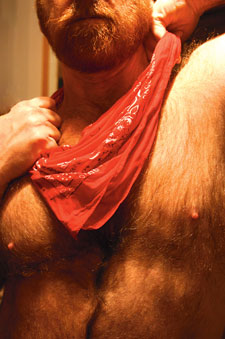 Red Bear'
Chances are, the bids will be high for Muzzy, whom the clinic is honoring for regularly donating his art to the cause, alongside two other local gay artists, Michael Wise and Rob Kleinsteuber. Wise has offered a beautifully colored photograph of an autumn scene. A male-nude specialist, Kleinsteuber has contributed a mixed-media piece called "Steambath."
"It's pretty much exactly what you think it is," chuckles Whitman-Walker's Mike Wilkinson, in charge of the event, now in its 15th year.
Set for Friday, Nov. 14, this year's event boasts 85 pieces of art from 85 artists to be auctioned off to the highest bidders. "[The collection] is one of the strongest we've had," says Wilkinson, praising the assistance of new curator Christena Hambrick. "It's a great opportunity to go home with some great art at great prices." Each piece of donated art is valued at a minimum of $400, but the bidding starts at a quarter of the value. Wilkinson says this year's goal is to raise at least $40,000 from the bidding, and at least $80,000 in total, including paid sponsorships from the likes of Sun Trust, Arriba La Vida/Up with Life Foundation and Geico. In years past, money raised went toward the clinic's Latino outreach efforts. This year's proceeds will benefit the clinic's work in HIV/AIDS-prevention services for all communities of color.
"The disease has been impacting a lot of people that really need our services," Wilkinson says, explaining the expansion. The evening starts with a cocktail reception, and features an open bar throughout, though only white wine and clear liquids are allowed in the Carnegie Institute's auditorium, where the live auction will take place. "We've created some specialty clear cocktails for the evening," Wilkinson assures.
Art for Life takes place Friday, Nov. 14., at 6:30 p.m. Carnegie Institute of Washington, 1530 P St. NW. Tickets start at $80. Call 202-797-3545 or visit www.wwc.org/artforlife/ where you can also see images from this year's entire catalog of artwork.