Two adages come to mind after seeing Slumdog Millionaire: "Don't judge a book by its cover," and, "Not everything you need to know can be learned from a book." In his latest film, director Danny Boyle, whose credits include Shallow Grave, Trainspotting and 28 Days Later, has achieved something even more grand, more amazing and more spellbinding. In fact, Slumdog Millionaire is as close to a cinematic must-see as we've gotten all year.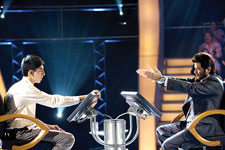 Who wants to be an millionaire: Patel with host
Jamal Malik (Dev Patel) is an unlikely contestant on India's version of Who Wants to Be a Millionaire. He's just 18, his job is to serve tea to telemarketers, and he grew up on the streets. When he finds himself only one question away from the big prize, the show breaks and he's hauled into a police station for fraud. After a night of torture when he still won't confess to cheating, he is finally allowed to tell his story.
The film becomes a blending of time and space, as Jamal's appearance on the show is interwoven with his life as a "slumdog," growing up an orphan on the streets with his brother and their friend Latika. Doyle explores the events which give Jamal the real-life experience needed to answer each question. Doyle is weaving a tapestry in the film, revealing bit by bit until the absolutely beautiful whole is finally apparent.
Boyle finds the perfect middle ground between an engrossing plot-based film and a visually stunning cinematic experience. Story is never sacrificed for visual style, and the amazing lights, colors and sounds only enhance the narrative. There are elements of the fantastical, but many scenes are painfully real and grounded in the dirty, poor streets of India. Elements of Doyle's previous films are evident – the seedy underground of Trainspotting, the suspense and horror of 28 Days Later, the lush cinematography of The Beach. Just as Jamal is the sum of his parts, Slumdog Millionaire is the sum of Doyle's parts.
SLUMDOG MILLIONAIRE

Starring Dev Patel
Rated R
120 Minutes
Even with Doyle's direction, much of the film's credit can be laid at the feet of Patel. It's truly a break-out role for him. Jamal is scared by the stakes but also tested by experiences that no man should ever have to endure. Patel is not alone, however — three different sets of actors play the roles of Jamal, Salim and Latika at different ages, and all give strong performances.
There is a sense of realism at the core of Slumdog Millionaire that makes you wonder if it's not based on a true story. It's a credit to Doyle and writer Simon Beaufoy that it feels so authentic. They provide a sense of hope in the middle of such despair that it makes you wish that something so wonderful might just be possible.
Slumdog is about triumph, luck, love, determination and pain. It will break your heart, only to mend it into something stronger.
---
If there's one thing that Role Models teaches you, it's how to laugh. The new film starring funnymen Paul Rudd and Seann William Scott is irreverent, offensive and fantastically funny. Director David Wain and Rudd teamed up in 2001 for Wet Hot American Summer, about the summer camp where no good parent would ever send his child. Role Models follows a similar path but surpasses the former in intelligence and humor.
Danny (Rudd) and Wheeler (Scott) have spent the better part of adulthood hawking energy drinks to kids as part of an anti-drug campaign. After a particularly bad day on the job, the two end up facing jail time or public service. Even though they opt for the latter, they still become someone's bitches: the unbalanced Gayle (Jane Lynch), who runs a group akin to Big Brothers/Big Sisters. The two are paired with the problem children and bad-upbringing hilarity ensues.
ROLE MODELS

Starring Paul Rudd
Rated R
99 Minutes
Area Theaters
It's hard to decide which pair is funnier – the adults or the kids. Augie (Christopher Mintz-Plasse, Superbad's McLovin) lives in a Renaissance fantasy world, and Ronnie (Bobb'e J. Thompson) is a breast-obsessed kid with a mouth like a sailor's. Rudd, who also co-wrote the film, is just wonderful as Danny. Whether he's being irresponsible or growing up, he's witty and warm. Scott might as well be channeling his role as Stifler in American Pie, but it worked before and it works now.
The concept is ridiculous, but it's so damned funny, who cares? There are some films that manage to pack all the funny scenes into a 90-second trailer — Role Models fills the entire 90 minutes with material that keeps on giving.