News Channel 8 reported, Nov. 20, that local attorney Joseph Price, his partner Victor Zaborsky, and their roommate, Dylan Ward, have been indicted by a grand jury on charges relating to obstruction of justice in the Robert Wone investigation.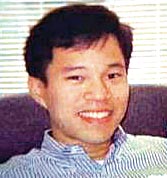 Robert Wone
Wone was a 32-year-old lawyer who died from multiple stab wounds inside Price's Swann Street NW townhouse in August 2006. Washington Metropolitan Police Department Acting Lt. Brett Parson confirmed that Price turned himself in to police Nov. 20, but had no information regarding Zaborsky. Price was scheduled for arraignment Nov. 20 in D.C. Superior Court. Parson said he could not comment further.
Dylan Ward, a roommate of the couple when the murder occurred, is currently in Florida, awaiting extradition by U.S. Marshals back to D.C. Ward was arrested in Dade County, Fla., on Oct. 29. Earlier this month, the MPD released a 14-page affidavit detailing what evidence was found at the residence in which Wone was killed, leading investigators to suspect the men living in the home were hiding information and that the crime scene had been tampered with.