After a recent dress rehearsal with the Capitol Pride Symphonic Band, director Joe Bello was feeling emotional. "They actually moved me to tears on the podium tonight," he said. "The music was just so beautiful."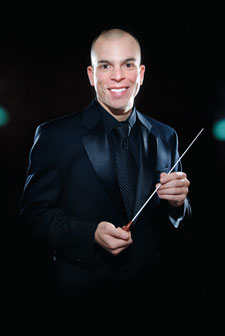 Joe Bello
Bello hopes concertgoers have the same reaction at Songs for Life, D.C.'s Different Drummers' inaugural benefit to commemorate World AIDS Day, Monday, Dec. 1. Bello will lead the Drummers' 60-piece band in a performance that will include Aaron Copland, John Philip Sousa and John Williams. The Drummers' DC Swing! jazz band will also perform at this concert to benefit the Whitman-Walker Clinic, Metro TeenAIDS and Us Helping Us.
"Many people have lost loved ones to AIDS, and others in the symphonic band and their friends and families are living with HIV," says Bello. "We just wanted to do something to give back to the community."
The concert was already in the works when Bello came on board as director of the symphonic band in August, but he selected the band's contributions for the benefit. "I wanted to create a somber mood with gripping music. More of a celebration of where we've come from with HIV/AIDS." The performance will include French composer Chaminade's "romantic crowd-pleaser" Concertino for Flute Solo and Band, featuring local flutist David Lonkevich. Also featured is A Movement for Rosa by Mark Camphouse, which is dedicated to civil rights pioneer Rosa Parks. Bello is working to relate her struggle in breaking down barriers to the ongoing struggle with HIV/AIDS.
D.C. City Councilmembers David Catania and Jim Graham are honorary co-chairs. Organizers are hoping the Mayor attends too. The benefit is supported by Human Rights Campaign, Brother Help Thyself and Ackerman Legal.
Says Bello: "I hope people walk away feeling connected to their community, and that the music uplifted their spirits."
D.C.'s Different Drummers will host the Songs for Life benefit Monday, Dec. 1, at the Shakespeare Theatre's Sidney Harmon Hall, 610 F St. NW. Concert begins at 8 p.m., preceded by a VIP cocktail reception at 7 p.m. Tickets are $50 to $75 and can be purchased by calling 202-547-1122 or visit www.dcdd.org for more information.