It takes a certain amount of stature to get a school named after you. With an elementary school in San Francisco and a high school in New York City, Harvey Milk has that sort of stature. And why shouldn't he? He became a pioneer in the modern gay-rights movement by winning a seat — running as an openly gay man — on the San Francisco Board of Supervisors in 1977, sworn into office in January 1978.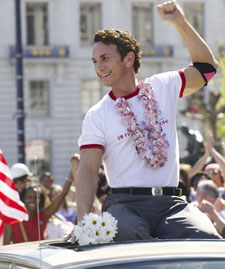 Sean Penn as Harvey Milk
That win was cut painfully short. Within a year of taking office, after leading the charge against California's failed Proposition 6, aka the Briggs Initiative, which would have banned gays from working in public schools, he was assassinated. A fellow supervisor, Dan White, killed both Milk and Mayor George Moscone in City Hall. White, a conservative supervisor, could have faced the death sentence for first degree murder, but was convicted instead of voluntary manslaughter, sparking riots in San Francisco. White was paroled in 1984 and committed suicide not long after.
November 27 marks the 30th anniversary of the shootings, dubbed "Black Monday." And nearly to the day of this infamous anniversary, on Wednesday, Nov. 26, the motion picture Milk will be widely released in the United States.
Thirty years on, much progress has been made. Openly gay people serve not just locally, but in Congress. Many jurisdictions recognize same-sex partnerships and prohibit discrimination against GLBT people. Then again, much remains the same. Not only does Milk open on the heels of the successful Proposition 8, repealing Californians' court-recognized right to marriage equality, but Milk the man made headlines in September when Gov. Arnold Schwarzenegger vetoed a bill marking Harvey Milk Day. That won't stop gay people — and their allies — from hitting theaters during the long Thanksgiving weekend.
Earlier this month, several people involved with Milk, from director Gus Van Sant and writer Dustin Lance Black — both gay, notably — to actors such as Emile Hirsch and Josh Brolin, sat with reporters to discuss what it took to finally get this movie made, the experience of filming it, and what they may have taken away.
Years in the Making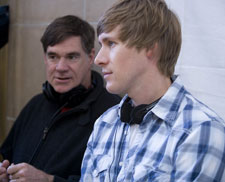 Director Gus Van Sant (left), Screenwriter Dustin Lance Black (right) on the set
(Photo by Phil Bray)
Milk was not a hasty enterprise. It was not a simple collaboration whereby Gus Van Sant and Dustin Lance Black phoned each other and said, "Hey, let's put on a show." In fact, plans for a Harvey Milk biopic had been kicked around for more than a decade. Van Sant first heard of it from filmmaker Rob Epstein, whose works include directing 1984's The Times of Harvey Milk and 1989's Common Threads: Stories from the Quilt, and producing 2000's Paragraph 175 and 1995's The Celluloid Closet.
"The reason Rob mentioned it was because Oliver [Stone] had dropped out," says Van Sant, adding that he had his own issues with an early script for the Milk biopic. "Lance showed up with a different script — like, 10 years later. No — 15 years."
In the meantime, a variety of actors had been approached. Matt Damon as Dan White? With Damon otherwise occupied, Tom Cruise was suggested.
"Tom was going to play Dan and Sean [Penn] was going to play Harvey," Van Sant continues. "I figured the two hot, young actors would give it some spin…. Later, when we were working on this, so many years had gone by and I'm not sure how this happened, but Sean's name came up with our [current] group. I called him up and I said, 'Would you like to play Harvey Milk?' It took all the way to traveling to San Francisco to have our first meeting that it dawned on me: 'Wait a minute — I already offered him the role, like 10 years ago.' For some reason, I guess I spaced…even though I'd gone through this process of how he could play the role. I thought he was like the most macho guy in Hollywood and he's going to play Harvey Milk. And then you hope that Sean does that job that he actually did, which is to completely infuse himself into Harvey, which was incredible."
That Milk was a long time coming is not lost on the actors who — unlike Damon or Cruise — actually ended up in the film.
Emile Hirsch, who plays Cleve Jones, Milk's political protégé of sorts and the man who would go on to craft the NAMES Project AIDS Memorial Quilt, jokes about the obstacles this movie faced from concept to creation.
"Gus had been involved for a really long time with trying to get it made," Hirsch says. "[He] told me that he was thinking of putting me in a movie. He brought up the idea to Sean [Penn], although I can't imagine Sean agreeing too easily after spending so much time with me on Into the Wild." Hirsch had played the lead role of Chris McCandless in Penn's Oscar-nominated Into the Wild. "There had to be a part of [Sean] that was, like, 'I've got to get away from this guy!"'
James Franco was grateful to be cast for any part in the movie, let alone that of Scott Smith, Milk's lover of several years, the man with whom Milk moved from New York to San Francisco. Currently pursuing graduate studies in New York, Franco was studying literature in England when his agents contacted him about Milk.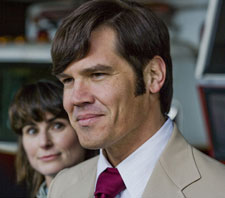 Josh Brolin as Dan White in 'Milk'
"I grew up in the Bay Area and knew a little bit about Harvey Milk, but not much," says Franco, born just a few months before Milk's assassination. "I did a little research and learned that Gus had been trying to make the movie for like 12 years. Just being the biggest Gus Van Sant fan and knowing how important the story was, I wrote him an e-mail and said I'd do anything in this movie just to be a part of it. I would've played the pizza guy, but he gave me this great role."
With Cruise and Damon taking a pass on playing the infamous Dan White, a script was sent to Josh Brolin.
"I read it immediately," he says. "I cried at the end." Brolin says he was far more eager to take on the role of White than of George W. Bush, who he recently portrayed in Oliver Stone's W.
"Lance did an amazing job writing the script," he says. "The fact that he's gay, that [producers] Dan Jinks and Bruce Cohen are gay, I think that gave them…an extra connection, an intimate passion to get this movie made."
Hitting the Streets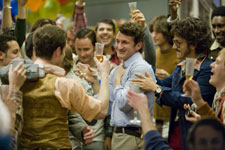 Sean Penn (center) and Diego Luna (center-right) star as respectively gay rights icon Harvey Milk and his lover Jack Lira
(Photo by Phil Bray)
With all the production points in place — screenplay, director, cast — it was time for the memory of Harvey Milk and his namesake movie to fill the streets of San Francisco. Black has spoken about the painstaking attention to recreating 1970s San Francisco. The recreation may have been hardest on Hirsch; Diego Luna as Milk's troubled lover, Jack Lima; and Alison Pill as Anne Kronenberg. Inarguably, these three faced one of the cast members' most daunting challenges: 1970s hair.
"I would come home from set and have half a 'fro by the end of it, pull it out, try to brush it," says Pill, who sat for a dry perm daily as Anne Kronenberg. "[I'd] get my perm, get my fake boobs, my waist up to here." She motions to an area above her navel. "It automatically changed the way I walked. There's something about shooting on location, but there's also something about having everybody in costume. Everybody thought the costumes were ugly, that the '70s were a horrible time — and polyester smells, I will say that — but there's also…such sexiness to it that's captured in the film. There's like this permeating sexiness of waist and hips and womanliness."
That womanliness is Pill's alone — Cleve Jones, who consulted on the set, would ask where the women were. Black says representing women in the story was something of a challenge.
"I have a lot of lesbian friends and it did seem like they weren't there when you looked at [Milk-era] pictures of the Castro," says Black. "Then finally I found out they were up on Valencia Street. They had their own sort of movement. It was very separate. Anne bridged that gap for the first time."
While Jones was on-hand to advise on historical accuracy, Pill points out that Kronenberg had other commitments.
"Anne has a job in a health department and was trying to deal with a budget," the actress says, emphasizing that the rest of the world can't put day-to-day obligations on hold to make a movie. "As much as I would've loved to have had her there every day, she was dealing with San Francisco."
But what little time she did get to spend with Kronenberg, was incredibly helpful to Pill's portrayal, as well as to her spirits. After all, they both walked onto their respective sets in much the same fashion: as outsiders.
"It was fantastic to have her there," says Pill. "First of all, when I arrived for rehearsal I sort of recalibrated my character idea based on how she could just rule a room — very much as a woman, not in any overtly aggressive way. I'd come in with a different idea for more of a girl playing a man in a man's world, instead of a girl in a man's world and using that as a strength, which I think is an incredibly important thing that she did — and does.
"It was also just helpful because when I arrived to actually start shooting, they had been shooting the earlier Castro scenes, the earlier political-campaign scenes. So I came in, literally, the way she did — as a 22-year-old kid walking into a room with really important gentlemen, being the only girl. Everybody's already formed their little cliques, and I was like, 'Oh, God.' Having her there that day was so nice because she's like, 'That's exactly what it was like. I was a kid from Seattle and I had to go in and Harvey asked me to run his campaign.' Thankfully, I was able to use that, and to have the support of the real woman, who was there to say, 'It's okay. You know what you're doing."'
Having Jones on the set daily also helped Hirsch deliver a powerful portrayal of the man — right down to the back-room blowjob during an election celebration, one would imagine.
"Cleve has a very strong personality, but for some reason we got along really well," says Hirsch. "We always had a lot of fun, a kind of jokey, mischievous relationship. But we also care about hearing other people's stories. I would tell him about my life. He would tell me about his.
"And he's had an extraordinary life. I had so much respect for him going into the project. I did like the pressure that having Cleve on the set every day brought. It kind of upped the stakes a little bit. There were times where I was like, 'Aw, I don't want to let Cleve down. This is his life.' And everybody knew who he was before this movie; he was really well known. But sometimes, with me, I need a little bit of pressure to focus. I play better at crunch time!"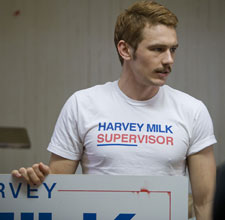 James Franco in 'Milk'
Penn also contributed to "crunch time" for Hirsch, who likens his scenes with his former director as Milk to "playing basketball with the coach."
Franco was among those in the cast whose subjects had died. But Franco, who says he's inspired by researching his non-fiction roles — such as James Dean for the 2001 biopic of the same name — did not have all the archival footage that Penn did in researching Milk. Thanks to Epstein, however, Franco managed something of research coup.
"I asked him if he had any footage [of Smith] that didn't make it into [The Times of Harvey Milk], and he did. He's an extremely meticulous documentarian. He had an old film reel he transferred to DVD for me and I finally got to see an extended interview with Scott Smith from the period, which was great. I found that the real Scott was a good character, so I tried to be as accurate as I could to that. It's not like James Dean, where everyone can go watch East of Eden. Unless you get Rob's reel, you won't know."
Like much of the cast, Hirsch simultaneously praises Penn's breathtaking performance as Milk, while crediting Van Sant for maintaining a relaxed set amid Penn's intensity, as well as the emotional subject matter.
It was not always possible to simply recreate history. Sometimes the actors got caught up not in their craft, but in the circumstances, blurring the line between acting and experiencing.
"Most of the celebration scenes were just fun," says Pill. "And there was absolutely no acting involved in the candlelight march. We had volunteers come down to Market Street. We closed it down in the middle of the night. There were people from that era, there were people from my generation, couples, heterosexual, homosexual — everybody was just there with their candles, memorializing an incredible man. It was one of the most incredible nights of my life. It was an inspiring shoot. It was emotional.
"Seeing the movie in the Castro a couple weeks ago, I was a wreck," she says of the Oct. 28 premiere. "I wasn't quite prepared for how moved I would be by sitting there with the survivors of the time and thinking of the loss of so many of the people who are characters in our movie. It was an amazing film to be a part of. And an important one."
Personal, Political, Powerful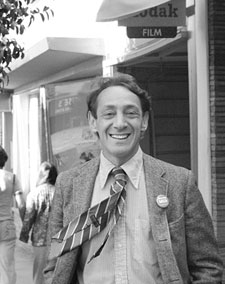 Milk Harvey
(Photo by Nicoletta)
As if the 30-year anniversary of the assassination of Harvey Milk was not enough to instill a haunting gravity, California's recently passed Proposition 8 guarantees that Milk will not be screened in a vacuum. As the onscreen Milk and his contemporaries battle California's Proposition 6, which would have banned gay people from working in public schools, many fighting today's battle will almost certainly feel a political kinship. The primary difference is that 30 years ago, the ballot fight was successful.
One might wonder if Milk could have made a difference in the fight against Proposition 8, which rescinded marriage equality in California, if it had been widely released ahead of the Nov. 4 vote, instead of three weeks after.
"Maybe," answers Black. "But when I think about it, I think [Milk] is mostly helpful for the gay community as an education piece. I think it's great, whatever straight folks come to see it — I hope a lot will, I think they can learn from it — but I think it's also really helpful for the gay leadership to see how it's done. So, earlier? Boy, it almost would've had to come out when we were still shooting and cutting, because that's when that [Proposition 8] campaign started to take shape."
Still, there's no mistaking the resonance of this time-traveling similarity, what Brolin, himself surprised that Californians voted to turn back the clock on marriage equality, calls a "grand parallel." Beyond the United States, actor Diego Luna says Milk may have an impact in his native Mexico, if for no other reason than national pride. That a GLBT-rights movement has been building in Mexico is also part of the equation.
"I totally believe this film is going to have a huge impact in Mexico," says Luna. "The activism and the tolerance we're experiencing, it's just in Mexico City, in a few areas. Mexico City has 22 million people because it offers things that you don't get in the whole country. I don't think reality for gay people is amazing in my country, but there is hope. There's definitely a strong movement happening in Mexico City."
For Pill, herself a native of Toronto and born exactly seven years after Milk was shot, Milk could be a vehicle not just for political motivation, but much needed education.
"When we were [filming] in San Francisco, I was talking to a bunch of friends of friends, gay people in their 20s, living in the Bay Area, who had never heard of Harvey Milk," says Pill. "There's a huge section missing from my generation's education. I grew up in Toronto, born in '85, and I never knew that being gay…was an issue at all. I'm grateful for that, but I'm also aware that people need to be taught the history in order to deal with the future."
It may be considered ironic that Van Sant, among those involved with Milk actually old enough to remember these events when they happened, had no knowledge of Milk being elected supervisor, though he lived in California.
"I was driving across the country," says Van Sant, recalling the moment when he heard that Milk had been assassinated. "I didn't know who Harvey was. It was sort of encapsulated in a little newsflash: The mayor of San Francisco had been shot by a supervisor, who then shot a fellow, gay supervisor."
Though Van Sant didn't know who Milk was at the time, the lesson wasn't lost. The filmmaker says his movie is about letting people know that grassroots political organizing works, that communities can effect change.
Black elaborates on that political message, advising today's leaders to take a page from Milk's playbook, critical of the "No on 8" campaign for shying away from a gay identity and opting instead for more mainstream messaging.
"When you see the film, you see that there is a very different strategy to defeating [Proposition 6]," says Black. "It takes a kind of 'attack on the closet' campaign. That was sort of a theme for Harvey: self-representation. That was missing from the campaign against Proposition 8. There were no gay people depicted in it. That was really the opposite approach from Harvey. It's an important piece of our recorded history, to help people understand how we did succeed at one time…saying, 'Hey, I'm the guy who's going to get hurt.' I hope this can be a useful piece of recorded history for future fights, because God knows it's not over."
Milk opens Wednesday, Nov. 26, at area theaters. For more info, visit www.milkthemovie.com.