In 2003, Will Gartshore crafted a cabaret at Signature Theatre entitled Finding Home, which examined his previously rootless existence between New York and Washington along I-95. For Perfect/Finite, which plays Nov. 10 and 17 at Round House's Silver Spring stage, the 33-year-old decided to explore a somewhat more abstract angle.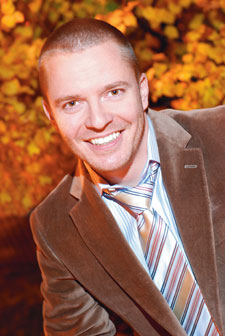 Will Gartshore
"It's about striving for perfection and learning to live with less, to love less than perfection," he explains. "Perfect moments evaporate rather quickly. And that's okay."
Gartshore has been putting the production together since March, assembling the music and deciding how to interpret the songs. "There's definitely some Sondheim, but it's a pretty eclectic selection of songs," he says, adding that audiences will also be treated to his renditions of George and Ira Gershwin, Sarah McLachlan and others. "There's a good bit of contemporary theater music [and] a couple of pop pieces."
While audiences of either performance will likely be hearing the same selection of music, the nature of cabaret nearly guarantees that Gartshore's spoken words will be more dynamic.
"As far as what I say, that will be loosely scripted," says the two-time Helen Hayes Award-winner. "It's going to flow depending on the circumstances. It's probably particular to me. It's oriented around things I want to talk about."
Maybe Gartshore will work in some of his passion for fraternal elements of empires past, which allowed men to remove themselves from the marital pressures of Europe and instead live remotely among men — not exactly cabaret fare.
His sense of humor, on the other hand, is sure to shine through.
"It's a little bit wry," says the Sault Ste. Marie, Ont., native. "It's maybe a little bit subtle, a little bit quirky, self-deprecating, Canadian off-center."
Whatever Gartshore brings to the Round House stage, it's a safe bet for anyone seeking a pretty face, accomplished acting and a velveteen voice.
Will Gartshore performs Perfect/Finite at 8 p.m. on Monday, Nov. 10 and 17, at the Round House Theatre Silver Spring, 8641 Colesville Road. Tickets are $15. Call 240-644-1100 or visit www.roundhousetheatre.org.