For the past few years, Nan Hunter's annual Thanksgiving party at her vacation home in Rehoboth, Del., has become something of a tradition.
"Some folks come from D.C., some folks come from New York and we just sort of kick back and have a good time," says Hunter, 59, who recently moved to Washington from New York to teach classes about sexuality and gender and health laws at the Georgetown University Law Center.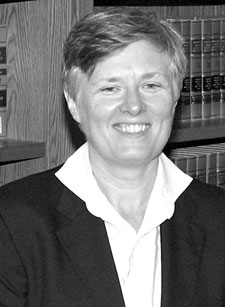 Nan Hunter
"I started teaching [here] in the fall. Before that I taught at the Brooklyn Law School in New York."
But the Wilmington, N.C.-native is not new to D.C. She's lived here before, once while attending the very same law school at which she now teaches, and again when working for the Clinton administration between 1993 and 1996, as deputy general counsel at the Department of Health and Human Services.
This fall she moved back to Washington with her partner of seven years, Chai Feldblum, 49, who's also a professor at Georgetown University's Law Center.
But you don't have to be a Georgetown law student — or a Rehoboth Thanksgiving regular — to be familiar with Hunter. She's also involved with gay activism, though certainly on the more esoteric end of the rainbow. For example, she moderated a local Nov. 19 panel discussion about GLBT-family research, same-sex marriage and GLBT access to adoption services. The panel was organized by the University of California, Los Angeles, School of Law's GLBT-focused Williams Institute.
"What we hope to do is to share with the community what the status is of research on LGBT parenting," Hunter explains. "My role on the panel, aside from moderating, [is] to explain how these studies have figured in legal decisions involving both marriage and adoption.
"The short answer is that they've cut both ways. I think one of the main things for us to discuss and think about would be, what are the criteria that courts should follow in analyzing the validity of studies? You never have a situation where every single study comes out with the same conclusion, so what should the criteria be?"
Hunter, who works on a part-time basis for the Williams Institute as legal scholarship director, has been maintaining a blog on such legal topics since July. She calls it "Hunter of Justice."
It's fitting Hunter participate in the discourse beyond the confines of Georgetown's idyllic campus, considering that until her senior year at Northwestern University, Hunter aspired to become a journalist.
"I changed my mind when I was in college. I decided to go to law school because I did an internship with a Legal Aid office. I was just completely seduced by the possibility of being able to actually make changes in the world."
It was also during her internship that Hunter came out of the closet.
"My coming-out experience was with a woman I met at the Legal Aid clinic where I was doing the internship," recalls Hunter. "She was a law student and I was an undergraduate. 'Oh, this is what I've been waiting for,' was my reaction."
Still, the signs were there long before. Hunter describes her Wilmington childhood as "classic tomboy."
"It's like I lived a cliché, as some lesbians do. I was into sports. That's what I was most engaged in as a child," Hunter says, pointing to years of basketball and baseball.
After her college coming-out, however, it would take several more years for Hunter to break the news to her family.
"My family is very conservative, and they still live in North Carolina. I didn't come out to them for quite a few years after I came out to myself. When I did, I think it was hard for all of them," says Hunter, adding that her family raised her in the Southern Baptist tradition.
"In recent years, they've really moved enormously and I very much appreciate that. So I have this family link with religious conservatives that actually a lot of my friends don't have, in the sense that I actually come from a Southern Baptist background.
"My brother and his family would describe themselves as Evangelical Christians. But they are now very welcoming of me and my partner and we'll be going there for Christmas. It's just one of those classic American stories where each side makes a kind of an accommodation with the reality of who else is in your family."
Those Southern Baptist, socially conservative ties, Hunter says, actually come with a silver lining of sorts. Primarily, those ties have given her a sympathetic understanding of exactly those people who would stand on the other side of her GLBT-related legal arguments.
"But I don't think it makes me any more inclined to allow those perspectives to dominate the rights of people," she emphasizes. "I think, in part, I can give some credit to my family for that, because they have changed so significantly."
To read Nan Hunter's blog, visit http://hunterforjustice.typepad.com/. For more on the Williams Institute, visit www.law.ucla.edu/williamsinstitute/home.html.