Thanksgiving can have a transformational effect on your kitchen, whether preparing traditional holiday favorites is your annual moment to shine or if you've decided that this is the year you'll take the plunge into preparing an 18-pound turkey for your friends and family.
Being the American holiday most centered on the stomach and various ways to stuff it, Thanksgiving is the perfect time to try out new dishes and techniques.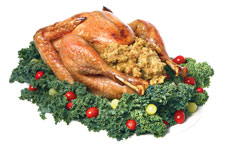 Thanksgiving turkey
Or, as the case may be, to finally get that turkey to come out of the oven just right.
Even if you have a shelf full of cookbooks, the Internet can offer a smorgasbord of tips, techniques and recipes. Cook's Illustrated magazine has a Web site (www.cooksillustrated.com) that features many of the great recipes, reviews and techniques that make the magazine indispensable. However, it does require a subscription, so you'll want to plan ahead.
Even though the Food Network has taken a turn to the cheesy as of late, it still manages to be a repository for recipes ranging from the simple to the complex. The network's Web site (www.foodnetwork.com) is currently tricked out for Thanksgiving, providing more turkey options than you can shake a baster at.
Once you've filtered out Rachel Ray and some of the other hyperactive food stars, you can find some solid techniques. The first year I cooked Thanksgiving dinner for my in-laws, I turned to Alton Brown's roast-turkey recipe (search the site for "alton roast turkey"), which includes a brining solution that left the bird wonderfully moist and succulent. If you haven't brined a turkey yet, this is the year to start.
If you have some ideas in mind of the ingredients you want to use for the holiday — say you love sweet potatoes, but you want to find a new approach — Epicurious (www.epicurious.com) is the place to go. Filled with recipes from Gourmet and Bon Appétit, the site also features a nifty search engine that allows you to search by ingredients, cooking techniques, cuisine — enough options that you can find the recipes that best fit your skills and pantry.
Not everyone wants to take on the task of prepping an entire Thanksgiving meal for a large group of family and friends. Most people, in fact, will be heading somewhere else for dinner. If so, what do you bring along?
Green bean casserole, of course. There's a reason this casserole, which comes in about as many versions as there are stars in the sky, has become a holiday cliché: it's good.
Being from Kentucky, where we take our casseroles seriously, I've held onto a recipe from my sister that's quick, easy and comfort-food fabulous — perfect if you need a take-along dish for a Thanksgiving potluck.
Green Bean Caserole
1 can condensed mushroom soup
3 cans (9 oz.) cut green beans, drained
1 can (8 oz.) water chestnuts
3 oz. cream cheese
2 cloves garlic, minced
2 tablespoons chopped onion
Black pepper (to taste)
1-1/2 cups shredded cheddar cheese
2 oz. sliced almonds
Combine soup and cream cheese in a large pan, cook over medium heat until melted. Remove from heat, stir in all ingredients except almonds. Spread into casserole dish. Top with almonds. Bake at 375 degrees for 30 minutes.