"I guess I just lost my husband," sings Alecia Moore, better known as the pop star Pink, at the top of the first song on her new album. Talk about being upfront. Pink has never been one to hold back, or pull punches. She has, after all, become the queen of the ballsy kiss-off song, ("Let Me Go," "You Make Me Sick," "U + UR Hand"). And she's often still pushy and feisty even when she's celebratory (her ubiquitous hit "Get the Party Started," for starters). Her raspy, lived-in voice can be calm and cool, but it's generally direct and demanding, bordering on whiny.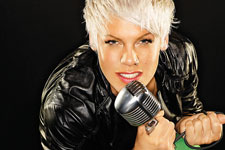 Caustic yet fun: Pink
What's remarkable about her new album Funhouse, the fifth in only eight years of recording, is that Pink carries on this caustic tradition – and just as remarkable, it hasn't gotten old, or worn thin. You'd expect somebody frequently trying to provoke, priming for a fight, to become bothersome, or worse. But Pink charms her way through her cauldron of anger and impatience. She's aided by making smart choices in tapping producers, here including No Doubt bassist Tony Kanal and Max Martin. Kanal produced the title track, which is as playful and distorted as you'd expect from a song about an amusement park attraction, or a metaphor for life's unpredictable twists and turns. Martin, the Swedish super-producer responsible for Kelly Clarkson's "Since U Been Gone," among many other hits, has helped Pink create a couple big, rowdy choruses here, with the right combination of sweetness and sass. At several turns, in fact, Funhouse sounds like the follow-up to Clarkson's Breakaway album that never happened, since Clarkson's My December veered away from catchy pop into darker, starker territory. Pink is almost as rousing as Clarkson on the Martin-produced rocker "It's All Your Fault," soft and sweet as it starts before becoming bold and blistering in the chorus and as it ends.
PINK
Funhouse
LaFace/Zomba
$18.98

Pink dazzles with cute tricks, vocal and otherwise, throughout Funhouse. On "So What," she chants "na na na" as she says goodbye – to put it nicely – to her ex. On "Please Don't Leave Me," she constantly coos "da da da da da" as she begs forgiveness from her lover. And on "Sober," co-produced with Timbaland's protégé Nate Hills and Kara DioGuardi and essentially about how difficult life is, Pink dramatically pauses the music at a couple turns – when she's mentioning how her story might end, and then right as she says, "I don't wanna be the girl who has to fill the silence." Later, after she sings "I am falling," the music falls away too. "If I let myself go I'm the only one to blame" – so of course, she doesn't let herself go. She kicks the big chorus back up. "I'm safe, up high," she sings forcefully.
There's a real country twang to many songs on the album, from the sweet, sorrowful "I Don't Believe You" to the Aerosmith-styled "Mean," to the captivating "Crystal Ball," a folky acoustic gem, with debt to Indigo Girls, about the wisdom that comes from life's pains. Pink is learning from her mistakes, but she's still got the strength and especially the passion to pick herself up and make more. Bully for her.
---
PINK
Funhouse
LaFace/Zomba
$18.98
Lady Gaga has some cute tricks up her sleeves as well, but they're largely undermined by empty-headed, clichéd lyrics, some of which are even ugly, or at least vapid, consumed with money and fashion, style over substance. "We like boys in cars; buy us drinks in bars," she sings on "Boys Boys Boys." Later, she sings the praises of being "Beautiful, Dirty, Rich." And the title track is a half-assed critique of the quest for celebrity, "a taste for champagne and endless fortune." This coming from someone who boasts of going to the same prohibitively pricey private school in Manhattan as the Hilton girls and who obviously thinks she's as entitled to attention as Paris – well, you just don't believe it, and you really don't want to indulge her.
Ultimately, Gaga – born Joanne Stefani Germanotta, whose nom de pop comes from the Queen song "Radio Gaga" – offers little that's new on The Fame, from her lyrics to the music. Fergie and Gwen got there first, and by now, with the Pussycat Dolls still on the case, we're already tired of all that vanity and overly flirty cutesiness.
Gaga sings like a too-cute little schoolgirl on the noxious "Summerboy." "Nowhere, yeah, we're going nowhere," she sings, before basically shouting, "FAST!" If you don't cringe and then bust out laughing when you hear it, then The Fame is all yours.