Let the games begin — and not just football. This weekend, specifically this Friday, is traditionally the kickoff to the best deals you'll find on televisions all year. And wouldn't you rather scrimmage at home with the best TV your money can buy? Prices at national retailers are already down a couple hundred dollars from just a few weeks ago, according to HDGuru.com.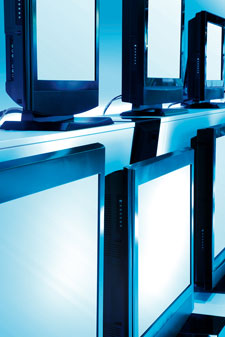 Further, many major stores offer "price protection" up to 30 days after purchase. That means that even if prices continue to drop, you may be able to score a refund on the difference.
Ten years into the high-def revolution, fewer and fewer people are buying old-school TVs with clunky, cathode-ray tubes. But while they're nearly obsolete, it's still hard to find a high-quality, high-definition TV for less than $500 — certainly not one with a screen larger than 32 inches. Still, you can do better than last year's threshold price of $1,000 for a good set. Just a few days ago, Best Buy offered a Samsung 32-inch LCD TV for only $499. A Samsung 42-inch plasma was retailing for less than $900.
LCD, plasma – what's the difference? Just as with computers, LCD (Liquid Crystal Display) is slowly taking over television screens. TVs using LCD are getting bigger and better, and they are less power-hungry than plasma, helping you save money and the planet, though even the best LCD is a power-hog.
Plasmas still offer sharper color and contrast, as well as better viewing from all angles and better resolution. If money is no object, it may be impossible to beat the $5,000 Pioneer Elite 50-inch plasma, which HDGuru.com and other sites have rated the "best TV ever." If, however, your TV will sit within six feet of its audience, you really shouldn't look for a set larger than 42 inches. When it comes to the TV tube, bigger isn't always better.
It's easy to get lost in the medium's "acronym hell," as an NPR blogger put it, and obtuse codes. Is that screen a 720p or a 1080i? 10-4, good buddy! CNET.com is an invaluable source to help you wade through it all. With its "Ultimate HDTV Buying Guide," CNET explains all you need to know and then some.
As with shoes, however, you should get offline and go to a physical store to make sure you've got the right size. You need to take the visual test: Look to see which TVs are offering the clearest, truest picture. Pay particular attention to flesh tones to pick up subtle distinctions, and to how truly black that color can be. Ask to use the remote and adjust the settings yourself.
Once you've decided on the set, next comes installation, and wall-mounting a flat-screen TV can be expensive. If you're at all handy and can keep up with confusing directions on inputs versus outputs, you can do it all yourself for less than $200 – including the cost of a bracket kit and a channel to cover the wires. Otherwise, expect to pay another $200 for professional installation of a TV with a screen larger than 32 inches. Right now, Best Buy is running a special: Sign up to have Geek Squad install your new set, and pay no interest on the TV for three years.
Three years? By then it'll be time to learn TV technology anew. Standard LCD or OLED? In 3-D, please.