With no overly heavy lifting and plenty of '70s atmosphere, Peter Morgan's Frost/Nixon is not just for those old enough to have personally witnessed David Frost's 1977 interview of the disgraced president. Director Michael Grandage, who directed the play during its tenure in London and on Broadway, clearly has a talent for balancing what entertains with what informs and, as a result, even those without any historical context for what drove Frost to confront Nixon and Nixon to capitulate, will find the cat-and-mouse engaging and thought-provoking.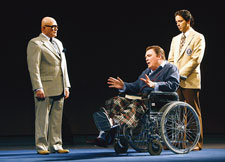 'Frost/Nixon'
And contrary to the suggestion in the print ads, this play is not simply a dramatization of the interview (which in fact spanned hours over several days). Indeed, Morgan starts the story with Frost in London as the waning celebrity-interviewer first posits the idea of taking on the fallen president. We are also made privy to at least a few of the interesting details of Frost's subsequent struggle, financial and otherwise, to actually get this interview of a lifetime. Cast members Brian Sgambati, Antony Hagopian, Ted Koch, Bob Ari, Stephen Rowe, and Roxanna Hope give nice color to the orbiting entourages.
But let's face it, in the wrong hands this material had great potential to underwhelm. Not only do we already know the outcome of the interview, but by its very nature, this is a play that will appeal first and foremost to the generation who were of age during Nixon's years as president. And not many of us will know that in fact Frost began as something akin to the Jon Stewart of his day, whose fortunes changed as he began to take himself rather too seriously.
Morgan ably surmounts this challenge by alternating enacted scenes with moments when the key advisors to Nixon and Frost directly address the audience. The narratives are emphatic (sometimes a little comically so) and they bring a sense of urgency, context and history we might never otherwise glean. The main narrator, Frost's American advisor Jim Reston, ups the ante even further by reminding us of just how outraged and betrayed Americans were by Nixon's actions. In doing so this play suddenly becomes ever so relevant to a modern audience.
Grandage does his part by keeping the drama keenly explored, the segues swift, and the giant TV screen hanging behind the action periodically lit with classic images from the "Do Your Thing" decade. Of course, it cannot be easy to follow in the footsteps of the splendiferously gothic Frank Langella, whose Broadway Nixon has now been immortalized in a forthcoming film by Ron Howard, but Stacy Keach, who plays Nixon for this tour, certainly has the résumé for the job. Keach does not impersonate the often-mimicked Nixon so much as build him from within. The few recognizable traits he does display thus appear appropriately natural, even if they do get the occasional laugh.
Although it is hard to say one understands Nixon better after seeing this play, what Keach does well is show us that this was a man as much filled with defiance as self-doubt, as easy to fly off the handle as he was surprisingly affable. Keach's Nixon seems a man on the verge of an internal earthquake and we feel the rumbles as he interacts with Frost, on camera and off. Still, what Keach cannot do because Morgan does not, is give us any more of the why behind Nixon's decision to allow himself to be speared by Frost, especially after so many hours of interview in which he held his own.